Story highlights
A thunderstorm swept through St. Louis, early Wednesday morning
Jim Probst hours later spotted a tree still burning after a lightning strike
When you get up to walk your dog at 6 a.m., you don't expect to see a burning tree. But after a storm rolled through Jim Probst's neighborhood, that's exactly what happened.
Around 2 a.m. CT, Wednesday, in St. Louis, Jim Probst woke up to thunder and lightning – and had to comfort his terrified dog. The dog "shoved himself under my bed," Probst said, and he went back to sleep.
"I got up about 5:30 to get the dog ready for a walk but saw the smoke out in the cemetery and left the dog in the yard, walked over and well, you see what I saw in the video," Probst told CNN.
"There was bark shed off in the grass, and I knew that's from a lightning strike," Probst said, referring to long strips of bark that littered the lawn.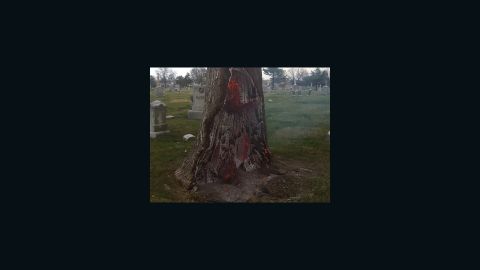 Probst wasn't scared. He knew a lightning strike would make a tree look like it had exploded.
"I just know that trees get struck by lightning," Probst said. "They're the tallest things around."
He whipped out his phone and began taking video, which he posted to his neighborhood Facebook page. That whipped up a media storm.
"The news craze around it," Probst said, "has been more shocking than the lightning!"