Story highlights
Trump expects to raise new revenue from opening more federal land to drilling
But federal revenues from oil and gas leases have plummeted since 2014
President Donald Trump intends to fix crumbling roads and bridges, in part, with a plan that hearkens back to Sarah Palin's slogan: "Drill, baby, drill."
"We must take advantage of the estimated $50 trillion in untapped shale, oil, and natural gas reserves, especially those on federal lands that the American people own," according to a statement on the White House website. "We will use the revenues from energy production to rebuild our roads, schools, bridges and public infrastructure."
But the math from this plan doesn't add up. The federal government made only $4.3 billion from oil and gas leases in fiscal year 2016, a fraction of what a massive infrastructure package might cost.
In Tuesday's address to Congress, Trump proposed a $1 trillion injection that will replace the current infrastructure "with new roads, bridges, tunnels, airports and railways gleaming across our beautiful land." But the president didn't offer details, except to say it would be funded with both public and private capital. Drilling for more oil is one of the few concrete proposals already on the table.
Trump also expects to raise new revenue from opening more federal land to drilling. But as oil prices have plunged since 2014 to just above $50 per barrel, federal revenues from oil and gas leases have plummeted as well, according to data from the Office of Natural Resources Revenue.
Given the glut of oil and gas, companies haven't always been lining up for new federal leases. A land lease sale in Wyoming last month generated $129 million from 53 successful bidders, the second-largest onshore lease sale in the past four years. But other lease sales have not been as successful. Last August, three companies bid on just 24 of the 4,399 tracts of land offered up in the Gulf of Mexico. Six months earlier, another sale there failed to garner a single bid.
"The idea that you're going to open up a bunch more areas and that's going to somehow generate more revenue — if anything, it would just depress prices further over the short- and medium-term," said Sam Ori, executive director at the Energy Policy Institute at the University of Chicago. "You're almost running in place."
The federal government makes money when a lease is sold, and it charges rent while companies are preparing to drill, but the biggest payoff comes from royalties when the oil starts flowing. Since oil prices slumped, royalty payments have "basically collapsed," Ori said.
'Regulatory stranglehold'
Still, Trump and his energy transition team are looking for ways to make federal lands more attractive to oil companies. The team is led by Thomas Pyle, president of a conservative think tank called the Institute of Energy Research and a former lobbyist for GOP billionaires Charles and David Koch.
The regulatory hoops that oil and gas companies must jump through on federal lands inhibit federal revenue, according to Chris Warren, vice president of communications at the Institute of Energy Research.
"Companies are going to spend their resources wisely, right?" Warren said. "If it's an easier process and a more affordable process for them to stay in private lands, then they're going to want to do that."
Source reveals EPA programs Trump's budget could cut
The Trump administration also blames Obama-era regulations for choking off drilling on federal land.
"Energy production on federal lands, and thus economic activity, are at record lows for the modern era due in large part to the regulatory stranglehold of the past administration," said Heather Swift, Interior Department spokeswoman said in a statement to CNN. "By developing our energy resources, including those under federal ownership, in responsible and environmentally sensitive ways under reasonable regulation, trillions of dollars will pour back into the United States' economy."  
Throughout its administration, President Barack Obama's White House said its regulations were necessary as safeguards, especially after the 2010 Deepwater Horizon spill, and responsibly develop the environment with rules like one capping methane gas releases.
But there are other reasons companies may be more attracted to private land. During the Obama administration, new technology to access shale oil revolutionized the industry. About half of US drilling is for shale oil, but 90% of US shale gas prospects are not on federal lands, according to a 2013 Center for Western Priorities report.
The share of federal-area oil production peaked in fiscal year 2010 at 36% of the total. By 2015, the share had fallen to 21%. Natural gas saw a similar decline, from 33% of the total in FY 2006 to 16% in 2015.
The federal government could open more lands and certainly raise more money through oil and gas leasing, said Lucian Pugliaresi, president of the Energy Policy Research Foundation. "But that's going to depend on expectations of oil prices, and which properties are put up for lease."
Opening New Lands
The Trump administration could have the biggest impact by lifting drilling restrictions on protected federal land and waters. On land, opening the Arctic National Wildlife Refuge (ANWR), a 19-million acre expanse of wilderness in northeast Alaska, has been hotly debated for decades. ANWR potentially holds some of the largest untapped reserves of oil and gas on federal land. Trump wouldn't be able to open it on his own; it would require an act of Congress, a move supported by Republicans in Congress and even some Democrats in the Alaskan legislature.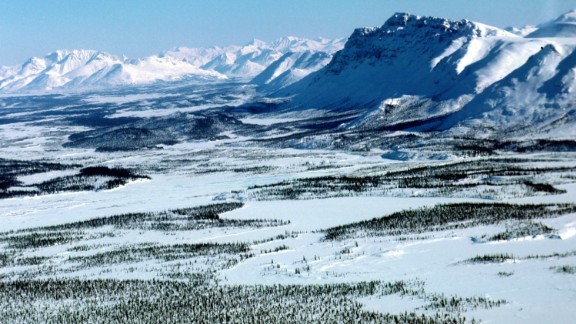 A 2012 Congressional Budget Office report found that new revenue from ANWR would amount to $5 billion in the first 10 years, and between $25 billion and $50 billion in the decade after that — depending on oil prices. (That's due to the lengthy process of leasing, exploring, and drilling the area). Under current law, 90% of that would go to the state of Alaska, although Congress could change that split. Still, if the White House is looking to this source of revenue to fund massive infrastructure projects, it's likely to fall well short.
US-owned waters might hold similar complications. Opening offshore areas could be a contentious fight with some states. Policymakers in coastal states like Washington, Oregon and California could throw up significant legal hurdles for offshore leasing in some Pacific waters, especially if drilling could threaten tourism or their ecology, Ori said.
"It's not very likely that in the next five to 10 years, that you would get through all the court battles, get all the infrastructure built, and start bringing stuff to market and make money," he added.
And simply opening new lands alone may not be enough. In 2015, Obama opened parts of the Arctic Ocean for exploration, angering environmentalists. Shell spent billions to drill a single well there. But when that well came up empty, Shell cut its losses and pulled out of the Arctic after oil prices failed to rebound. The company blamed high costs and an "unpredictable" regulatory environment.
In December, Obama indefinitely banned federal oil and gas leasing in large swaths of the Arctic Ocean and the Atlantic to protect the environment, citing the 1953 Outer Continental Shelf Lands Act. That action will be difficult for the new administration to change, since it wasn't done with an executive action, like some of Obama's other policies.
But the biggest obstacle to new drilling today may be the price of oil itself. Even if new lands are opened and regulations eased, that may not be enough to offset current market forces, Pugliaresi said.
"I do think there is some regulatory excess there that could use a systematic rethink," Pugliaresi said. "Now, how much money can you get out of that?"
Sergio Hernandez contributed to this story.