Story highlights
Opening statements in Aaron Hernandez's double-murder trial begin
Prosecutors: Hernandez bragged to a friend about his aim
Former NFL player Aaron Hernandez taunted the two men whom he shot and killed in July 2012, then later bragged to an associate about his aim, prosecutors alleged Wednesday in opening statements at his double murder trial.
They claimed that Hernandez said "Yo, what's up now," adding a racial slur, before firing at a vehicle with Daniel de Abreu and Safiro Furtado inside.
But Hernandez's defense attorney argued that prosecutors had little forensic or scientific evidence to prove their case, and that Hernandez's associate, Alexander Bradley, was a drug dealer, liar and violent criminal whose testimony should not be trusted.
"It takes a lot of nerve for [prosecutors] to put that man on the stand and ask you to believe him beyond a reasonable doubt," Jose Baez, Hernandez's attorney, said.
The battling narratives mark the beginning of Hernandez's second high-profile murder trial in the past two years. The former Pro Bowl tight end and New England Patriots star was convicted of murder and sentenced to life in prison for the June 2013 death of Odin Lloyd.
Furtado and de Abreu, immigrants from Cape Verde, were shot and killed in a drive-by shooting in July 2012 outside a Boston nightclub. Hernandez was charged in May 2014 with two counts of first-degree murder in their deaths.
Dueling arguments
In opening statements, prosecutors said that the shooting took place after de Abreu bumped into Hernandez at a nightclub, spilling a drink. Video from outside the club shows Hernandez angry and agitated, prosecutors said.
Later, with Bradley driving and Hernandez in the passenger seat of a silver SUV with Rhode Island plates, the two pulled up next to the victims' car, prosecutors said.
Hernandez then allegedly fired five times into the car, killing de Abreu and Furtado and injuring other passengers, according to prosecutors.
"I got one in the chest, I got one in the head," Hernandez told Bradley, bragging of his aim, according to prosecutors.
But after Hernandez and Bradley drove away and hid the vehicle and possible evidence, the case stalled, prosecutors said.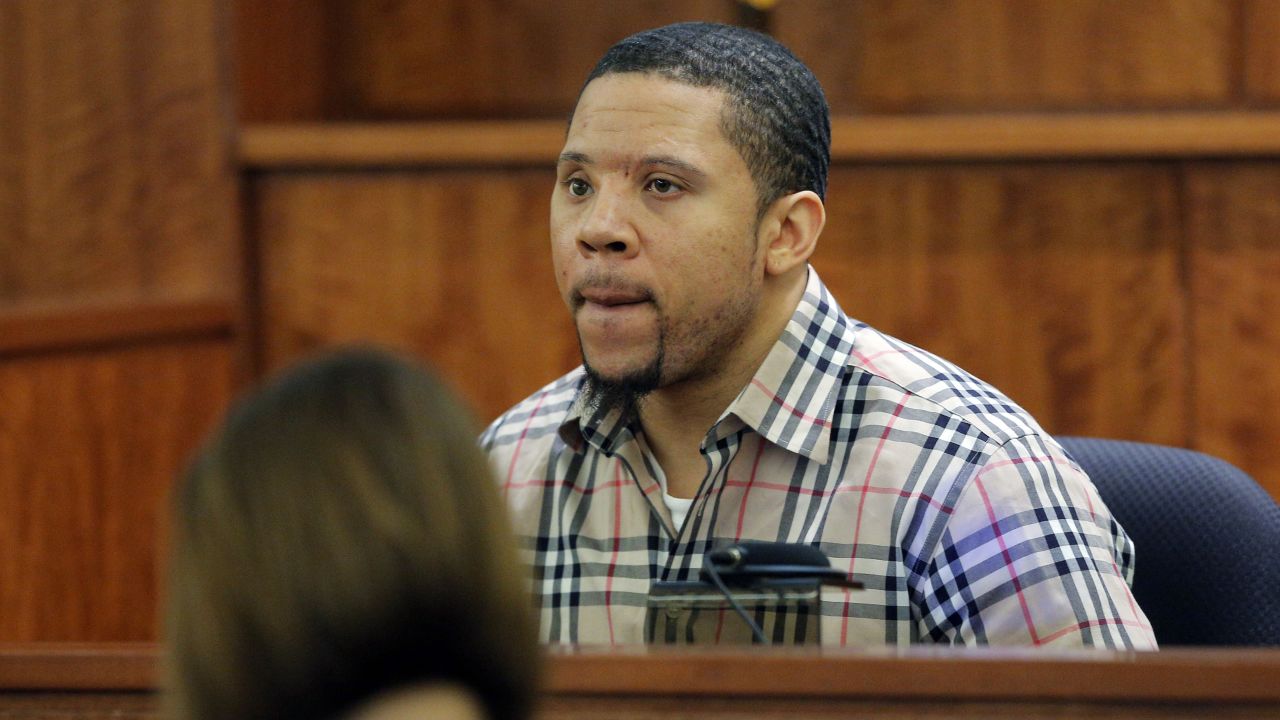 It wasn't until after Hernandez was arrested in the death of Lloyd in June 2013 that law enforcement went back and reexamined the case. Police later found a silver SUV with Rhode Island plates at the house of Hernandez's trusted cousin, prosecutors said.
"Many times the defendant Aaron Hernandez was about to get away with murder," Assistant District Attorney Patrick Haggan said. "But there was one loose end. The problem in this case is Alexander Bradley."
'Fantastic tale of lies'
Baez cast Bradley as an unreliable witness, saying that Bradley is a convicted "drug trafficker" who has lied to police in the past.
"There is no science that will connect Aaron Hernandez to this case," Baez said, pointing to the lack of fingerprints, gunshots and more. "What you do have is Bradley's story. An unbelievable, fantastic tale of lies."
According to prosecutors, Bradley turned on Hernandez after a trip to Florida in February 2013. There, according to prosecutors, the two spotted several white men in suits at a club, and Hernandez said that they were law enforcement.
"Yeah, they probably are and probably because of the effed up stuff you did in Boston last summer," Bradley said, according to prosecutors.
That comment set off Hernandez, prosecutors said. The former NFL player shot Bradley in the head and "dumped" him in a parking lot less than 24 hours later, according to prosecutors.
But Bradley survived, and later gave his account to authorities, which will play a central role in the case. Prosecutors said Bradley was given immunity to testify against Hernandez.
In questioning Bradley's trustworthiness, Baez also showed some of the demonstrative lawyering that was evident when he successfully defended Casey Anthony in 2011.
In a particularly dramatic moment, Baez said de Abreu was 5-foot-7 inches tall, and then told Hernandez to stand up and show off his large frame.
"If Aaron has a beef with someone 5-foot-7 inches tall, he doesn't have to go and get a gun to set him straight," Baez said. "If he's being tried by someone who's 5-foot-7 inches tall, he doesn't have to wait two hours to make do on it, if he's such a hothead. That's ridiculous. It's absurd."
CNN's Ellie Kaufman contributed to this report.