Story highlights
François Fillon said he would be told on March 15 that he is under formal investigation
France votes on April 23, with a runoff May 7 if no candidate wins first round outright
Embattled French presidential candidate François Fillon said Wednesday he will persevere in the race despite an ongoing inquiry into allegations that he paid his wife and children for work they did not do.
In a televised statement in Paris, Fillon announced that he will be placed under formal investigation on March 15, yet he would not step aside.
"I will not resign. I will not give in. I will not withdraw," he said. "I will go to the end because it is democracy that is being defied. I ask you to follow me."
Fillon said the timing of the meeting with magistrates was intended to damage the Republican Party's chances in the election, and that he was the victim of a "political assassination."
The announcement prompted one member of his campaign to quit, saying Fillon had gone back on his word.
Fillon was chosen as the center-right Republican party's nominee in November and had been considered a leading contender in the presidential race, where he faced stiff competition from independent candidate Emmanuel Macron and far-right National Front candidate Marine Le Pen. The French Socialists nominated Benoit Hamon.
Presidential candidates must present 500 signatures of support from elected officials around France by March 17. French voters go to the polls on April 23.
If neither candidate gets more than 50% of the vote on April 23, there'll be a runoff ballot on May 7.
Three recent polls each have Le Pen in the lead in the first round, with Macron and Fillon fighting for second place. The surveys were all completed before Fillon's news conference Wednesday.
Fillon: 'I will tell the truth'
Fillon, who complained that the presumption of innocence had "entirely disappeared," denied embezzling public funds and said he would answer the charges against him. "I have not lost faith in justice," he said. "I will tell the truth, my truth."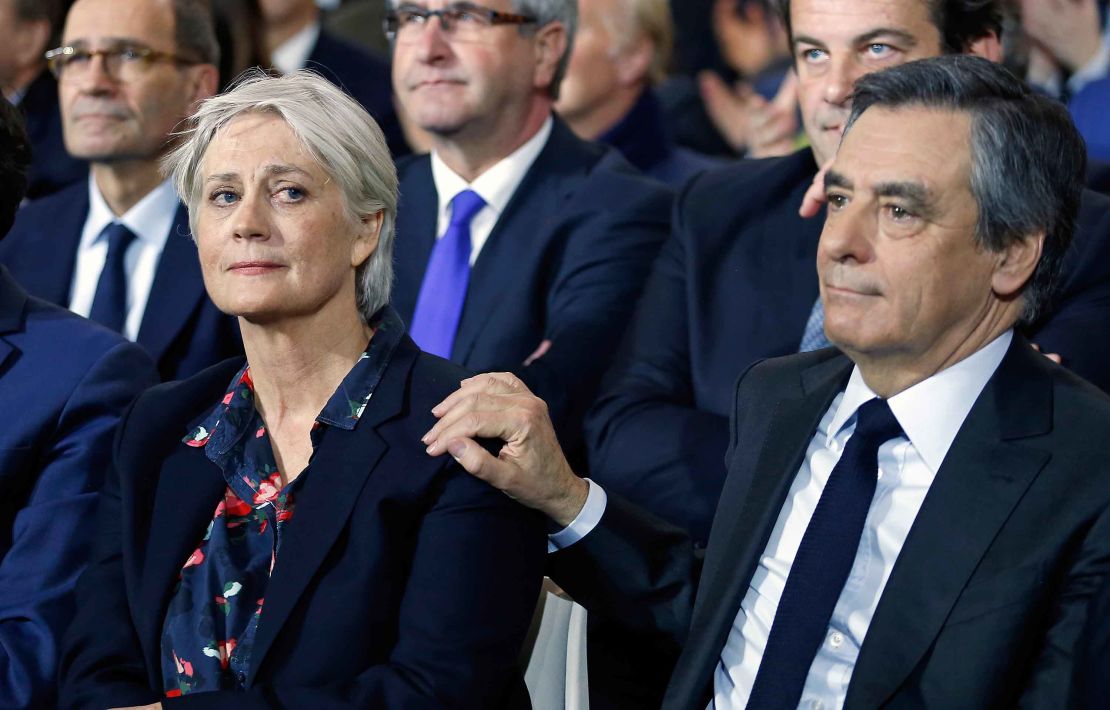 The impromptu nature of his news conference had prompted speculation that Fillon would say he was stepping down from his embattled campaign.
He had earlier postponed a planned appearance at the annual Paris farm fair, a traditional campaign stop for presidential hopefuls.
France's financial prosecutor's office said Friday it would open a judicial investigation into the claims against Fillon and his wife Penelope.
Fillon said on Wednesday he had been summoned before investigative judges on March 15 to be placed under formal investigation – the French legal equivalent of being charged or indicted.
In the wake of the statement, Bruno Le Maire, a former French agriculture minister, accused Fillon of going back on his word and said he was quitting his campaign.
According to Le Maire, Fillon said on January 26 that if he found himself in his current position, he would "withdraw his candidacy for the French presidency."
In a statement posted on Twitter, Le Maire said he believed it was important to honor one's word, adding that "it is indispensable for the credibility of politics."
Fillon: 'Nothing to hide'
The questions began when investigative newspaper Le Canard Enchainé published reports that Fillon's wife and and two of his adult children earned nearly 1 million euros ($1.08 million) as parliamentary assistants, but didn't show up for work.
Fillon, 62, has rejected the claims and insists that he has "nothing to hide."
He has said his wife worked for 15 years, as his "deputy," carrying out several roles, including managing his schedule and representing him at cultural events.
Fillon, who was prime minister from 2007 to 2012, said that his daughter and son were employed in similar positions for 15 months and six months respectively, which he said is not illegal, but was an "error of judgment."
He first offered an apology to the French people on February 6.
Controversy embroils Le Pen
Fillon's lawyer, Antonin Levy, accused the prosecutor's office of failing to prove any wrongdoing in its initial inquiry.
The investigation will look at allegations of embezzlement of public funds, misuse of public assets, complicity and concealment of such objects, traffic of influence and noncompliance with the reporting obligations before the High Authority, according to the financial prosecutor's office.
Le Pen's campaign was embroiled in controversy last week after her chief of staff was hit with a formal judicial investigation into whether she held a fake European Parliament job.
Catherine Griset and Le Pen's bodyguard, Thierry Legier, are alleged to have been paid for nonexistent jobs at the European Parliament.
CNN's Jim Bittermann reported from Paris and Laura Smith-Spark wrote and reported from London. CNN's Melissa Bell, Maud Le Rest and Vasco Cotovio contributed to this report.