Story highlights
Mexicans flock to the sport of Lucha Libre, where good battles evil
Newest bad boy getting attention bears a striking resemblance to the US President
It's fight night in Arena Mexico, and the red and green stands are packed with fans. Some wear the masks of their favorite wrestling idols, while others play drums and noisemakers ringside.
Lucha Libre is a traditional pastime in Mexico City – a place where crowds come to see good fight evil and where they can get just about anything off their chests. The fans shout tirades, even obscenities, against the bad guys in what's seen as collective stress relief.
The lights dim and the announcer's voice comes over the loud speakers: the battle is about to begin. The heroes, or "tecnicos," enter first down a ramp to roaring applause. The bad guys, or "rudos," follow to be hissed and booed by the crowd.
And there's the new anti-hero on the scene: flowing blond hair, a deep tan and an American flag – no villain is more despised than Sam Adonis, the "Donald Trump" of Lucha Libre.
Adonis, 27, hit the Lucha scene 10 months ago after nearly a decade of professional wrestling in the United States and Europe. More recently, the Pittsburgh native, born Sam Polinsky, saw a chance bring the ultimate "bad hombre" to the fans.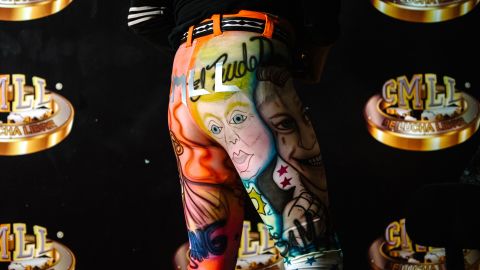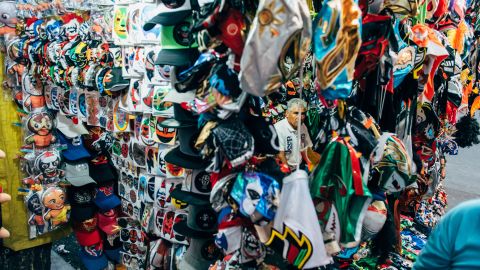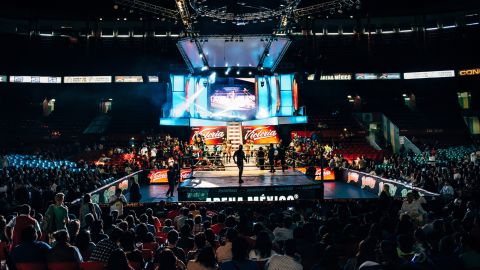 "At first, I just had a picture of Donald Trump on the side of my tights and the reaction to that was overwhelming. People were either very cold or very hot," Adonis told CNN. "The day he won the presidency, I knew I had a golden opportunity."
He loves to be hated
In addition to the tights, his transformation into a Trump-like figure includes straightening his blond hair and layering self-tanner all over his body. Unlike many of his fellow fighters, he doesn't wear a mask. And his main prop is a large American flag with the US President's face plastered on it.
His act gets a strong reaction.
"To me, there's nothing like performing in front of an audience that pretty much hates me," Adonis said. "When I walk into the ring with the flag they think, OK he's a gringo (American). Once they see I've got a picture of Donald Trump on it, all bets are off."
Lucha Libre, or "free fighting," dates back a century to the Mexican Revolution, when it was an entertaining escape from everyday life.
Today, Mexicans who feel threatened or insulted by Trump's attitude toward Mexico – whether it's his opposition to NAFTA, demands that Mexico pay for a border wall or complaints about how the country handles its "tough hombres" – have their ultimate punching bag in Adonis.
During his latest fight, a variety of colorful insults were thrown his way, as well as several body blows from both his rivals and teammates. At one point, the crowd began chanting former President Barack Obama's campaign slogan of "Si, se puede" or "Yes, we can."
Lucha fans Elois Ruiz and Luis Huerta try to come to the Arena Mexico at least once a month for the sport, the fun and stress relief. For Ruiz, it's gotten even better now that Adonis has joined the routine.
'Made in Mexico is better'
"I don't like Trump, but I like watching 'the gringo' – he's fun," Ruiz told CNN as she watched in the stands with her silver mask on.
Others, like Iluani Medina, still prefer their homegrown "rudos."
"Made in Mexico is better," Medina said. "Don't even get me started on that other guy."
Adonis said he did not vote in the US presidential election but respects Trump and probably would have supported him over Democratic nominee Hillary Clinton.
Complicated feelings are on display among his audiences, Adonis said.
"A lot of the people have been coming their entire life and love a good bad guy," Adonis said. "Nine times out of 10, when I leave the arena, the same people who were cursing and screaming at me want a picture with me or an autograph."