Story highlights
Jeanette Vizguerra's case is a immigration "enforcement priority"
A Denver church is providing refuge to the mom of four
Offering sanctuary is the "faithfull" thing to do, the pastor says
Eddy Carroll manned the phones Thursday at the First Unitarian church in Denver.
Twenty-four hours earlier, the gray stone structure that serves as home to some 400 faithful, went largely unnoticed outside its neighborhood near the Colorado State Capitol.
"We now have a donation page on our website," Carroll told one caller.
To another, he mentioned an event planned for Saturday. "You can come along to learn more about volunteering," he said.
The spike in attention to this small congregation owes to its decision this week to welcome an undocumented mother of four who is wanted by US Immigration and Customs Enforcement. Jeanette Vizguerra arrived at the church Tuesday night, just hours before she was due to check in with ICE.
The next morning, her lawyer went to the check-in on her behalf. He learned that deporting his client is an "ICE enforcement priority."
The decree means Vizguerra is now living at the church indefinitely. She hopes it will provide her legal sanctuary at a time when President Donald Trump's executive orders on immigration have heightened fears among undocumented immigrants – some who have been in the US for decades – that their removal is now imminent.
Illegal entry
Vizguerra came to the United States illegally from Mexico in 1997 with her husband and their daughter. Here, the family grew by three, the new siblings all born into American citizenship.
Vizguerra came to the attention of immigration authorities in 2009, when police during a traffic stop found her in possession of a document with a made-up Social Security Number. Her case was complicated in 2012, when she went to visit her dying mother in Mexico, then got caught sneaking back across the border.
Following the deportation last week of another undocumented mother, Guadalupe García de Rayos in Arizona, Vizguerra's story and her efforts to find refuge have drawn worldwide attention. She's gotten requests for interviews from Mexico, Argentina, even Singapore.
At the church, food and donations have poured in.
So has the condemnation.
'Lady who broke the law'
Conservative talk show host and CNN political commentator Ben Ferguson posted a video on Facebook showing Vizguerra breaking down as she learned she was to be deported.
"Should I feel sorry for this lady who broke the law and put her family in this situation?" he asked.
On the church's Facebook page, someone wrote: "Your preacher should be arrested for aiding and abetting a fugitive. And your 'church' should lose it tax exempt status for illegal activities."
"I have started responding to some of the more negative comments," Carroll, the church volunteer, told CNN.
Vizguerra's lawyer, Hans Meyer, has also felt the blowback. On Facebook, someone wrote to him: "If Jeanette has lived here so long why don't you teach her English?"
She speaks fluent Spanish and some English, he said.
Choosing to offer sanctuary
For the First Unitarian community, the frenzy that has followed Vizguerra's arrival isn't entirely new.
In 2014, Arturo Hernandez, an undocumented father of two, spent nine months at the church before ICE informed him he was no longer an "enforcement priority," Pastor Mike Morran said.
Opening the church to Hernandez wasn't a decision made in haste.
"We spent about five months, from January to May in 2014, talking about this, we brought speakers in, we talked through insurance and liability," Morran said.
Eventually the congregation, with strong backing from Morran, voted in favor.
"I think it is faithful thing to do," he said. "I think that offering sanctuary to someone like Arturo and someone like Jeanette is our attempt to be in solidarity with the immigrant community. We recognize that the kind of lives the immigrant community lives is unnecessarily difficult."
But the decision was not without risk. For instance, church's insurance company will not cover any incident that arises as a result of the refuge, Morran told CNN.
In Chicago, a United Methodist church has been vandalized with swastikas and hateful graffiti after giving refuge to another undocumented mother.
Another church in Denver is also providing refuge right now to an undocumented immigrant. Both Denver sites are part of a network of churches that work with the American Friends Service Committee, a group that encourages and helps facilitate places of refuge.
Home away from home
First Unitarian's experience sheltering Hernandez has helped the church prepare for Vizguerra's arrival, Carroll said.
"We turned the archive room into a bedroom, put down carpet, painted the walls, hung curtains – made it feel less like a prison cell," he said.
If Vizguerra leaves, she runs the risk of being apprehended, the pastor said, though even within its walls, she's not necessarily immune to action from ICE.
The church plans to rotate volunteers to ensure someone is always there with Vizguerra, even at night.
"Arturo had a routine to help stay healthy and pass the time," Morran said. "He had a workout routine going up and down the stairs inside the building. Sometimes people would join him."
The volunteers also will be trained to ask to see a warrant if authorities attempt to remove Vizguerra.
"If they have a warrant, we will cooperate," Morran said. "If they don't, we'll tell them they can't come in."
'We'll keeping praying'
For now, Vizguerra, is busy fielding requests for interviews, talking with supporters and caring for her children. Luna, 12, Roberto, 10, and Zury, 6, stayed with their mom during her first two nights at the church. They plan to spend some nights there, some with other family members, Meyer, the attorney, said.
Meyer told CNN on Thursday that he had not heard from ICE since Wednesday's check-in.
"It's a giant brick wall for now," he said.
Despite her circumstances and fighting a cough, Vizguerra remained in good spirits.
Her future is uncertain.
"We're a community of faith and hope," Carroll said, "and we will stay hopeful. At least with Obama, there was an avenue for people like Jeanette. Under Trump, it's a lot more daunting. We'll keep praying."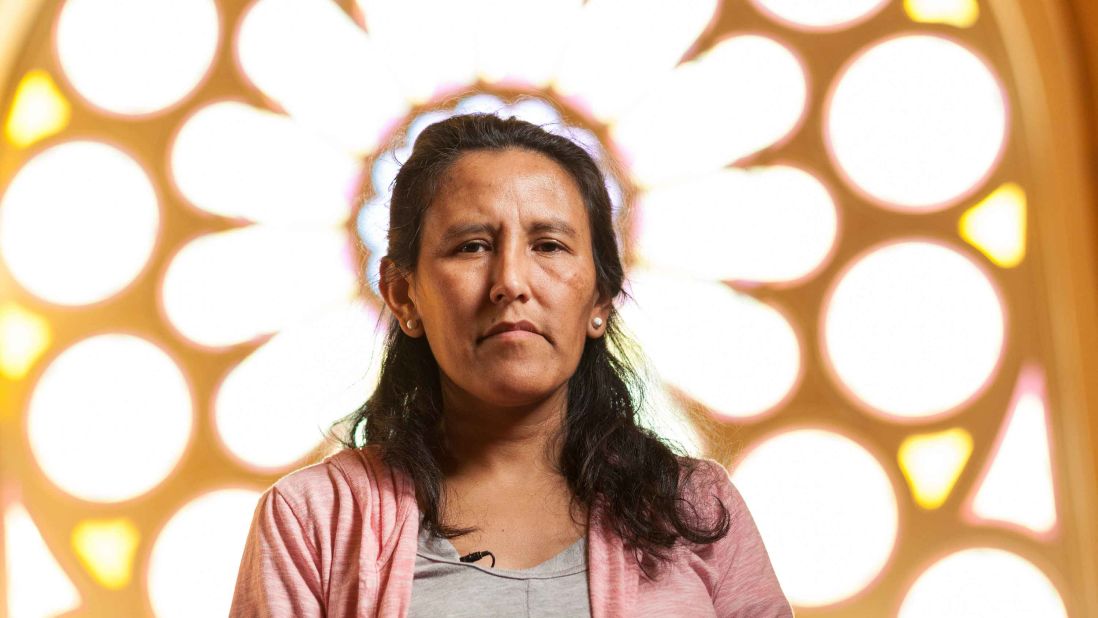 In pictures: An undocumented mom is told to go
CNN's Ana Cabrera and Sara Weisfeldt in Denver contributed to this story.