Story highlights
This morning in Denver, Jeanette Vizguerra was due to report for an immigration check-in
President Trump's immigration orders have expanded agents' authority, experts say
Like parents around the country, Jeanette Vizguerra kissed her kids good night and sent them to bed. She didn't know if she would be there the next night to do the same.
Vizguerra is an undocumented immigrant. She was due to check in Wednesday with Immigration and Customs Enforcement agents. Such check-ins are routine. But this one was different. The stay on her deportation order expired last week. It means she'd likely have exhausted all avenues to ward off separation from her American-born children, the youngest of whom is just 6.
The detention and deportation last week of another mother, Guadalupe García de Rayos in Arizona, scared Vizguerra's children. They were anxious – and so was she.
"My intuition," she told CNN the night before her hearing, "is it's a bad day."
All come to look for America
Vizguerra lives in Denver with her husband and three youngest kids – Luna, 12, Roberto, 10, and Zury, 6. They were all born in the United States.
Her eldest, Tania, also lives in Denver and has children of her own. She described Vizguerra as the "backbone" of the family.
Vizguerra came to the United States from Mexico in 1997 with her husband and Tania, who was 6 at the time. Tania said she lives in the United States under the Deferred Action for Childhood Arrivals program, or DACA, which lets undocumented people brought to the country as kids attend school and work.
Like thousands of immigrants, the family came in search of a better life. Vizguerra's husband had been kidnapped three times during his work as a bus driver in Mexico City, they said.
For the first decade, Vizguerra and her family experienced the regular worries and paranoia of many of America's estimated 11 million undocumented immigrants. But she and her husband stayed under the radar, working odd jobs and avoiding trouble.
That changed in 2009.
"I was leaving work. It was about 10:20 at night. About a block away from my work, I saw a patrol car parked," she recalled. "As soon as I drove by, the patrol turned on its lights and went after me, and I didn't understand why because I wasn't speeding."
Vizguerra was charged with not having a license or insurance and for having an expired license plate, but those charges were dismissed, court records show. She also was charged in connection with what her lawyer, Hans Meyer, said was a job application on which she used a made-up – not stolen – Social Security Number. She pleaded guilty to "attempted possession of a forged instrument." Identity theft and other similar charges were dropped, records show.
The case brought Vizguerra to the attention of immigration authorities, Meyer said.
Vizguerra, who counts housekeeper, janitor and house painter among the jobs she's held, spent the next 3 1/2 years fighting and appealing various orders to deport her from the United States. As she pressed her own case, she also took on the mantle of immigrants' rights activist, fighting for other families hoping to cement their own tenuous roots in the United States.
Return to Mexico
In September 2012, Vizguerra was in the middle of appealing a "voluntary departure" order – under which an undocumented person is allowed to arrange his or her own departure from the United States within a certain time frame.
Then she learned her mother was terminally ill.
Vizguerra hadn't seen her mom since she left Mexico 15 years earlier. If she wanted to be by her mother's bedside, Vizguerra would need to abandon her appeal. She wouldn't be able to return legally to the United States.
She decided to chance it.
"It was a very difficult decision," she said.
Her mother died while Vizguerra was flying home. Soon, her heartbreak was compounded.
"I was there (in Mexico) for seven months, and that was extremely difficult. It was very difficult for me to be without my children," she said. "My children had to stay in here in the US with their father, and it was very difficult for them, especially for our youngest, Zury, who was only a year and one month at the time."
A community rallies
Vizguerra spent much of her time in Mexico City trying to figure out a way to reunite with her family. She eventually paid a smuggler to sneak her across the border, but she was picked up by Border Patrol agents near Presidio, Texas.
She was detained for several weeks. That's when the Colorado immigrant community Vizguerra had worked so hard to serve mobilized for her. Supporters showed up in Texas to demonstrate outside the facility where she was being held. Back in Colorado, they lobbied politicians. Ultimately, they won a stay on her deportation.
The support hasn't wavered.
Leading up to her check-in Wednesday morning at the ICE office in Denver, Vizguerra had the backing of the National Domestic Workers Alliance, members of the First Unitarian Church in Denver and Democratic Rep. Jared Polis, who introduced a bill in Congress on Jan. 30 asking for Vizguerra to be given an immigration visa or to be granted the opportunity to apply for permanent residence.
"Jeanette Vizguerra's case is a perfect illustration of the broken system of immigration enforcement in this country," Polis told The Colorado Independent. "Countless stories like Jeanette's run contrary to our values as a nation and are one of the many reasons that we must reform our immigration system now."
But still, Vizguerra worried because of what happened to Garcia de Rayos, the Arizona mom.
Mom's deportation ignites controversy
Two women, similar circumstances
Garcia de Rayos and Vizguerra have a lot in common.
They both came to the United States illegally more than 20 years ago. They'd both been checking in regularly with ICE for several years. And they both knew the expanded power given to immigration officers by President Donald Trump's executive order could affect them.
The Obama administration had prioritized expulsion of undocumented immigrants who threatened public safety or national security, had ties to criminal gang activity, committed serious felony offenses or were habitual misdemeanor criminal offenders.
Trump's order goes beyond that, laying out categories of undocumented immigrants who should be prioritized for removal. Experts say the definitions include virtually every person in the country illegally and the orders give broad latitude to individual immigration officers to decide who should be detained for deportation.
"It made me really angry to see what happened to Guadalupe," Vizguerra said. "She's someone who's been reporting for regular check-ins with ICE for several years and hasn't had any problems. But I think more than fear, what it gave me was concern, worry for my children."
An option remains
Unlike Garcia de Rayos, however, Vizguerra had appealed on multiple fronts to stay in the country, including on a U visa – a type of visa "set aside for victims of certain crimes who have suffered mental or physical abuse and are helpful to law enforcement or government officials in the investigation or prosecution of criminal activity," according to US Citizenship and Immigration Services.
Meyer, Vizguerra's lawyer, said that his client should qualify for such a visa, and that she included testimonials from law enforcement as part of her application for one.
CNN was not given details of the criminal investigation Vizguerra is said to have helped with.
Meyer said the U visa helps law enforcement tackle crime by encouraging undocumented immigrants to come forward and cooperate. "It takes courage to have policy that reflects the nuanced reality," he said.
The night before
On Tuesday night, Vizguerra gathered with her family, friends and other supporters at the First Unitarian church in Denver.
The church's pastor, Mike Morran, said it was "immoral" and "unconscionable that she still has to live in fear of being ripped from her children and deported to a country she hasn't been in for almost two decades."
Vizguerra vacillated between hope and despair. As the hours ticked down, she fretted. At her pastor's invitation, Vizguerra opted to spend Tuesday night in a makeshift bedroom at her church, her three youngest children cuddled up at her side.
She wished for a life "without fear of being detained or deported, and the fear of being separated from my children."
ICE issues its decree
The next morning, just before 11:30 a.m. ET, Meyer, the lawyer, walked past about 50 of Vizguerra's supporters gathered outside the ICE office in Centennial, Colorado. He made his way through the door.
Vizguerra was not at his side.
Armed officials greeted Meyer at the door, he said. They handed him the paperwork.
"This letter is in response to your recent correspondence requesting a stay of removal for your client, Jeanette Vizguerra-Ramirez," the letter read. "After a careful review of the evidence you submitted and the immigration file, your request for a stay of removal is denied."
Church as a haven
Vizguerra didn't go to the check-in because Meyer suspected ICE agents would arrest her.
As soon as he learned her fate, the phone rang inside the First Unitarian Society church. Vizguerra and her children were just finishing up their showers, getting ready for the day. A friend who'd come to keep vigil with the family answered the call.
Vizguerra broke down.
On the phone with Meyer, she spoke in Spanish to the crowd outside the ICE office. She said she felt she made the right decision.
Zury passed her mom a tissue.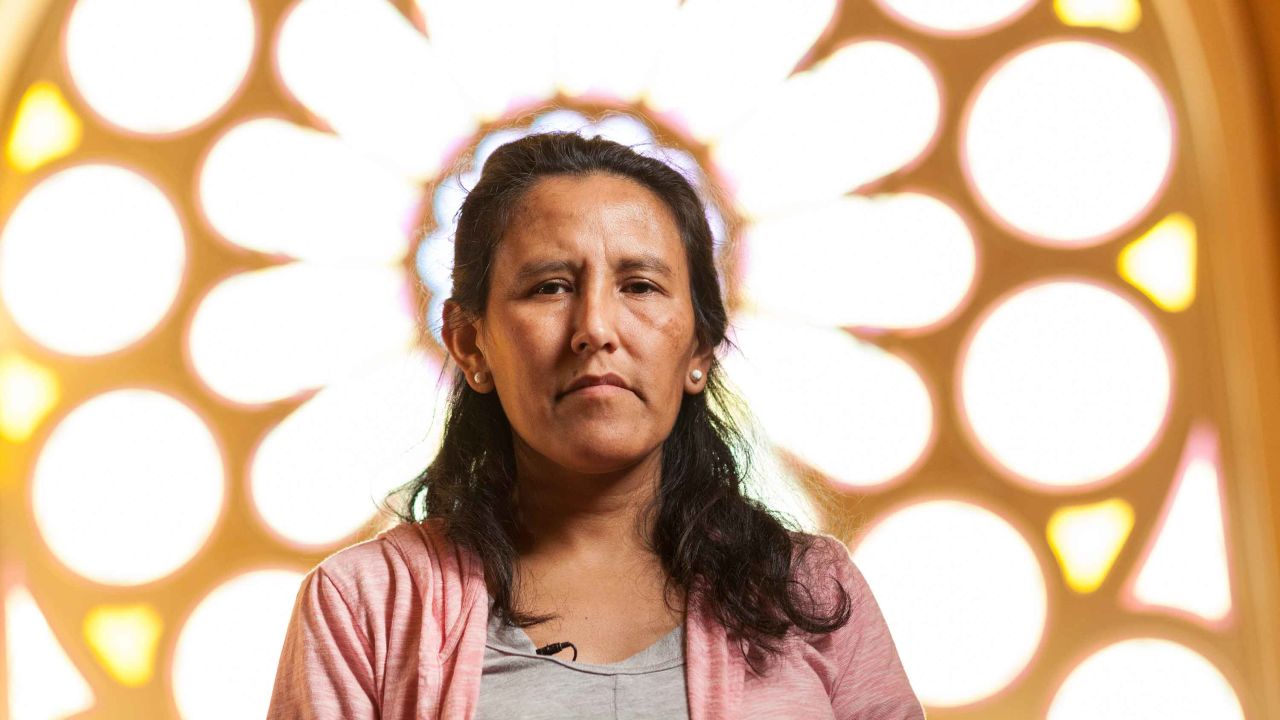 In pictures: An undocumented mom is told to go
Meyer said he will talk with Vizguerra about next steps, legally. He said he's optimistic her U visa application will be granted, though he said he thinks ICE's denial of the stay request owes to the fact that "we are living in Trump's administration."
For now, Vizguerra plans to continue seeking refuge at her church.
Ana Cabrera and Sara Weisfeldt in Denver contributed to this story.