An 11-year-old girl who was shot in the head while sitting in the backseat of a minivan in Chicago on Saturday – one of three children shot in separate incidents in the city over a four-day period – has died, according to her family.
Takiya Holmes had not regained consciousness since she was shot. She died on Tuesday morning "in her mother's arms," according to a Facebook post from her cousin Rachel Williams.
Holmes was one of three children shot in Chicago from Saturday to Tuesday and one of two girls struck by stray bullets in the city on Saturday alone, bloody incidents that further highlighted the city's problem with violent crime. Of the three children, two have died.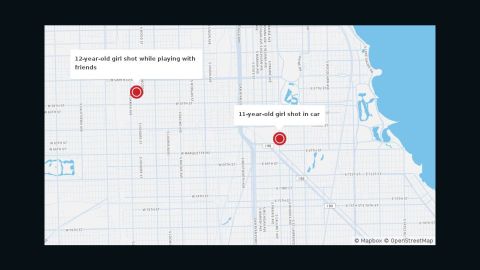 Kanari Gentry-Bowers, 12, was shot Saturday and is listed in critical condition at Stroger Hospital, according to CNN affiliate WLS.
On Tuesday, a 2-year-old child and a 26-year-old man were shot and killed while they were riding in a car in the city, Chicago police said. Another person in the vehicle, a pregnant woman, also was shot; she and her unborn child were in stable condition Tuesday at a hospital, police said.
Violent crime rates have consistently declined in cities across the country since their peak in the 1990s, but that trend sharply ended last year in Chicago. A total of 762 people were murdered in Chicago in 2016, a more than 50 percent increase from the year prior.
"I never thought it would hit this close to home," Holmes' grandmother, Patsy Holmes, told CNN affiliate WLS. "That is a wake-up call, you can be anywhere at any time and this happens, they were in the car, who knew a stray bullet was going to hit her."