Story highlights
The rise of activism in the Trump age is reminiscent of the 60s
A broader cultural shift in sports has encouraged athletes to speak out
When Beyoncé got political and paid tribute to the "Black Lives Matter" movement at the Super Bowl last year, many sports fans were up in arms, accusing the star of violating what some consider to be an unspoken rule: Keep politics out of sports.
But in an America that is still reeling from a divisive presidential election cycle, where the rise of President Donald Trump catapulted heated debates over race and social issues into the mainstream, many athletes are becoming politically active in a way not seen in decades. And not everyone is happy about it.
"Sports is really no longer an escape from the real world that it used to be. Sports is a mirror of our society," CNN Sports Analyst Christine Brennan said. "I think because Trump is so controversial and because the things he's saying and doing run counter to what many people believe … athletes are finding their voice in a way that is reminiscent of the 1960s."
While Trump found some of his most vocal backers in the sports world – he was endorsed by famous athletes and coaches, including legendary college basketball coach Bobby Knight and former All-Star pitcher Curt Shilling – it is the opposition to Trump and the debates surrounding racism and women's rights that have revitalized activism in American sports.
A growing group of top tier athletes — from Super Bowl winners, basketball MVP's, boxing champions, ballet dancers, Olympic medalists in soccer, figure skating and fencing, and sports legends like Billie Jean King and Kareem Abdul-Jabbar — have formed a passionate chorus protesting the state of American politics.
Travel ban ignites fury
Since winning the election, Trump's travel ban on refugees and immigrants from seven majority Muslim countries, has escalated the backlash and drawn criticism from many corners of the sports world.
Fencer Ibtihaj Muhammad, who made history in the 2016 Olympics as the first female Muslim American to win a medal for the United States and the first American to compete wearing a hijab, slammed Trump's ban on Tuesday, saying she has been discriminated against as a Muslim.
"… Even though I represent Team USA and I have that Olympic hardware, it doesn't change how you look and how people perceive you," she said. "Unfortunately, I know that people talk about this having a lot to do with these seven countries in particular, but I think the net is cast a little bit wider than we know. And I'm included in that as a Muslim woman who wears a hijab."
CNN has reached out to the White House for comment and has not yet received a response.
Under Armour-sponsored athletes Golden State Warriors guard Stephen Curry and star ballet dancer Misty Copeland both took issue with CEO Kevin Plank this week for calling Trump a "real asset" to the United States.
Curry, who was not known for inserting himself into politics prior to 2016, publicly confronted the CEO of Under Armour Kevin Plank, saying, "I agree with that description if you remove the 'et' from asset."
Cleveland Cavaliers star forward Lebron James slammed Trump's travel ban last week, saying, it "does not represent what the United States is about."
And NBA legend Kareem Abdul-Jabbar, who formally endorsed Clinton, said the ban makes America "a bad horror movie."
Six New England Patriots players, including Martellus Bennett and Devin McCourty, who protested racism on the field by raising their fists during the national anthem, announced that they will skip the team's upcoming White House visit, where they will be honored by Trump for winning this year's Super Bowl.
While not all six cited political reasons, some specifically pointed to their opposition to Trump.
"Basic reason for me is I don't feel accepted in the White House," McCourty said. "With the President having so many strong opinions and prejudices, I believe certain people might feel accepted there while others won't."
Another Patriots player skipping White House visit over Trump
Warriors head coach Steve Kerr and San Antonio Spurs head coach Gregg Popovich both slammed Trump last month in what Brennan describes as "absolutely the stuff of history."
"I'm completely against what's happening. I think it's shocking. It's a horrible idea," Kerr said, reacting to news of the travel ban. "I feel for all the people that are affected. Families are being torn apart, and I worry in the big picture what this means to the security of the world."
And before he died in June, Muhammad Ali dove into another political battle and spoke out against what was then candidate Trump's proposed temporary "Muslim ban."
"We as Muslims have to stand up to those who use Islam to advance their own personal agenda," Ali said in December. "They have alienated many from learning about Islam. True Muslims know or should know that it goes against our religion to try and force Islam on anybody."
Back to the 60s
When San Francisco 49ers quarterback Colin Kaepernick refused to stand during the national anthem in August to protest racial injustice, he quickly became one of the most controversial figures in sports like several others before him.
NFL players protest during national anthem
He was relentlessly booed on the field, accused of being anti-American and his jersey was even used as a floor mat.
Despite the backlash, others joined Kaepernick's protest, including his teammate Eric Reid, Denver Broncos linebacker Brandon Marshall, Miami Dolphins players Arian Foster, Kenny Stills, Michael Thomas, Jelani Jenkins, Seattle Reign FC soccer star Megan Rapinoe and even some high school players.
Kaepernick also faced criticism because he said there was no difference between voting for Trump or Clinton. He did not cast a ballot in 2016.
"It's reminiscent of back in the day when Muhammad Ali and Kareem Abdul-Jabbar were influencing entire movements of people with the stances they were taking and their words," CNN Sports correspondent and former NFL player Coy Wire told CNN.
In the era of Martin Luther King Jr., when civil rights activists across America protested racial inequality, America saw a rise in activism that made its way into the world of sports.
One of the most notable examples is legendary boxer Ali's refusal to join the US armed forces and fight in the Vietnam war, citing his Muslim religion.
"How can you love Muhammad Ali and not love [Kaepernick] for the stance he took?" Director Spike Lee told CNN in August.
"The same way John Carlos, Tommie Smith raised their black gloved fists in the '68 Olympics in Mexico. The same way Muhammad Ali refused to fight in the Vietnam War. These are rights that Americans have," he added.
US Olympic runners Tommie Smith and John Carlos bowed their heads and raised their fists during the national anthem to protest and despite having won gold and bronze medals, they were both suspended from the team.
Fist-raising is a symbol of solidarity and a symbol of the black power movement that dates back to the Black Panthers in the 60s and 70s.
And now, Smith is voicing his support for Kaepernick and others who are taking a stand.
"Colin's made a very important and a non-volatile statement about the realities of the society in which he lives. I congratulate him and his beliefs of total parity," Smith said in August.
The political fights of Muhammad Ali
"Back in 1968, "danger" was spelled the same way, felt the same way, and it could do the same harm to someone who's standing out by him or herself against the evolution in racism … There is a sacrifice," he added.
'Black Lives Matter' echoes on the field
Even before Trump and Kaepernick, athletes had begun to make political statements on and off the field, particularly on police brutality, reflecting a broader cultural shift.
Wire said that the rise of social media and an evolution within sports organizations like the NFL and the NBA, where coaches and owners are "more lenient" on players speaking out, have encouraged more athletes to take a stand on social and politics issues.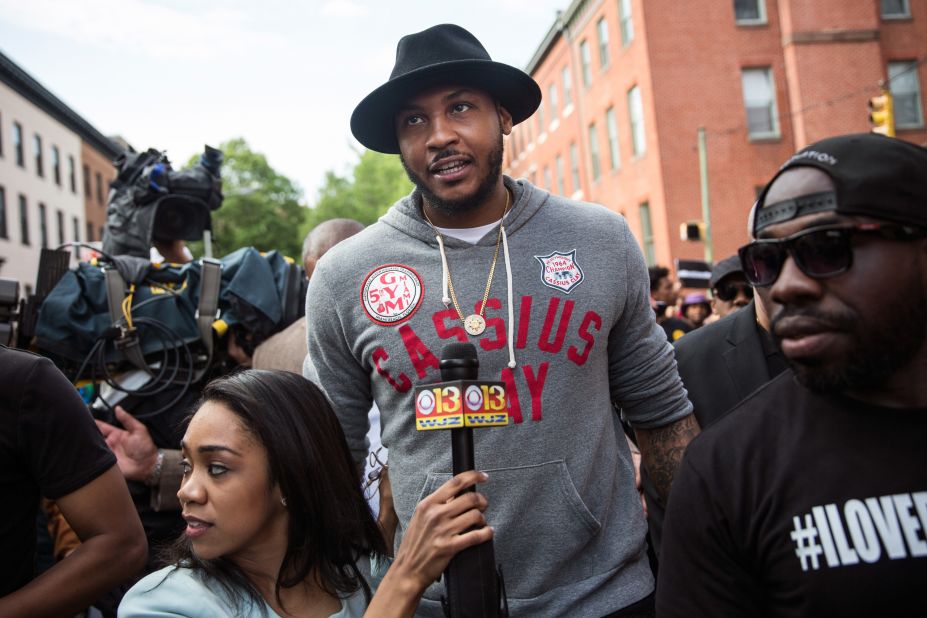 A timeline of social activism in sports
"Back in the early 2000s, when I first came into the NFL it was 'do not talk about it, keep your head down.' Basically, 'just stick to sports, you're an athlete,' Wire said. "But towards the end of my career it started to trend towards 'be smart, think before you click send on Twitter.'"
In an implicit reference to Kaepernick, NFL Commissioner Roger Goodell said last week that the organization encourages players to respect the flag but respects players who choose to exercise their First Amendment rights.
"We have to respect people's Constitutional rights, we understand that," Goodell said. "But for us, we're all about patriotism."
Five players from the St. Louis Rams walked onto the field at the start of a November 2014 game with their hands raised in the air in a "don't shoot" gesture to protest the police shooting death of unarmed Missouri teenager Michael Brown.
St. Louis Rams coach Jeff Fisher said that his players will not be fined for their "don't shoot" protest because "they were exercising their right to free speech, and Dolphins owner Stephen Ross said he was "100% supportive" of his own players who took a stand.
Members of the Cleveland Cavaliers and the Brooklyn Nets, including James, Kyrie Irving and Kevin Garnett, wore "I Can't Breathe" T-shirts in December, reflecting the words of Eric Garner, who died after being placed into a chokehold by police.
At the time, NBA Commissioner Adam Silver said that while he prefers that players comply with dress code rules, he respects their choice to speak out.
Silver reiterated this view in July, saying that while he didn't think it was a good idea for members of the Minnesota Lynx to wear "Black Lives Matter" shirts before a game, players in the NBA and the WNBA have a right to express their views.
"I would greatly prefer that the players use the platform they're given, social media, press conferences, media in locker rooms, however they want to do it, to make their political points of view be known," Silver said.
Silver also backed players, who took part in a July public forum with police officers and community members to discuss police brutality led by New York Knicks star Carmelo Anthony.
And in an unprecedented move, the NBA moved next week's 2017 All-Star Game from Charlotte to New Orleans, as a response to North Carolina's House Bill 2, more commonly know as the "bathroom bill, which bans people from using public bathrooms that don't correspond to their biological sex as listed on their birth certificates.
Women's rights reverberate in locker rooms
Tennis legend Billie Jean King, who became a symbol for women's rights in the 60s, and retired soccer star Abby Wambach, a two-time Olympic gold medalist, campaigned for Democratic presidential nominee Hillary Clinton.
And figure skater Michelle Kwan, a five-time world champion, formally joined the Clinton campaign as an outreach coordinator, hoping to see the first woman president.
But when a 2005 hot mic video surfaced in October of Trump making derogatory remarks about women, the call for women's rights in the sports world became louder.
"When you're a star, they let you do it. You can do anything … Grab them by the pussy. You can do anything," Trump said in the 2005 tape.
Trump later apologized but dismissed his comments as "locker room talk."
Male and female athletes, from Lebron James, to figure skater Ashley Wagner slammed the notion that Trump's comments are just typical locker room banter.
"I believe through and through that any man who speaks in such a degrading way towards women is absolutely vile and disgusting," Wagner said in October.
James, who remained largely apolitical before backing Barack Obama's presidential campaign in 2008, took political activism to a whole new level in 2016, by formally endorsing Clinton in a Business Insider essay and making an unusual move by stumping for Clinton at a Cleveland rally.
A group of athletes, including James and other NBA players, joined hundreds of thousands at the Women's March last month to protest Trump.
Are Trump supporters afraid to speak out?
Some of Trump's most outspoken supporters have come from the sports world, including Knight, who appeared at campaign rallies with Trump and was a surrogate for him on talk shows.
But Wire said that some athletes who back Trump may be wary about speaking out.
"I definitely think its going to test some dynamics within certain teams and organizations," he said.
"Its not that I've experienced it personally, but I can put myself back in the cleats in the NFL locker room … (Protests are) going to force us to look at our teammates and say 'that really means something to them,'" he added.
Curt Schilling, who won three World Series, said last month that he's been ostracized due to his political views, claiming that his support for Trump has kept him out of the Baseball Hall of Fame.
"If I had said 'Lynch Trump,' I'd be getting in with about 90% of the vote," Schilling told TMZ last month.
Brennan said that while it's "hard to know" if some Trump supporters have kept quiet, "if we are to judge from Curt Schilling's experiences and his opinion then perhaps that is the same."
The New England Patriots, who won Super Bowl 51 last week, have been linked to Trump due to the President's friendship with quarterback Tom Brady.
But the five-time Super Bowl champ, who faced controversy during the 2016 election when a "Make America Great Again" hat was spotted in his locker, has been evasive when asked about Trump, keeping his comments non-political.
Trump announced a day before the general election that Brady and the team's coach Bill Belichick are supporting his campaign for president.
But the football star's wife, model Gisele Bundchen, bluntly denied those reports in a social media exchange.
"Gisele I head you and Tom were backing Trump! Is that true?" an Instagram user asked.
"NO!" Bundchen responded.
However, following Trump's win, the President said at a pre-inaugural dinner that Brady and Patriots owner Robert Kraft called to congratulate him.
While he did not deny it, Brady played down the claim during an interview, saying, "I call a lot of people."
"I have called him, yes, in the past," Brady said. "Sometimes he calls me. Sometimes I call him. But, again, that's been someone I've known. I always try to keep it in context because for 16 years you know someone before maybe he was in the position that he was in. He's been very supportive of me for a long time. It's just a friendship. I have a lot of friends. I call a lot of people."