Story highlights
The boy was born with polymelia, a rare birth defect resulting in extra limbs
After five hours in surgery he is expected to fully recover
An Indian boy born with four legs and two penises is set to return home after a successful surgery.
Doctors at Bangalore's Narayana Health City described the complexities of the case to local reporters at a news conference Thursday.
The boy, who has not yet been named, was born with polymelia – a rare congenital birth defect that results in extra limbs or organs, which are usually deformed.
"These are problems that happen from time to time and (are) irrespective of socio-economic status," said Dr. Sanjay Rao, a senior consultant pediatric surgeon at Narayana Health City who performed the procedure.
Rao told CNN the boy's parents gave him permission to discuss the case publicly.
'Parasitic twin'
Polymelia is a genetic disorder, which can be caused by chromosomal abnormalities or environmental agents, according to a paper in the Journal of Clinical Imaging Science.
The condition can occur when an embryo develops into conjoined twins, but then one twin stops growing but continues to develop extra limbs or organs, which remain attached to the other twin. This was the case for the boy in Bangalore, according to Rao, and it's referred to as "parasitic twins," according to a press release from the hospital.
The presence of an extra twin made the surgery, which took place last week, all the more complex, Rao told CNN.
The procedure required a team of 20 doctors, nurses and technicians.
"Because the anatomy is not typical, a lot of work had to be done before the operation to clearly define the anatomy, what structures are shared between the parasitic twin and the main baby, the blood vessels need to be identified to control blood loss so there was a lot of pre-operative work to build a road map that would help us during the operation," he said.
The exact number of cases of polymelia to date, or the likelihood of them occurring, is unknown but Rao said it's uncommon.
It's the fourth case the hospital has dealt with in the past decade– including one in 2008 on a baby girl, Lakshmi Tatma, born in the northern state of Bihar with four legs and four arms.
Tatma's story garnered widespread attention. Thousands of religious devotees flocked to see her because they believed she was a reincarnation of Laxmi, the four-armed Hindu goddess of wealth.
The journey
The boy was born on January 21 in a government-run rural health center in Puladinni village, located in the southern Indian state of Karnataka.
Though the birth went smoothly, doctors realized the extra limbs meant the boy would immediately need specialized medical care.
He was transported to a local hospital before traveling over 200 miles with his parents to Narayana Health City the day after he was born.
The arduous journey took a severe toll on the infant; when he was admitted on January 24 – at 3 days old – he was dehydrated and required oxygen support.
Superstitions
Superstitions and stigma are often synonymous with cases like these in India, especially if the children represent Hindu deities – like the case of the girl in Bihar.
But the boy's parents, Lalitamma and Chennabasava, were quick to recognize that this was a medical condition that required immediate attention.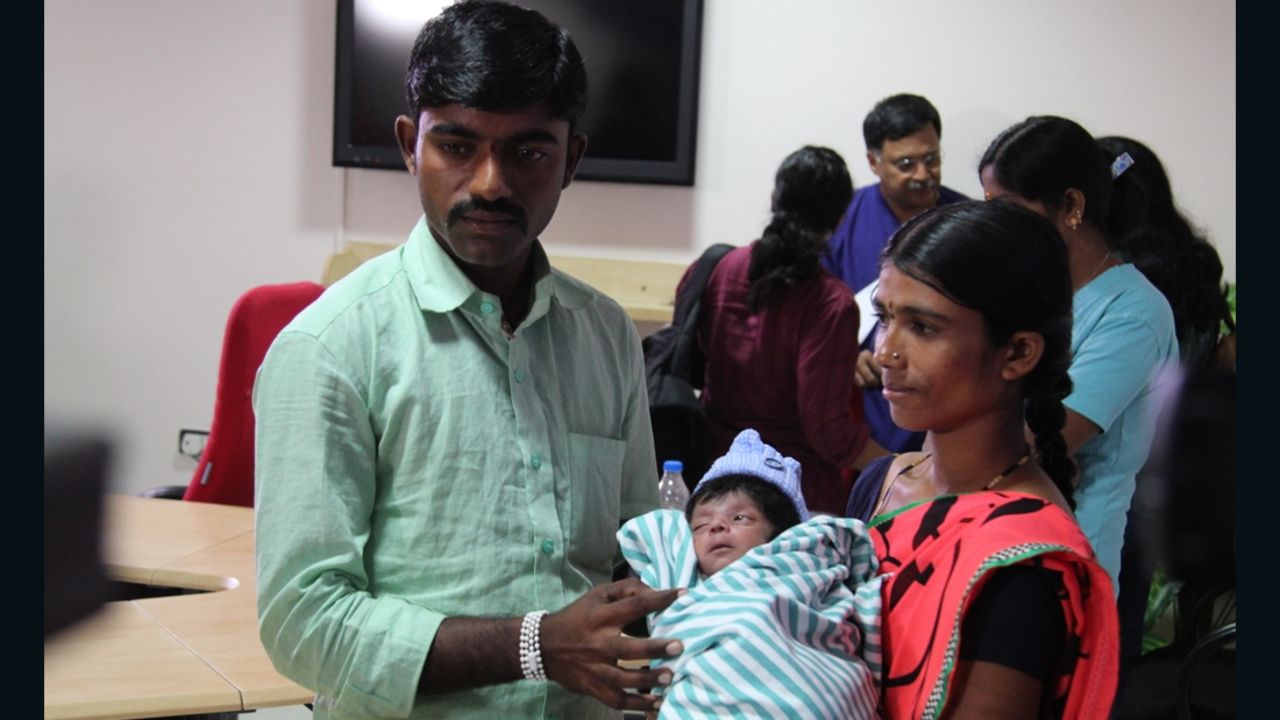 "Times are changing. Young parents are now more aware about superstitions," said Rao.
The baby is expected to be discharged within the next week.
His follow up care, like the corrective surgery, will be provided for free by Narayana Health City, something his father who works as a farmer is grateful for.
There may be cosmetic issues going forward that could require minor procedures, but he'll have a normal childhood, Rao says.