Story highlights
Extreme weather hits Louisiana and other Gulf Coast states
Witness: "The lights went out and you could hear stuff falling from the ceiling"
A powerful tornado touched down Tuesday in the New Orleans East neighborhood, flipping cars, smashing homes and injuring several dozen people, some seriously.
The severe weather spanned a wide swath of southeastern Louisiana.
Gov. John Bel Edwards said seven confirmed tornadoes were recorded in at least six different parishes. The storm system damaged dozens of homes and businesses and left thousands without power, according to Edwards.
"But the Lord has blessed us because not a single fatality has been reported or confirmed as this time," Edwards told reporters.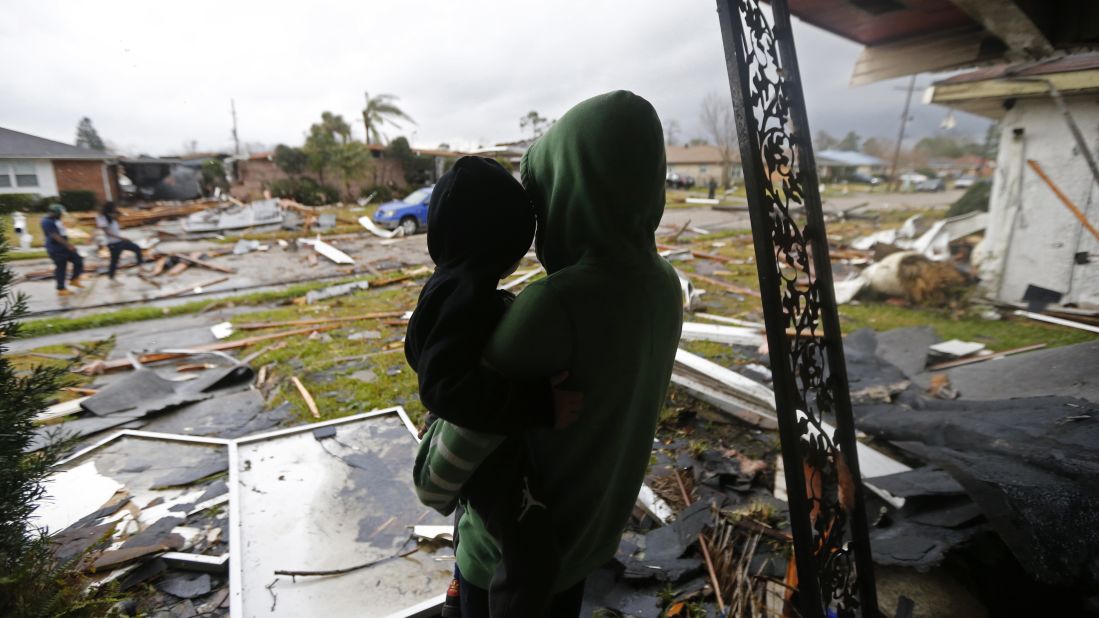 Tornado strikes New Orleans
Edwards declared a state of emergency.
Severe thunderstorms were predicted to continue from the central Gulf Coast region to the Ohio Valley ahead of a strong cold front, according to the National Weather service.
Very large hail, strong winds and tornadoes will be possible in the lower Mississippi River Valley and central Gulf Coast states through Tuesday evening, according to the weather service.
A National Weather Service preliminary survey found that the tornado that hit New Orleans was at least an EF-2, packing winds of 111 to 135 mph.
The Storm Prediction Center said the tornado damaged about 60 houses and structures, CNN affiliate WDSU reported.
Landrieu said the tornado traveled about 2 miles and destroyed everything that some families had.
"It's like an elephant stomping on your house and it is really devastating," Landrieu said. "But the people of New Orleans and the people of Louisiana are really resilient and tough."
Landrieu said several dozen people had minor injuries and about five suffered serious injuries.
Slightly more than 11,900 customers in Louisiana remained without power, according to utility company Entergy's outage map.
NASA's Michoud Assembly Facility in New Orleans was damaged.
Jonathan Simeral, a materials engineer at the facility, said he initially headed to a window after getting a weather warning on his phone, but then "dove into a bathroom" after his colleagues screamed that they could see the tornado approach.
"The lights went out and you could hear stuff falling from the ceiling. Debris flying, you could hear it hitting the windows," he said.
Darrick Williams said his sister-in-law called him after a tornado ripped through her New Orleans East neighborhood.
"The whole house is gone. The whole house was hit by a tornado, so I jumped in my car and headed around the corner to their house," Williams recalled her saying.
Williams, who also lives in the neighborhood, went to check on his brother and sister-in-law before he started filming a Facebook Live video.
"I could tell that the whole back half of the house was gone," Williams said.
CNN's Taylor Ward contributed to this report.