Story highlights
Milo Yiannopoulos, editor at far-right Breitbart News, says he's touring colleges to fight political correctness
His events have sparked protests over his inflammatory comments about women and minorities
Sacramento, California
CNN
—
It's a recent Friday night in downtown Sacramento, and there's a man in a hotel lobby wearing a fur vest and sunglasses. He has a British accent.
A line of college-age fans stretches out the door.
They're waiting for autographs and selfies. Some are wearing "Make America Great Again" caps.
"Milo I love you! Oh my god, thank you – I love what you do," says one woman to the man in the fur vest.
"Thank you for what you're doing," says another college student wearing a Donald Trump hat.
The subject of their adulation is not a rock star or a crusading politician but Milo Yiannopoulos, 32, an outspoken editor for the far-right Breitbart News. He's on a flamethrowing tour of college campuses – including an event Wednesday night at UC Berkeley that was canceled after protests became violent – and has made it his goal to take on the traditionally left-leaning college establishment.
"I just want to burn it down," Yiannopoulos said in an interview last month with CNN. "I am speaking on college campuses because education … is really what matters. It's a crucible where these bad ideas are formed. Bad ideas like … progressive social justice, feminists, Black Lives Matter … that I think is so cancerous and toxic to free expression."
This professional provocateur, who was banned on Twitter after his harassment last summer of "Saturday Night Live" star Leslie Jones, has been making a name for himself with his "Dangerous Faggot" bus tour. In campus appearances across the nation the openly gay Yiannopoulos has made disparaging remarks about Muslims, minority students, members of the transgender community and other groups – all in the name of free speech and the fight against political correctness.
His many detractors say he is a hatemonger. But Yiannopoulos believes he offers an important perspective that is missing at universities where liberal ideas typically go unchallenged. And he's inspiring other far-right speakers to visit college campuses in the hopes of swaying young minds.
"People are tired of being told how to live, how to speak, what language they can use," he said. "The strength of feeling in my crowds, the enthusiasm for me from the audiences is the same – the same instinct, the same sort of motivating force (that) put Trump in the White House."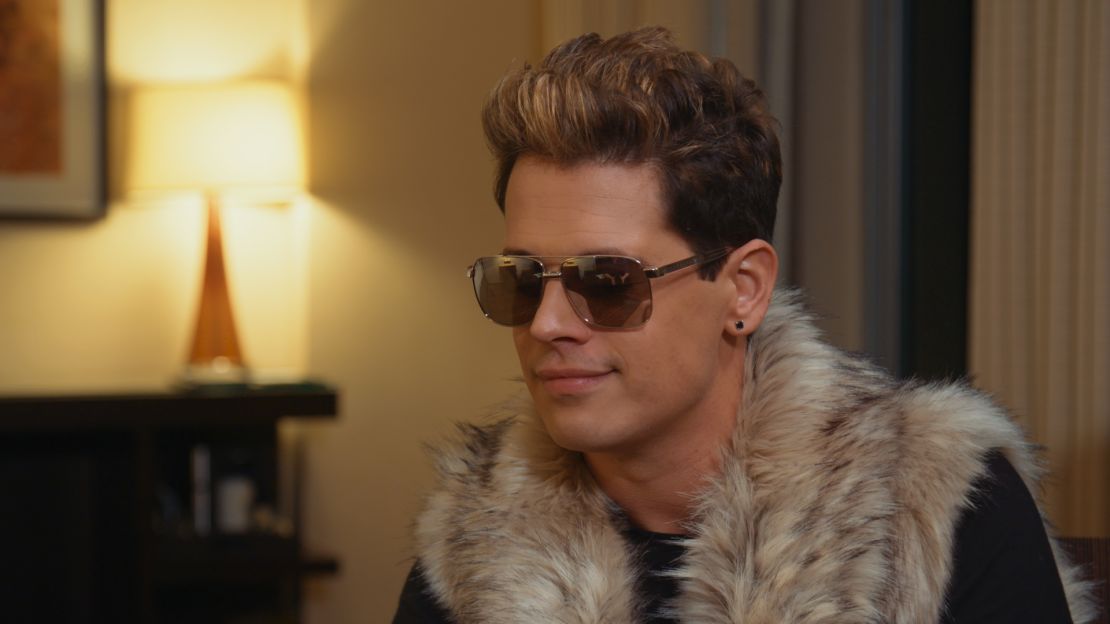 'It's almost cool to be Republican now'
Almost everywhere he appears, Yiannopoulos, who has started a college scholarship program open only to white male students, causes a ruckus.
Last month protests erupted before his speech at the University of California, Davis, forcing sponsors to cancel the event, citing security concerns. (Yiannopoulos later led a march on campus instead.) A scheduled appearance this week at UCLA was also canceled, partly for safety reasons.
On January 20, the night of Trump's inauguration, a man was shot during protests outside Yiannopoulos's event at the University of Washington in Seattle. According to the Seattle Times, Yiannopoulos briefly left the stage to confirm the shooting before returning to say, "If we don't continue, they have won."
In his campus talks, Yiannopoulos spares few targets. He's gone after Black Lives Matter activists and has argued rape culture on campuses doesn't exist. He portrays white males as victims and views social justice as a form of cancer. He has said people become feminists because they are "deeply physically unattractive."
Sometimes Yiannopoulos mocks individual people. While talking about the transgender bathroom debate at the University of Wisconsin-Milwaukee in December, he displayed a photo of a transgender female student from that school and told the crowd, "the way that you know he's failing is that I'd almost still bang him."
He's also implied Americans have good reason to fear Muslims and said that liberals believe that they can make Muslims accept gays if only they "hug them hard enough. Well, news flash ladies, it's not a boner, it's a bomb."
Yiannopoulos is typically invited to speak by conservative student organizations such as College Republicans and Turning Point USA. He claims he charges no speaking fees and that his travel expenses are paid for by Breitbart News and wealthy donors. A handful of people also have started GoFundMe pages to cover the costs of hiring extra security for his events.
Tickets usually sell out fast. Some fans show up in suits and ties. Others wear Trump hats and T-shirts, making the event feel like a campaign rally even though the election is long over.
Outside the halls, the spectacle sometimes includes police in riot gear and crowds of anti-Milo demonstrators chanting "No Trump, no KKK, no fascist USA!"
Yiannopoulos, who recently signed a reported $250,000 book deal, appears unfazed.
"[College students] understand that there's something exciting and dissident and mischievous about this," he said. "It's almost cool to be Republican now."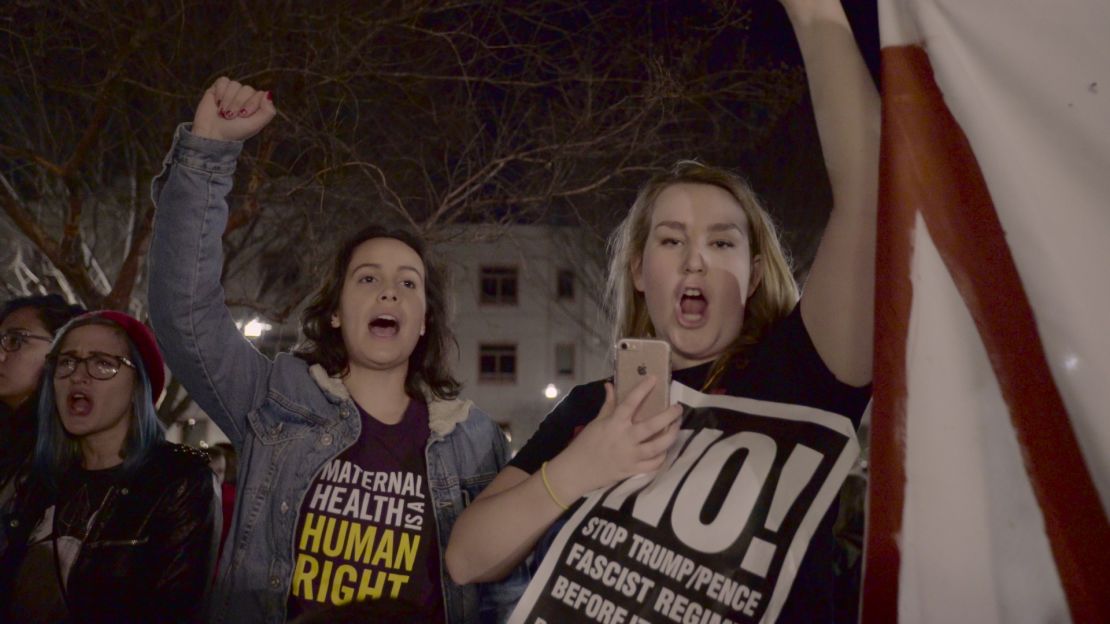 'A troll and a provocateur'
Yiannopoulos is often identified with the alt-right, a far-right political movement rife with white nationalist, anti-Semitic and racist ideologies, although he rejects the label.
His tour has coincided with a flurry of hate crimes around the country following Trump's election victory – many of them on college campuses. In the month after the election, the Southern Poverty Law Center said 172 hate incidents were reported at colleges and universities nationwide.
The SPLC attributes the spread of alt-right propaganda on campus to the "increased confidence that these groups are feeling following Trump's victory," which they say is also being fueled by figures like Yiannopoulos and white nationalist Richard Spencer.
"What's new is Donald Trump. There's somebody on the national stage who's … helping to encourage and give enthusiasm to this effort to proselytize and go to campuses and get new recruits for a new conservative movement," said Kevin Johnson, dean of the law school at UC Davis.
Universities have faced pressure to cancel Yiannopoulos' events. But many have decided to allow his show to go on in the name of free speech and the First Amendment.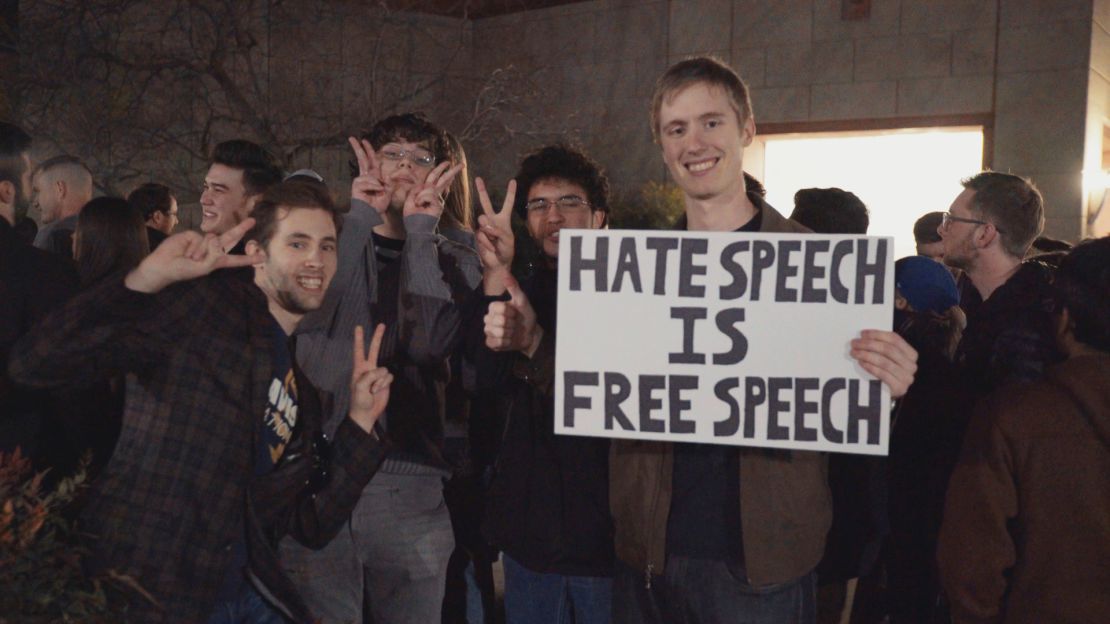 "We're a public university, bound by the US Constitution. And we're not supposed to be censoring speech so it's not really up to us to say who can say what on campus," said Johnson of UC Davis.
"In our view, Mr. Yiannopoulos is a troll and provocateur who uses odious behavior in part to 'entertain,' but also to deflect any serious engagement with ideas," added Chancellor Nicholas Dirks of UC Berkeley, in explaining why the university allowed his event to be held on campus.
But, he added, "we are defending the right to free expression at an historic moment for our nation, when this right is once again of paramount importance. In this context, we cannot afford to undermine those rights, and feel a need to make a spirited defense of the principle of tolerance, even when it means we tolerate that which may appear to us as intolerant."
But some students who end up as the targets of Yiannopoulos's comments feel there should be no place for him or his views on campus.
A transgender UC Davis student, who asked to be identified only as Barbara, told CNN she was too scared to be on campus during Yiannopoulos's scheduled visit and was fearful of his potential effect on her classmates.
"The fear is with the folks who are gonna see him," she said. "He leaves. But the folks who are attending (his event) are the folks that I have to sit next to in classrooms."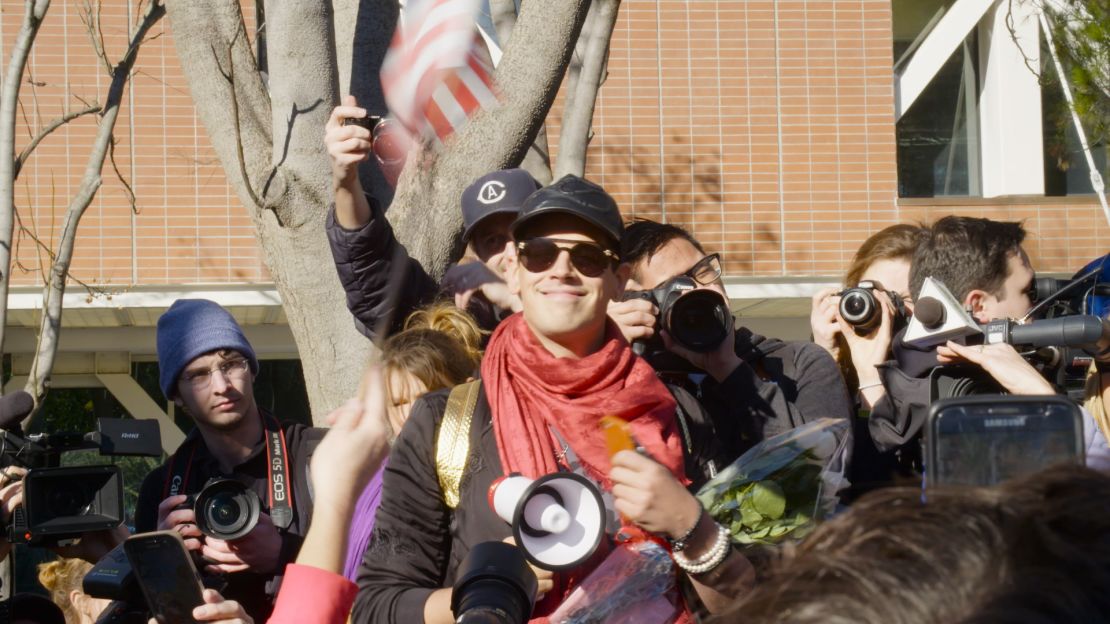 Hate speech as free speech?
Yiannopoulos isn't the only controversial speaker to try and capitalize on what some are describing as a "hate speech as free speech" movement.
Spencer, the white nationalist, told Mother Jones that watching one of Yiannopoulos's speeches at the University of Houston in September was a "huge inspiration" and helped him realize "what we are doing is known to people, it's edgy and dangerous, it's cool and hip. It's that thing our parents don't want us to do."
Spencer spoke at Texas A&M University in December and says he's planning to do his own college tour.
Nathan Damigo, another white nationalist and founder of a group called Identity Europa, says he's hoping to join Spencer on the tour. Damigo says he also sees Yiannopoulos as an inspiration and showed up at his event at UC Davis before it was canceled, hoping to find potential recruits for his own cause.
"In a way, we're all trying to do the same thing," Damigo told CNN. "We're all trying to bring narratives to these institutions that have been intentionally omitted. We are trying to combat the (liberal) narratives here that are just being allowed to propagate here without any sort of confrontations."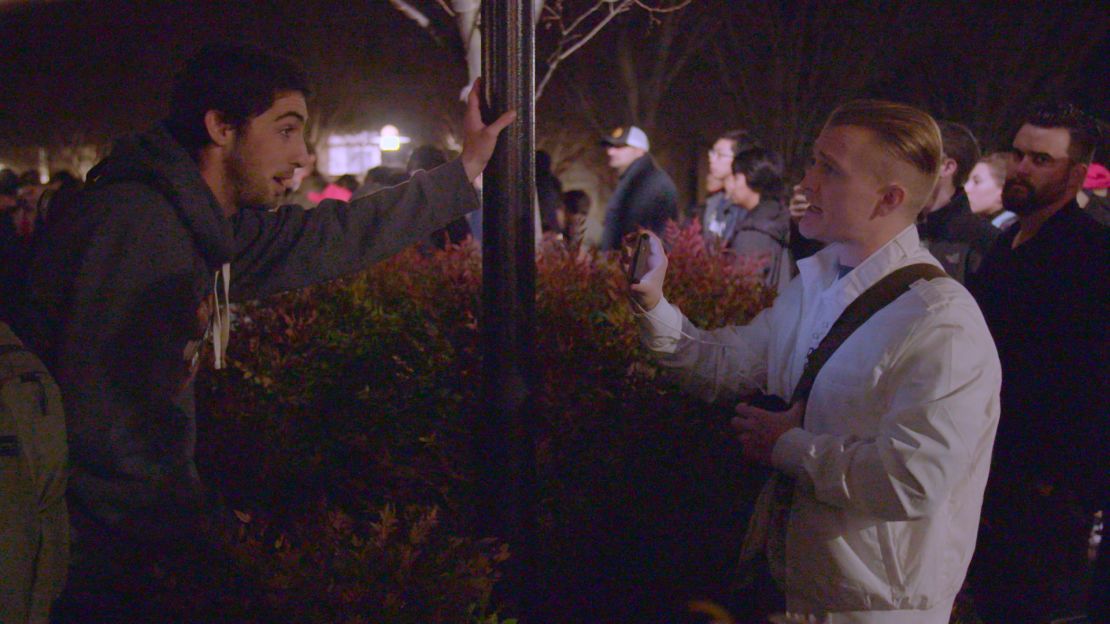 For his part, Yiannopoulos says he has nothing to do with Spencer or any white nationalists.
"I don't have unsavory opinions about skin color … what you are seeking to do, by associating me with people who have odious and disgusting opinions, is suggest that I somehow in some way tacitly enable these people," he said. "I don't. F*ck you."
But Oren Segal, director of the Anti-Defamation League's Center on Extremism, believes Yiannopoulos "serves as a gateway" to more dangerous ideas.
"When you see white supremacists hanging outside of Milo's events to poach potential recruits, it speaks to exactly why Milo is potentially dangerous. Milo is bringing his misogyny and hatred and racism onto campus, and people (are) sort of maybe considering it, 'Oh, this is just ironic. He's just being – you know, pushing the envelope.'" Segal said.
"And so it enables his ideology, his messages to sort of seep in. The next level is maybe an openness to more white supremacist ideas, more hardcore believers. I think that's fundamentally dangerous."
But Yiannopoulos said he doesn't believe his statements are that far from the mainstream. He sees himself as a crusader for free speech.
"I have opinions that, frankly, a lot of people are thinking. They just won't tell people. They don't pollsters. They don't tell journalists. But they think it, which is why you're all so surprised when, you know, half the country voted for Trump. I hold perfectly respectable, reasonable opinions that half of America agrees with," he said.
"So long as people are prevented from saying true things in public life for political correctness, there'll still be a need for me," he said. "And I'll never stop."
CNN's Brandon Griggs contributed to this story.