Story highlights
Deal includes around 1,250 refugees on two offshore detention centers
Most are from Iran, one-third have been there for more than 2 years
A landmark deal to settle refugees detained by Australia in the US is on shaky ground following reports of a contentious phone call between Prime Minister Malcolm Turnbull and President Donald Trump.
Trump is under pressure to reject or change the deal as he attempts to temporarily halt refugee arrivals and ban immigration from several Muslim-majority countries.
Turnbull, for his part, has been attempting to secure reassurance that Trump will honor the deal, signed by the Barack Obama administration.
Sources told CNN Trump described the agreements as "a very bad deal" and complained that Australia was trying to send "the next Boston bomber" to the US.
What is the deal?
Under the arrangement, agreed by Obama and Turnbull in November within days of Trump's election, Australia would transfer around 1,250 refugees currently held in offshore detention centers on the Pacific Island nation of Nauru and Papua New Guinea's Manus Island to the US.
The transfer would be administered by the UN High Commission on Refugees.
Only those refugees in the centers at the time the deal was announced would be eligible. In November, Turnbull said it was a "one-off agreement (that) will not be repeated."
Australia to send refugees to the US: Why it took so long
Who are the refugees?
There are currently around 1,250 people being held in the two detention camps, mostly refugees from the Middle East and South Asia. The overwhelming majority are from Iran.
Most were detained after arriving by boat, brought to Australia by people smugglers across a dangerous sea route hundreds of miles long.
Between 2007 and 2013, when the current Operation Sovereign Borders campaign was launched, the Australian government said at least 1,200 people lost their lives trying to make the journey.
According to official statistics, around 80% of people in offshore detention camps whose asylum claims have been assessed have been found to be legitimate refugees.
How long have they been there?
According to an Australian government report, the average length of time refugees spend in detention is 469 days, and steadily increasing.
Conditions in the camps are very poor, which has resulted in immense international pressure on successive Australian governments to solve the issue, though domestic support remains high.
In October Amnesty International accused Canberra of turning Nauru into an "open-air prison," and human rights abuses have been documented at the centers.
Last year, a UN committee report found multiple cases of "attempted suicide, self-immolation, acts of self-harm and depression" among children who had lived in prolonged "detention-like conditions."
Voices from Manus: 'I don't want to go to Australia … after what they did'
What do the detainees say?
An Iranian asylum seeker on Nauru responding to new details about the call between Trump and Turnbull told CNN: "We are not toys to play with."
"People have already been waiting for four years. This process should be really fast we can't take this anymore and if US doesn't want to take refugees they should just cancel it so other countries could help. It's really stressful time."
Multiple refugees on Nauru told CNN Thursday that they had already had one round of interviews with US officials about resettling there, and were waiting for the second set.
One refugee said a previously scheduled interview had since been postponed.
Neither refugees wanted to be named for fear it would impact their asylum applications.
Australia to close controversial detention center
How did they end up there?
Operation Sovereign Borders (OSB) was launched in 2013 after a previous relaxation of immigration policies resulted in a surge of the number of people arriving by boat from 161 in 2008 to 2,726 in 2009.
Even that higher figure is a tiny percentage of overall immigration to Australia. During the 2014-15 financial year, around 190,000 people were granted residency visas, while nearly 400,000 people were granted temporary student or skilled work visas.
The Coalition government, now led by Turnbull, campaigned in 2013 on a vow to "stop the boats," and OSB included posters with slogans such as "No Way: You will not make Australia home."
"The government has a policy that it wants to prevent the movement of people by boat from Indonesia to Australia," said Alex Reilly, deputy dean of University of Adelaide Law School.
After temporarily housing people who continue to arrive in offshore camps, Reilly said the government has "been looking for options for resettling those refugees elsewhere in the world."
"The US deal seemed like a wonderful way to fulfill the promise," he added.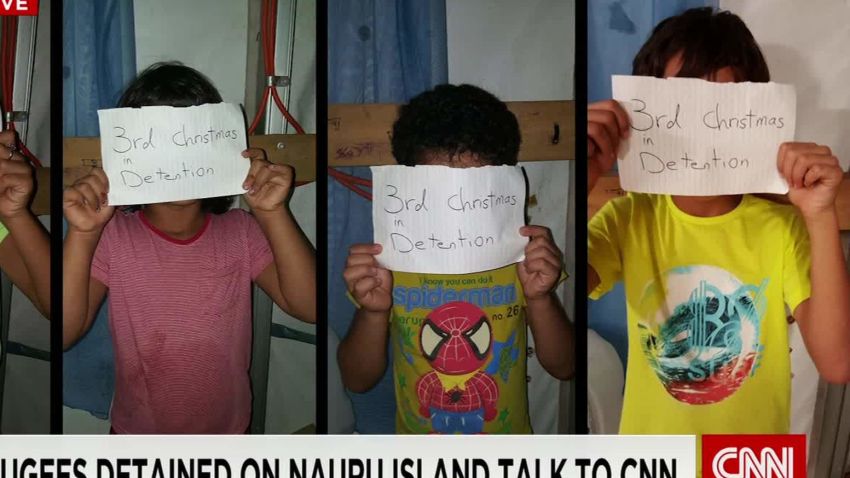 Horrific abuse claims in Nauru detention center
What happens next?
With the future of the deal in doubt under a Trump administration, huge political pressure will be back on Turnbull, Reilly said.
"The government has definitely painted itself into a corner by making such an absolute declaration (on refugees settling in Australia)," he said.
"People are in terrible conditions on Nauru, it's a huge embarrassment for the government, which needs now to resettle people as a matter of urgency."
While the US deal had acted as something of a release valve for pressure on Turnbull to find a more permanent solution, if the deal unravels it will be very much back on.
Reilly predicted that it may force the Australian government to back down on its previous hardline policies.
CNN's Jake Tapper contributed reporting.