Story highlights
Daniela Gerson: Jared Kushner is Trump's son-in-law, senior adviser, and the grandson of Holocaust survivors
He should remind the President of the importance of helping and protecting refugees from persecution, she says
Editor's Note: Daniela Gerson is an assistant professor of journalism at California State University, Northridge, and a former community engagement editor at the Los Angeles Times. The views expressed in this commentary are hers.
The first person I heard from as news spread around the world of the United States banning refugees was my friend Steffi. Her grandfather was a Nazi.
A decade ago I lived in Berlin surrounded by memorials to Jewish dead, including family members of mine who were not able to find a way out of Germany to the United States during the Holocaust. I also met wonderful people, like Steffi, who was my neighbor and brought me a piece of plum pie with fruit from her grandmother's tree the day I moved in. I spent a year there on a fellowship as a journalist, officially researching contemporary immigration programs, but I ended up spending most of my time reporting a German radio documentary on what that legacy was for us, the last generation to have direct contact with survivors and perpetrators.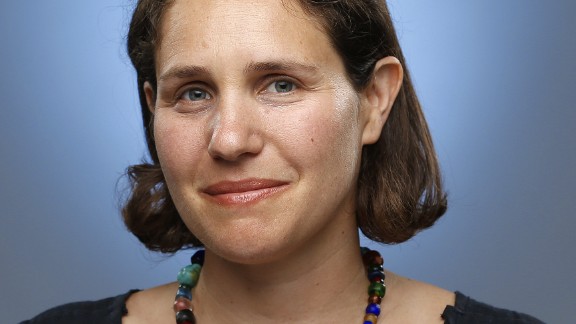 Mel Melcon/Los Angeles Times/Los Angeles Times
Never has that question felt more urgent. Last Friday, on Holocaust Remembrance Day, President Donald Trump's executive order temporarily banned refugees and foreign nationals who were visa holders from seven mostly Muslim countries.
Many have noted the irony in that timing, when so many Jews, and others, perished because the United States would not provide entry.
The other, less discussed coincidence of timing is that the Trump administration is coming to power at a time that the last Holocaust survivors and Nazis are leaving us. Those who were 10 when the war ended are now in their 80s. Their living testimony is disappearing and it is up to us, their descendants, to preserve it.
One of the most powerful people who could set an example of how to do so, Jared Kushner, son-in-law and top adviser to the President, is the grandchild of survivors. Yet his personal take on it, so far, appears to exclude one of the grounding legacies of the Holocaust: "Never forget." His exclusion both erases the past – he reportedly had a hand in the White House statement of remembrance that made no mention of Jews – and it mars the future. Because "never forget" isn't just about what we have suffered, it's also about the need to protect others so this does not happen again.
My German friend Steffi has often tried to understand how her grandfather could have become a Nazi. Was he innocent and just guilty of peer pressure; after all, he was only 12 years old when he joined Hitler Youth? Did he turn a blind eye? Or was it something else?
Until her father passed away, she said, he was troubled with the question of would he have been able to take a stand against the Nazis. Would any of us?
Intolerance can be insidious, and well-meaning people can do hateful things.
In the past, Kushner has asserted that he does not believe Trump is intolerant, and he has used his connection to the atrocities of the Holocaust as a way to justify his position.
"It's important to me that people understand where I'm coming from," Kushner wrote in the New York Observer last summer in response to a Jewish writer who said Trump was failing to take a stance against anti-Semitism. "When I report that I know the difference between actual, dangerous intolerance versus these labels that get tossed around in an effort to score political points."
Kushner then recounted the story of his grandparents, survivors from Belarus. His grandmother fled the ghetto. His father is named after her murdered brother. His grandfather escaped from a labor camp and spent a year, Kushner writes, living in "a literal hole that he had dug — for three years, foraging for food, staying out of sight and sleeping in that hole for the duration of the brutal Russian winter."
It is true that growing up with survivors of genocide shapes you. You know viscerally that people can hate in a way that is hard to understand from a history book.
All my family from that generation have now passed away, but I will never forget their stories. My Uncle Henik, who survived Auschwitz, and died with the numbers burned on his arms. My grandfather telling me when I was around 10 about a child my age, his nephew, who opened the door and Nazis shot him. My Great Uncle Moishe, who swam through freezing water to save himself but could not rescue my great-grandparents from gas chambers.
Our last survivor relative, my Aunt Raya (she was really a great cousin once removed, probably, but we were among her only family and she became an aunt) died only last year. She lived in a cavernous apartment on Riverside Drive on the Upper West Side of Manhattan, where a windowless room was covered top to ceiling with family photos. One day she took me in there and told me about them.
"She was killed by Hitler, and her grandson was killed by Hitler," she told me as she pointed to faces. "If they would have been a people without education, if they would be an illiterate people. But the Germans were a cultured people." What Raya could never understand: How could the Germans, an intelligent and cultured people, have murdered her father, her aunt? Why did they gas innocent people? "Until today," Raya explained, "their fingernails remain stuck in the ceiling of the chambers."
I cannot say what exactly the impact was on Kushner to hear stories like Raya's from his own family, since he has not spoken on the topic beyond writing publicly that he feels he understands true intolerance.
For me, being descended from survivors has meant a visceral sense of insecurity, even as I have grown up surrounded by privilege in a country that is built upon principles of freedom. It has also instilled a value that we should stand vigilant, that genocide and destruction can very easily happen again.
Get our free weekly newsletter
Growing up, my father used to have to translate memorial programs for his father from Yiddish, "We will never forget, we will never forgive." That was a slogan of the survivors who had directly lost loved ones.
In our generation, we have been taught to focus less on not forgiving and more on not forgetting: sharing the stories of what happened, protecting them, and learning from them so we do what we can that it does not happen again. Not just to Jews, but to anyone.
Kushner's grandmother once recounted how Jews perished because there was no refuge for them, including in the United States. Now he is in the position to act so others do not meet the same fate.