Editor's Note: Does the travel ban affect you, your friends or loved ones? We want to hear your stories. Tag #CNNiReport on social or use WhatsApp +44 7435 939 154 to share stories.
Story highlights
Dallal fled ISIS but can't see her husband in the United States
Susan, an Iraqi-American, worries for relatives seeking US asylum
Mohammed Al Rawi's father was turned back while en route from Baghdad
A Yazidi woman who fled ISIS counted on reuniting with her husband after he found asylum in the United States. But she was barred from boarding a flight out of Iraq.
A medical student in West Virginia is concerned his father won't be able to return home after attending a funeral in Iran.
And an elderly Iraqi man's trip to see his son and daughter was abruptly halted in Qatar when he was put back on a plane to Baghdad.
These are just a few of the families whose lives are in limbo after President Donald Trump's executive order limiting immigration from seven Muslim-majority countries. They express fears for what the future will hold for them and their loved ones. Here are their stories:
Yazidi woman's dreams dashed
Dallal and her husband – both Yazidis – barely escaped from the Iraqi town of Sinjar when ISIS stormed through the area, indiscriminately killing and kidnapping those in their path.
It marked the end of any notion that she and her family could build a future in Iraq.
Dallal is not her real name, but she said she is afraid she might jeopardize whatever chance remains to reach US soil by speaking out.
"My dream was to go to America because it's the strongest country in the world," she told CNN. "We feel that it's safe. It's the safest country. It has the strongest human rights."
But with one signature, her dream of a new life in America was shattered.
Dallal's husband was a translator for the US military and was allowed into the United States last summer after applying for asylum under the Special Immigrant Visa program.
Dallal was on her way to reunite with him when she received a document at the Irbil, Iraq, airport advising her she would not be allowed to travel to the United States.
"I was about to get on the plane, and they called my name," she said. "I went and they said, 'You can't board, you can't travel.' I was shocked. I cried, 'Why, why me?' "
'Everyone in the family is nervous now'
Susan, a 50-year old Iraqi-American in Chicago, will proudly tell you she worked at the US Embassy in Baghdad before fleeing to the United States in 2007 for the safety of herself and her two daughters.
However, she will not reveal her last name. In the current political climate, she fears she could be singled out and targeted.
Susan and her sister worked with the Americans in Iraq – and this made the entire family targets of "the terrorists, or the people working against the existence of the US forces in Iraq," Susan said. As a result, they had to flee – and remain divided.
"Everyone in the family is nervous now, we don't know what's happening. The executive order itself is not clear. Everyone is worried; we don't know what will happen," Susan said.
Lawyers for 2 Iraqis sue after being detained in New York
After a rocket hit her house in early 2007, Susan realized she and her daughters had to leave. Susan's mother and sister followed them to Virginia in 2008.
In 2014, her brother's wife, who does not want to be named, came to the United States to file asylum papers with their three children. She has gone through the arduous interview process and still has not been granted asylum, Susan said, although she has a work permit.
Opinion: The returning foreign terrorist fighter threat
Meanwhile, Susan's brother, Ahmed, has been living alone in Jordan for three years, waiting to start the process of applying for asylum to join his family once his wife and children are granted it.
"He is the only brother we have. He is younger than me by three years. He is a good person; he is good to his family. I wish he could come here to live with his family," Susan said.
"Always when they call their father, they cry because they miss him. … They are so attached between them as a family."
Elderly father turned back to Baghdad
Mohammed Al Rawi's 69-year-old father was on his way from Baghdad to visit his son and daughter in the United States, as he had done before, when suddenly everything changed.
His father was already in the air before Trump's order was signed, Al Rawi said, but having got as far as Doha, Qatar, he was asked about his visa, which had been granted in the summer. A US official then said he couldn't travel on, he said.
"They took his passport, they took his boarding ticket, and they had him with about 30 other people traveling on visas, actually some of them were on special immigrant visas," said Al Rawi, a US citizen who lives in Long Beach, California, and works in local government. His sister, also a US citizen, is a math teacher in Boston.
"Imagine if you are – you know, applying for an asylum visa, you just get rid of everything. All you have is a suitcase – and these people were at the airport and just sent back," Al Rawi said.
His father was put on a flight back to Baghdad, he said, and will face a struggle to be reunited with his baggage and get safely home from the airport through multiple checkpoints.
"I was expecting something, but not this. This stuff happens, you know, like one person makes a decision and messes up an entire population – this stuff happens in a Third World country," Al Rawi said.
"Plus, my dad flew before the executive action was signed. He was already in the air to come here. It's just such a chaos."
Rethinking plans to educate children in US
Hadi Alhassani is now re-evaluating not just his business ventures but his children's futures.
The 51-year-old father of five works for an international company that does business with the United States, a firm he won't name for privacy reasons, but one he says has a $500 million investment with US space contractors.
Alhassani is from Yemen and currently resides in Saudi Arabia. He holds a visa for business travel, but his Yemeni nationality means he is now banned from boarding a flight to the United States.
His face-to-face business meetings on US soil are now on hold for at least the next 90 days.
"(I) was planning to travel early March for a Satellite Show in D.C. Now (I) can't," he told CNN via Twitter.
Alhassani is an alumnus of the University of Kansas and holds a bachelor's degree in science and a master's in aerospace engineering.
But his professional future isn't the only thing up in the air. Alhassani said his plans for his children to follow in his footsteps with a US education seem less likely now.
"(I) was actually planning to send my kids to school in US but no more. Now looking at New Zealand," he said.
Wife of Ohio State student detained
Mohamed Zandian drove nearly 10 hours from Columbus, Ohio to New York to pick up his wife from John F. Kennedy International Airport, but she never showed up. She had been detained upon arrival.
"She called me and told me that she would be deported and she was crying," Zandian told CNN.
Given the uncertainty of her status, Zandian bought his wife a new ticket so she could return to Iran.
There's no indication that she has been released given President Trump's emergency order barring citizens from seven countries from entering the United States.
Zandian also said he still has not been able to see his wife.
Zandian came to the United States on an F-1 visa as a graduate student to study biochemistry at Ohio State University in 2014.
Last summer, he went back to Iran and helped his wife apply for an F-2 visa, for spouses of stuents. Due to a delay in the visa processing, Zandian missed his fall semester and recently returned to the states in December.
"I don't feel safe anymore to stay here in the US," Zandian said.
Zandian said he was hoping to make a better life in the US but "those dreams didn't come true."
"I don't think that I will stay in the US anymore because of this kind of treatment," Zandian said.
Zandian told CNN that the experience has made him reconsider his future in the United States.
"It's not just me, lots of nations will think differently about the US," Zandian said.
Student in limbo
Hoda is a 29-year-old Iranian student at the University of Southern California pursuing her master's degree in marketing.
She graduates in May and she doesn't know what will happen next.
"I was excited about graduating in May. Now, I'm heartbroken. I have no idea what I can do afterwards," she said.
After she graduates, she worries that she cannot apply for jobs in the United States because she cannot apply for a new visa. But if she leaves, she will not be able to return and be with her husband, who is also a student, pursuing his Ph.D. in operations management at the University of California, Irvine.
He has a three to four more years left in his program.
"It will tear our family apart," she said.
Stranded at the airport
Dahan Al-Fadhl's family is stuck at Washington Dulles International Airport.
Al-Fadhl, a physician from Yemen whose father was an American citizen, arrived in the United States in 1997.
On Saturday, his sister-in-law and her six children have been detained at the airport.
The three youngest children who are minors aged 7, 8 and 16 have US passports and have been told they can enter the country. The rest of the family, have Yemeni passports and green cards and had been told that they will be sent back to Djibouti.
Because of the civil war in Yemen, they were at the US Embassy in Djibouti.
They arrived Saturday morning from Djibouti to join Al-Fadhi's brother in the United States.
His brother drove from Michigan to the airport, and they are not sure what comes next.
"This is inhumane, this is not the United States that we knew," Al-Fadhl said.
Iraqi physician stranded outside US
Zain Kenderian is a 34-year-old physician and the chief medical officer for a large corporation who lives in Minnesota with his fiancee, his mother, and his brother and his family.
Kenderian, who is an Iraqi citizen with a green card, is traveling to the United Arab Emirates on a business trip who was supposed to fly home on Friday.
Now, he can't return.
Saad Kenderian, Zain's brother, said he's been consulting immigration lawyers, emailing Senators and members of Congress.
"I'm frustrated. I don't know what to do," Saad said, "We just want our voice to be heard. It's so un-American … This is our land of opportunity. This is our home."
Iranian student in US afraid to visit home
Sajad Koushkbaghi said he's fearful he may never be allowed back in the United States if he goes to visit his family in Iran.
The 27-year-old Iranian student moved to the United States in September and was planning to visit his family in the summer but has now canceled his plans.
"I got my tickets a few weeks ago. The problem is that Iran has no diplomatic relations with the US, thus after 90 days, this order will be extended for Iranians anyway," he told CNN.
It is unknown what Trump plans to do after the 90-day period on his executive order expires.
Koushkbaghi wrote on Twitter that he now regrets choosing the United States.
"I had the chance to go to Australia for my studies but I chose US. My own fault. Should have seen that coming," he tweeted.
Confused and fearful about what's next
Despite being an immigration consultant, an Iranian-Canadian living in the United States said she's confused about what Trump's executive order means for her.
"I do make frequent trips to Toronto. My parents are still living in Toronto as well," said the woman, who asked that her name not be used. "It is unclear whether the ban affects dual citizens and/or green card holders. The process of obtaining green card is considered vetting, which is another puzzling issue," she said.
"(I am) scared if I go to Canada, I won't be allowed back in US," she told earlier CNN via Twitter.
With family in Canada, the United States and Iran, she said she is distressed about how she will reunite with loved ones.
Her husband is a medical resident in Chicago, and in the past decade she said she has returned to Iran to see her relatives.
She said she is not alone in her anxiety over the uncertainty.
"I know many Canadian-Iranian students, residents and work visa holders who are in complete fear right now. The government of Iran will not provide details to the United States on any of its nationals. Does this mean that the ban will be indefinite?" she asked.
Concerned over his father's return
Amir Eslami is making a desperate bid to get his father home to the United States.
Eslami, an Iranian-Canadian, is attending medical school in West Virginia.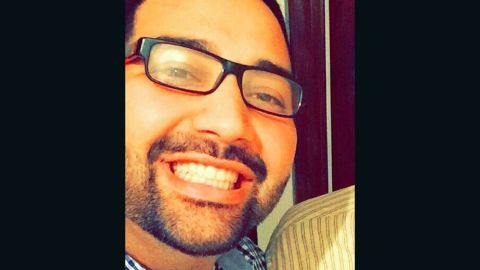 His father is in Iran for the funeral of Eslami's grandfather. The younger man doesn't want to name him out of fear it may impede his father's chances of return.
"My father will be traveling back from Iran in 12 hours or so through Istanbul to D.C.," he said. "I have put my life on hold to make sure there aren't any complications, injustices or harassment as he re-enters."
He told CNN he has been communicating with Sen. Joe Manchin, D-West Virginia, to help ensure his father's safe passage.
Eslami and his sister are both medical students at the West Virginia School of Osteopathic Medicine; his father is a professor in the Engineering Department at the West Virginia University Institute of Technology.
"I spoke with him a few minutes ago," Eslami said. "He will be heading to the airport in a few hours to go to Istanbul. He is obviously grieving the loss of his father, but overall he is an optimistic and rational, educated man and rarely expresses negative thoughts."
CNN's Arwa Damon, Laura Smith-Spark, Samira Said, Chris Welch and Sarah Faidell contributed to this report.