Story highlights
Mitchell was playing for New Zealand Breakers
Could still see with eye out of socket
Describes the "weird sensation"
Says his sight has been unaffected
(CNN) —
From fractured bones to pulled muscles, sports injuries come in all shapes and sizes. But they don't come much more gruesome than having your eyeball pop out of its socket.
Akil Mitchell, an American basketball player for the New Zealand Breakers, was playing in an Australian NBL match when the incident occurred Thursday.
"My eye was out of my head – it was a little painful," Mitchell, 24, said in a Facebook Live interview posted by the Breakers the next day.
"I felt like I just got poked in the eye so I opened my eye and I'm looking up and I can see everything, my eye's still moving, but it's kind of out.
"I don't know if it was the most painful thing I've ever felt, but it was just weird. Just a weird sensation, a weird feeling."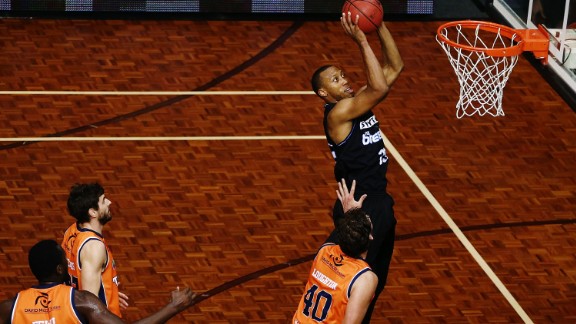 Anthony Au-Yeung/Getty Images AsiaPac/Getty Images
Remarkably, Mitchell says his vision has been unaffected, admitting that "everything felt pretty normal" a few hours after Nnanna Egwu's hand had come into contact with his eye.
In fact, the doctors didn't even believe what had happened when he arrived at the hospital; the eyeball had since moved back into its socket in the ambulance.
"After maybe five or ten minutes it kind of felt like it was moving back into place," said Mitchell. "And then in the ambulance on the way over when I was high on the gas … I just had this feeling of release and I could blink again.
"The specialist on call – I don't think he believed me. He was asking to see video. He didn't see any damage and he was just trying to validate that it had come out of place. Everybody there was like 'yes, it came out.'
"I can't really describe what it felt like. I was kind of like a suction … My eye was so dry from being open all the day, I was just like 'this is great, I can blink.'"
READ: NBA legend using hoops to end gang culture
READ: Football meets basketball when NBA comes to London
READ: The stars whose dreams aligned
Seeing the funny side
The game continued after Mitchell had been taken to hospital, with the Breakers losing 81-94 to the Cairns Taipans.
While he was happy for the match to play on, Mitchell was less pleased about the game's result. The Breakers are third in the NBL, two places ahead of the Taipans.
"I'm not happy with the way it ended," said Mitchell. "I really wish they had won, and they'll be hearing about it for sure. But there was no need to stop for me."
Despite the gruesome nature of the injury and the potential long-term damage Mitchell could have sustained, the player hopes to return to the court soon.
"I hope I can get back pretty quickly. Mentally, I think I'll be okay. It's just a matter of taking a couple of bumps and hits," he said.
Visit cnn.com/sport for more news and videos
He responded to the incident in light-hearted fashion by posting a pair of eyeball emojis on his Twitter page. He also admitted that he's been on the receiving end of goggle jokes from his teammates.
"The best healing for me is laughing," said Mitchell.