Story highlights
Adama Barrow arrived in the capital days after Gambia's former leader fled into exile
Yahya Jammeh had refused to step down after he suffered a surprise election defeat
Gambia's new President finally arrived in the West African country to govern on Thursday, after days of waiting in a neighboring nation while his predecessor belatedly and reluctantly stepped down after 22 years in power.
President Adama Barrow, who defeated longtime President Yahya Jammeh in a December election but waited in neighboring Senegal because Jammeh refused to surrender power on time last week, was greeted at the airport by large crowds as he landed in Gambia, according to a local journalist at the scene.
Barrow was supposed take power in Gambia's capital, Banjul, on January 19. Instead, Jammeh stayed in office. The defeated president, after initially conceding the election, announced on December 9 that he rejected the results, in part alleging foreign interference, and called for his country to vote again.
But the United Nations Security Council, the African Union and the Economic Community of West African States backed Barrow as Jammeh's elected successor.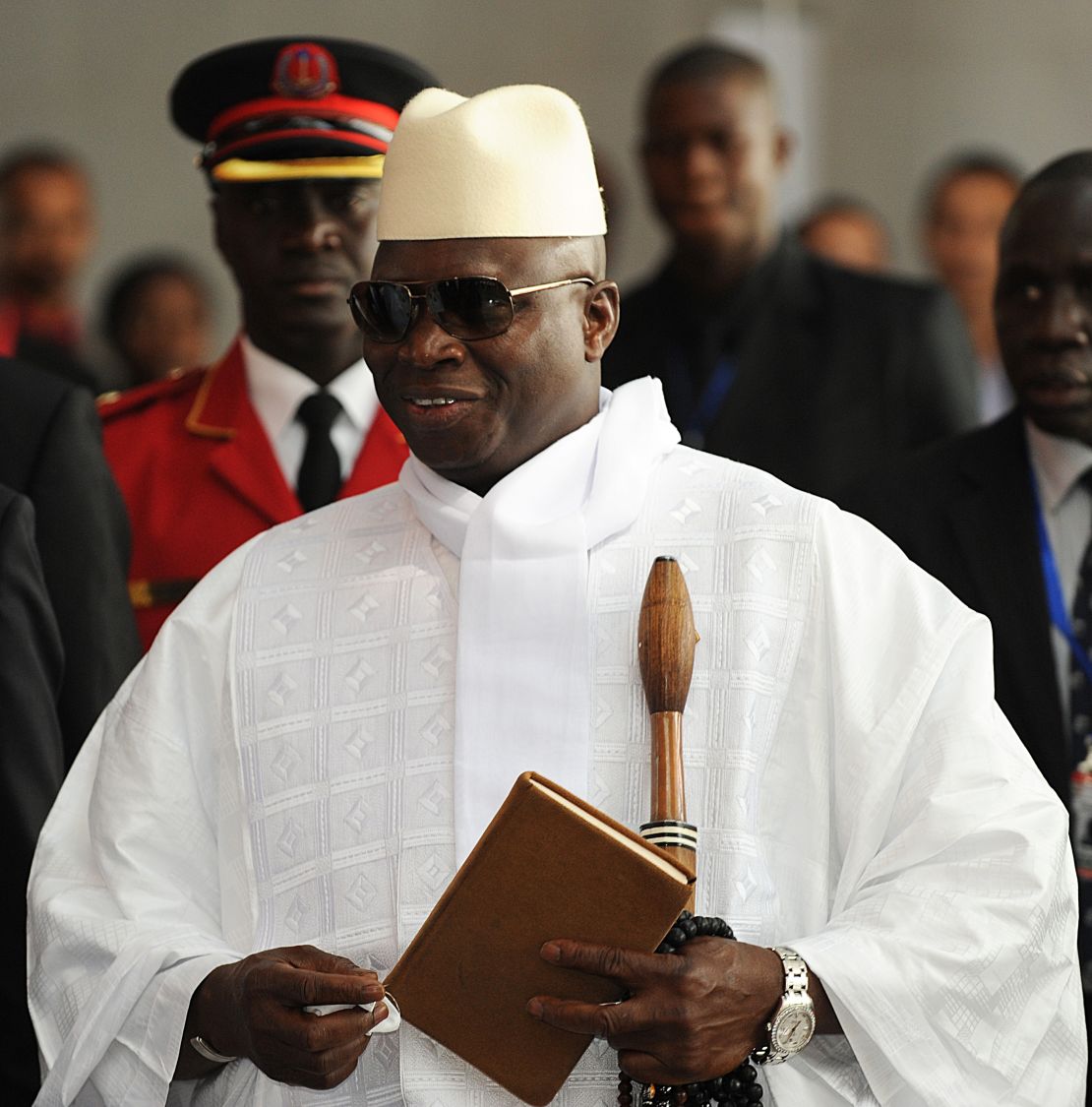 So Barrow took the oath of office January 19 in Senegal, and Senegal and ECOWAS sent troops into Gambia that day, threatening to oust Jammeh if he continued to cling to office.
Tens of thousands of people fled their homes in Gambia, fearing political violence. Faced with a military confrontation, Jammeh stepped down and left the country for Guinea on Saturday, saying in a televised address that it was his duty to preserve Gambian lives.
The election
Barrow is the tiny nation's third president since its 1965 independence from the United Kingdom. Barrow, a property developer, won more than 45% of the vote in December, with 263,515 ballots cast for him.
Upon his inauguration Thursday, he pledged to "respect the rule of law and fundamental freedoms" and promised "significant democratic reform."
Jammeh, who had been seeking his fifth term, seized power in a 1994 military coup. Human rights groups described his regime as abusive, with hundreds of political prisoners languishing in jail.
Gambia is the fourth largest source of migrants arriving in Italy despite having a population of fewer than 2 million.
Earlier this month, Amnesty International and Human Rights Watch issued a joint statement accusing Jammeh's government of arresting opposition supporters arbitrarily and closing down three independent radio stations.
Gambians 'just want to get on with it'
After weeks of turmoil and uncertainty, Gambians are looking forward to getting the country "back on track," one human rights campaigner told CNN ahead of Barrow's return to Gambia this week.
Jeffrey Smith is the executive director of Vanguard Africa, a nonprofit organization that provides support to pro-reform political candidates and backed Barrow's campaign.
Smith told CNN: "The priority right now is getting the country back on track. Gambians just want to get on with building the country back up again."
Smith, an American based in Washington, has been widely thanked via social media by Gambians who credit him with playing a key role in highlighting the situation in the country before and since the election.
Smith said the reaction to his work – which has seen him quoted by major international media outlets including in Spain, Nigeria, and the United States – "has been humbling, to be quite honest."
"All credit entirely goes to the Gambian people – they never gave up hope that change was possible. That's what inspired me."
CNN's Farai Sevenzo and Laura Smith-Spark contributed to this report.