Story highlights
Murray was playing first major as No. 1
Worst loss in ranking at a grand slam for Murray since 2006
First grand slam quarterfinal for Zverev
Kerber was last year's champion
History was made at the Australian Open on Sunday but if you are Andy Murray and Angelique Kerber, look away now.
Murray and Kerber lost hours apart in the fourth round, leaving the tournament without both No. 1-ranked players prior to the quarterfinals for the first time in the Open Era.
A day after his younger brother nearly upset one of the game's greats at the season's first major, Mischa Zverev went one better when he eliminated Murray in four sets to hand the Scot his worst grand slam defeat – in ranking – in a decade.
In not quite as big of an upset given her play the first week and her ever dangerous opponent, defending champion Kerber – Zverev's fellow left-handed German – was sent packing by 35th-ranked CoCo Vandeweghe 6-2 6-3 to conclude play at Rod Laver Arena.
Zverev – a net rusher ranked 50th – eliminated Murray 7-5 5-7 6-2 6-4, 11 years after the three-time grand slam winner was ousted by 51st-ranked Juan Chela at Melbourne Park.
Zverev's sibling Alexander looked on from the player box on a warm, sunny day – he had lost in five sets to Rafael Nadal on Saturday in cooler conditions but was in much better spirits Sunday thanks to his brother's heroics.
"Definitely the best match of my life," Zverev, into a first grand slam quarterfinal, told reporters. "Not only because it was a best-of-five set match, it was at a slam. It was just incredible."
It was the earliest exit for a men's top seed at the Australian Open since Lleyton Hewitt at the same stage in 2003 and leaves the men's tournament without the top two seeds already following six-time champion Novak Djokovic's similarly unexpected reverse to Denis Istomin in the second round.
For Murray – the men's tour's standout player for the second half of last year – it means he will have to wait to collect a first title in Melbourne.
The loss to Zverev was indeed more heartache for the Scot here, given he has lost five finals.
"I'm obviously down about it," Murray, playing his first major as a No. 1, told reporters. "It's just tennis. I had great success for a number of months. Obviously in the biggest events you want to do your best. That's not been the case here. It happens.
"I've had tough losses in my career in the past. I've come back from them. This is a tough one. I'm sure I'll come back okay from it. But right now I'm obviously very down because I wanted to go further in this event, and it wasn't to be."
Too many matches?
Murray didn't discount his hectic schedule at the end of 2016 – including winning the World Tour Finals in late November – being a factor in Sunday's result.
"The off-season for me was fairly short just because I had to take a decent break after the Tour Finals," he said. "But it was a great way to finish last year. I was full of confidence coming into the beginning of this year. I prepared as best as I could.
"I don't know if the end of last season had any bearing on today. I wouldn't have thought so."
The last time both Murray and Djokovic lost prior to the quarterfinals at a major was at the 2007 Australian Open.
They've dominated at grand slams in recent years so the likes of Nadal and Roger Federer – the two titans who own a combined 31 majors – might feel they have a decent opportunity to end their grand slam droughts.
Federer downed fifth seed Kei Nishikori 6-7 6-4 6-1 4-6 6-3 in between Murray and Kerber's tussles Sunday; Nadal plays sixth-ranked Gael Monfils on Monday. Federer meets Zverev in the last eight.
Perhaps a rejuvenated Zverev will like his chances, too, but a 6-0 6-0 loss to Federer when they last squared off in Halle in 2013 is hardly a good precedent with the Swiss maestro in such rich form after returning from a six-month injury layoff.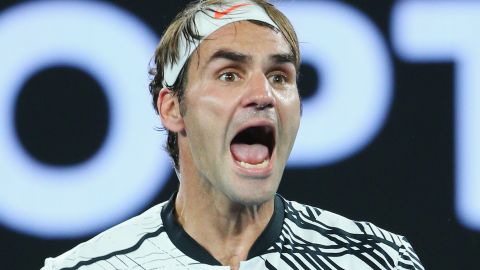 Contemplating retirement in 2014 after wrist surgery, his mom Irena said 19-year-old Alexander – a right-hander who prefers to stay on the baseline – helped convince his brother to keep playing.
"He said, 'Come on, come on, you can do it.' Now everyone can see what happened," Irena Zvereva told a group of reporters. "Mischa played unbelievable."
She gave credit to the brothers' fitness trainer Jez Green, who was formerly in Murray's camp.
A long journey
Zverev – also struck down by rib and back injuries – was ranked outside the top 1000 early in 2015.
"I was ranked very, very low," said Zverev. "It wasn't easy.
"But having such a great family where my brother is doing well, the whole family is there to support you … it was a long journey but a fun one."
His attacking style is certainly an anomaly in tennis yet it was effective against Murray after a promising conclusion to 2016.
The Russian-born 29-year-old, who rallied from two sets down against John Isner in round two, approached the net 118 times, winning 65 of those points against one of tennis' best counter-punchers.
"Andy didn't play his best tennis," 1987 Wimbledon champion Pat Cash, a serve-and-volleyer in his day, told CNN. "But Zverev has a big lefty serve. He attacked the net, attacked Murray's short second serve from time to time.
"That was a classic example of what we used to do to baseliners, just get in their head. You could see how angry Murray was."
Murray will particularly rue not serving out the first set at 5-3.
In the fourth, attempting to serve out the affair, Zverev hit a gutsy smash into the corner at 0-15, then a stunning, short volley at 15-30. On a first match point, Murray erred on a forehand.
The upset was complete, adding to Murray's bittersweet memories on Rod Laver Arena.
Expectations
Kerber enjoyed fonder memories of the center court in Melbourne, having opened her grand slam account 12 months ago with a memorable victory over Serena Williams. She proceeded to win the US Open and replace the American as No. 1.
But it was clear from the outset in Melbourne this year that Kerber, like Murray the top seed at a major for the first time, was struggling with all the expectations.
Her buildup to the Australian Open was poor – losing her second match in Brisbane and opener in Sydney – and Kerber was taken to three sets in the first and second rounds at Melbourne Park.
She couldn't escape against California's Vandeweghe, a former Wimbledon quarterfinalist and one of the hardest hitters in the women's game. Williams will now regain the No. 1 ranking if she wins the title Saturday.
"I have to a little bit think about everything that's happened the last few weeks, what I can take to the next tournaments with all the experience from the tournaments I played here in Australia," Kerber, the first defending women's champion to lose in the fourth round in Melbourne in 10 years, told reporters.
"But for sure I learned a lot and I have new experience now."
Vandeweghe, who went 4-1 against the top 10 in 2016, won nearly 80% of her first-serve points and hit 30 winners. She was broken only once.
"I felt like I was really executing my game well, keeping her on the back foot and kind of playing within myself," she told reporters. "That's what I felt was going on on the court."
Visit cnn.com/tennis for more news and videos
A lot happened on the court Sunday but not in the favor of both No. 1s.