Story highlights
Rainfall looks likely in Washington on Friday
Extreme weather has plagued inaugurations throughout history
It might literally rain on Donald Trump's parade.
The weather forecast for Washington, D.C. on Inauguration Day looks gray and damp. Rain will be moving in from the south and is expected to reach Washington shortly after daybreak on Friday.
The chance of showers will increase throughout the morning – from around 40% at 7 a.m. to 70 to 80% when Trump puts his hand on the Bible to take the oath of office at noon. The rain should move out of the area by time the inaugural parade begins making its way through the District's streets at 3 p.m.
If you're planning to attend the inaugural festivities, bring your rain jacket or poncho, because you may need to leave your umbrellas at home. The National Park Service has revised its policy due to the rain forecast, and will allow small, collapsible "Totes" style umbrellas for the parade route and on the National Mall, but umbrellas are still prohibited for all ticketed areas on Capitol grounds (along with a bunch of other items you can see here).
Though the forecast looks wet, it could be worse. Temperatures will be above average, topping out in the upper 40s. This would make Trump's inauguration the warmest since George H.W. Bush's in 1989.
According to the National Weather Service in nearby Sterling, Virginia, the average historical temperature during the noon swearing-in ceremony is 37 degrees Fahrenheit, with a wind chill of 31. This year should be at least 5-10 degrees above that average.
Harrison's folly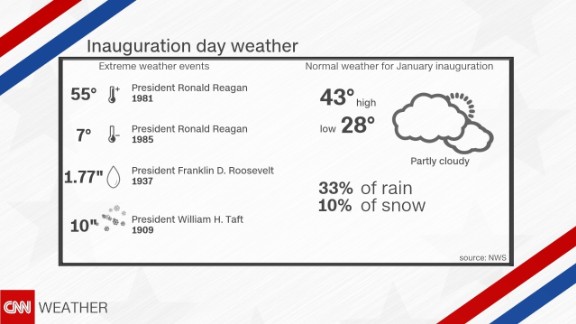 Weather has been a key part of the presidential inauguration since it was first moved outside in 1817, when President James Monroe was sworn into office.
Since then we have seen extreme weather affect the festivities on many occasions.
The most infamous inaugural weather occurred when President William Henry Harrison took the oath on a cold and windy March day in 1841 (presidential inaugurations were held in early March until 1937, when they were moved to January 20).
Despite the cold, the new President gave a speech that lasted 1 hour and 40 minutes, and rode a horse to and from the Capitol without wearing an overcoat.
Harrison caught a cold that developed into pneumonia and died one month later.
An inaugural blizzard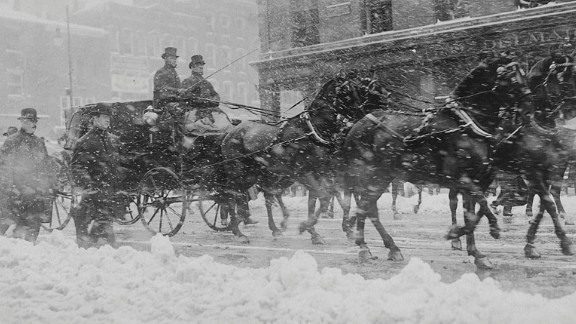 Library of Congress
The worst weather for Inauguration Day, according to the National Weather Service, occurred on March 4, 1909, during President William Howard Taft's inaugural. The ceremony had to be moved indoors as a blizzard had dumped 10 inches of snow on Washington and toppled trees and telephone poles.
The parade was still held, but only after 6,000 men with 500 wagons worked through the night to clear 58,000 tons of snow from the route.
President Ronald Reagan holds the unique distinction of having both the warmest and coldest January inaugurations. Reagan took his first oath outside in a mild 55 degrees, while his second swearing-in in 1985 was moved indoors as the temperature outside was only 7 degrees with a wind chill as low as minus-20.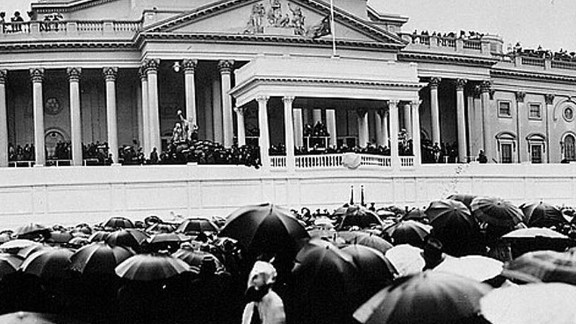 Library of Congress
Join the conversation
While rain is likely for this Friday, it will probably not come close to the type of washout that occurred during President Franklin Delano Roosevelt's second inauguration in 1937 – the first to be held in January.
With temperatures hovering just above freezing at 33 degrees, a cold, heavy rain poured down throughout the day – the worst of it during the swearing-in ceremony. The rainfall total for the day reached 1.77 inches, still a record for January 20.
CNN Meteorologists Dave Hennen and Judson Jones contributed to this report