Story highlights
Joseph Stiglitz: Oxfam report reveals that eight men have as much wealth as half the world; this is a moral issue
He says corporations must fix this: pay taxes; lift workers with better wages; invest in companies, not just shareholder gains
Editor's Note: Joseph E. Stiglitz, Nobel Prize laureate in economics, is an economist and professor at Columbia University. The opinions expressed in this commentary are solely those of the author.
(CNN) —
In recent years, business leaders at Davos, the World Economic Forum's annual meeting, have ranked inequality as one of the greatest risks to the global economy. They have recognized that it is not just a moral issue but also an economic issue.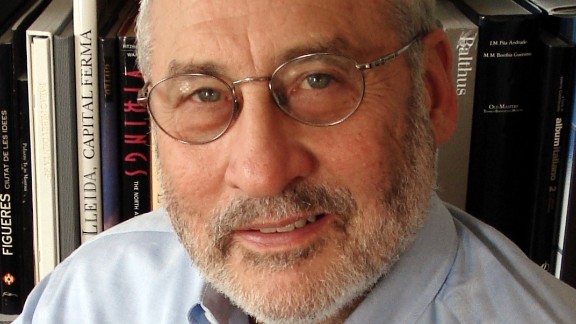 Courtesy of Joseph Stiglitz
Of course, if ordinary citizens don't have incomes with which to buy the products made by the world's corporations, how can those corporations prosper? That's consistent with the findings of the International Monetary Fund: that countries with less inequality perform better.
If a majority of citizens feel that they are not getting what they view as a fair share of the economic gains, they may turn against our economic and political system, or at least those parts of it that they blame. If a majority believes that globalization is hurting them, they may turn against globalization.
The outcomes of the election in the US and the result of the referendum on Britain's membership in the European Union suggest that a rebellion may already be brewing. And this is understandable: in the US, the average income of the bottom 90% has stagnated for nearly a quarter of a century. According to the National Center for Health Statistics, average life expectancy declined last year for the first time in more than two decades.
In recent years, Oxfam has been keeping tabs on the growth in global inequality. In 2014, the anti-poverty organization painted a vivid image of a bus with the world's 85 richest people – many of whom are in attendance at Davos, as it happens – who had as much wealth as the bottom half of the world's population. Each year since, that bus has been shrinking. This year, Oxfam revealed that such a large form of transport was no longer needed: a minivan with just eight men (and they are all men) would do. They have as much wealth as the bottom 3.6 billion people.
Not surprisingly, the message has not been lost on these top executives meeting in Davos. For some, it is a moral issue; for all, it is an economic and political one. At stake is the future of the market economy as we know it. At session after session at Davos, executives have been grappling with the question: Is there anything that the world's corporations can do about this scourge that threatens the political, social, and economic sustainability of our democratic market economies? The answer is yes.
It begins with a simple idea: pay your taxes. This is the first element of corporate responsibility. Don't resort to shifting taxes to lower tax jurisdictions. Apple may feel that it has been unfairly singled out on this score; it only did a slightly better job at tax avoidance than others.