Story highlights
A reward of up to $60,000 is offered for information leading to Markeith Loyd's arrest
Master Sgt. Debra Clayton's death marks the first gun-related police fatality of 2017 in the United States
Hundreds of law enforcement officers were scouring Orlando early Tuesday for a man suspected of fatally shooting a police officer outside a Walmart.
The suspect fled, triggering an intense manhunt that included door-to-door searches in apartment complexes and the placing of a dozen schools on lockdown.
Another officer died while taking part in the search for the gunman. The Orange County sheriff's deputy died when his motorcycle collided with another vehicle.
After the deaths of two law enforcement officers in one day, Orlando Police Chief John Mina vowed to find the suspect – who has been identified as Markeith Loyd.
"I'm confident we will find him," Mina said. "It doesn't matter where he is. We will track him down to the ends of the Earth to find him."
"To lose two law enforcement officers on this Law Enforcement Officer Appreciation Day is indeed a tragedy," Orange County Sheriff Jerry Demings said.
Loyd also is wanted in the killing of a pregnant woman in December, Mina said.
A reward of up to $60,000 is offered for information leading to Loyd's arrest.
The officer he is suspected of shooting was identified as Orlando police Master Sgt. Debra Clayton, 42. The second officer who died in the accident was identified as Deputy First Class Norman Lewis.
"To lose two law enforcement officers on this Law Enforcement Officer Appreciation Day is indeed a tragedy," Orange County Sheriff Jerry Demings said.
'He shot her down'
On Monday morning, someone at a Walmart had contacted Clayton and told her Loyd was in the area, Mina said. It appears Clayton briefly chased the suspect on foot.
"As soon as she said stop, he basically opened fire on her," the chief said.
One witness told CNN affiliate WFTV he had been outside the Walmart when the shooting happened.
"I was walking down the sidewalk, right past the officer, and I heard her tell him to stop, or whatever, and he shot her. He shot her down," said James Herman.
Herman said the man continued shooting behind him as he was running from the scene. He also said the man wore a security shirt, but Mina said the suspect was not a security guard.
"That's not uncommon," he said. "We run into people in nightclubs that wear T-shirts that say FBI, police."
Clayton returned fire but investigators don't think she struck the gunman, Mina said.
Two minutes after Clayton's last radio contact, police received a call of an officer shot. Officers performed CPR but could not revive Clayton.
The pursuit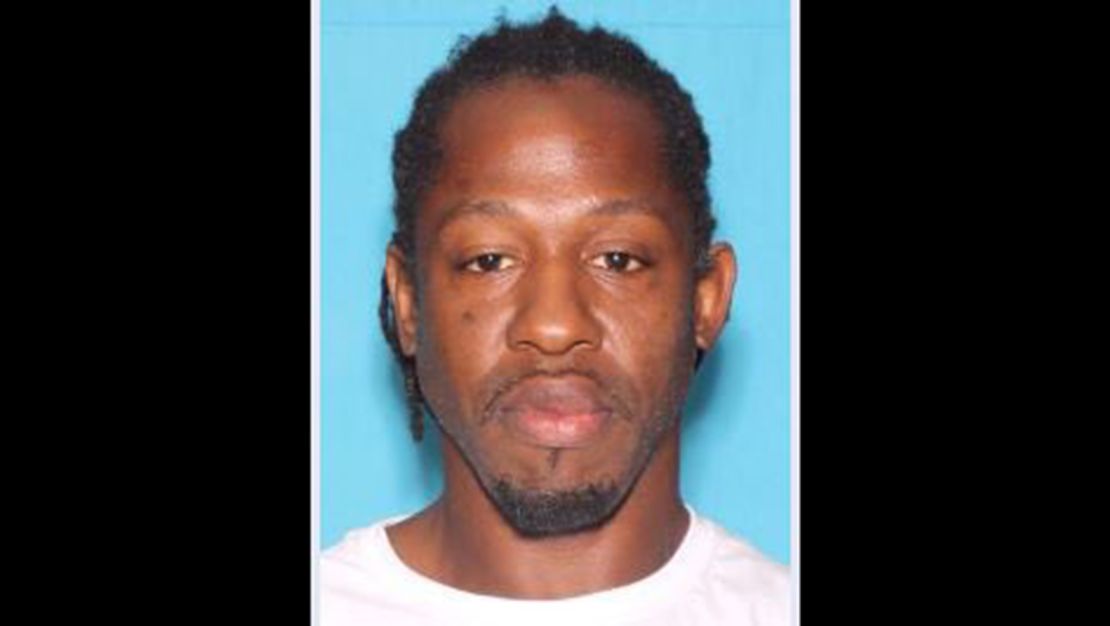 After the shooting, Loyd fled in a vehicle and fired shots at another officer, police said.
Hundreds of law enforcement officers descended on the area.
The suspect abandoned the vehicle and carjacked a different one, police said. He ditched that second vehicle shortly after and ran into an apartment complex, Mina said.
Residents were urged to stay inside and several schools were put on lockdown. By 3 p.m. ET, the lockdowns had been lifted at all the schools, the school system said on Twitter.
Mina said officers searched "dozens of apartments and residences" and won't slow down because of darkness. "I believe there have been people out there helping him all along," Mina said. "If we find out about those people we will criminally charge them."
He said Loyd would be charged with first-degree murder of a law enforcement officer and attempted murder of the officer he fired at.
Sheriff's deputy killed
As authorities scrambled to find Loyd, Deputy First Class Norman Lewis died in a crash as he was traveling on his motorcycle.
"A motorist turned in front of him," the sheriff said. "Based on eyewitness testimony, he had a green light, he was not traveling at any (high) rate of speed."
Lewis had worked 11 years with the sheriff's department.
In another incident, police said the suspect fired at an Orange County sheriff's captain who spotted his vehicle. The captain was not seriously injured, but authorities are pursuing an attempted murder charge against the suspect.
Suspect had been wanted in girlfriend's death
CNN affiliate WFTV reported that Loyd was wanted in the December 13 fatal shooting of Sade Dixon, 24, his pregnant girlfriend, outside her home in the Pine Hills neighborhood.
She was the mother of a 5-year-old and a 7-year-old.
Dixon's brother, Ronald Steward, was critically injured when he tried to come to Dixon's aid, WFTV reported, citing deputies.
A hero who went above and beyond
Mina said his department is grieving the death of Clayton, a 17-year veteran at the department.
"I've known Debra for 17 years. She was extremely committed to our youth and the community. She did so many different projects in the community. She organized several marches against violence by herself," the police chief said.
Clayton was married and the mother of a college-age son.
The sheriff said his department also is mourning the death of its deputy. But with an "armed and extremely dangerous" killer on the loose, there is little time to grieve.
"While we're processing our own emotional feelings, we still have a job to do," Demings said.
Clayton's death marks the first fatal shooting of a law enforcement officer in the United States in 2017, said Steve Groeninger of the National Law Enforcement Officers Memorial Fund.
The deaths of Clayton and Lewis mark the second and third on-duty law enforcement officer deaths of 2017. On Saturday, North Las Vegas police Det. Chad Parque was killed in a traffic crash.
CNN's Kate Conerly contributed to this report.