Story highlights
NEW: Police: A resident tried to wash the pesticide away after family members got sick
Aluminum phosphide mixed with water creates toxic phosphine gas
(CNN) —
The act of watering the ground after applying pesticide may seem innocuous, but it was enough to kill four children in Texas.
One was a high school senior on the brink of graduation. The other three were her little brothers; the youngest was 7 years old.
On Tuesday, Amarillo police explained what went wrong: Some of the family members started feeling sick Monday after the pesticide was applied under their mobile home. So one of the residents tried to dilute it with water.
It was fatal mistake.
How exactly did the children die?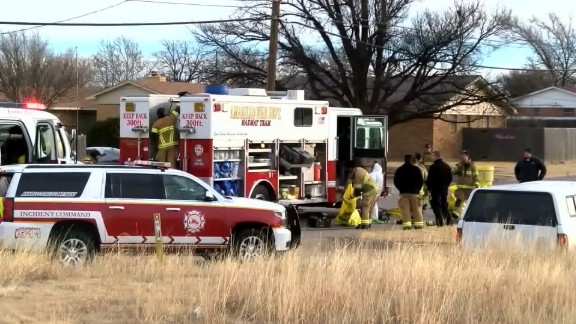 KVII
After someone applied the pesticide – aluminum phosphide – under the mobile home, a family member tried to wash it away, said Capt. Larry Davis of the Amarillo Fire Department.
But aluminum phosphide mixed with water creates toxic phosphine gas, which can cause excess fluid in the lungs and respiratory failure.
There were 10 people inside the mobile home at the time, Davis said. Emergency crews arrived at the home just after 5 a.m. Monday after receiving a call that people there were sick.
In addition to the four children killed, five other people from inside the home were hospitalized.
Who were the victims?
Family friend Terry Rodriguez identified the four siblings as 17-year-old Yasmeen Balderas and her younger brothers Johnny, Josue and Felipe Balderas.
"Yasmeen was a senior at Palo Duro HS. She was a quiet simple girl, looking forward to graduation," Rodriguez wrote on a GoFundMe page set up to help the family.
"Josue wanted to be a priest and was an alter server at St Lawrence. He was a gentle soul, slow to anger and quick to provide comfort," Rodriguez wrote.
"Johnny was a comic. So smart and so aware of his strengths and weaknesses. He was the first to laugh at himself and never met a stranger who wasn't just a friend in the making."
Felipe "was everyone's friend," Rodriguez said.
Who is responsible?
The Amarillo Police Department is investigating and will turn over its findings to the local district attorney's office to see whether any criminal charges should be filed, Officer Jeb Hilton said.
But so far, this appears to be a case of accidental poisoning, Davis said.
He said the man who lives at the mobile home and who applied the aluminum phosphide on the ground got the pesticide from a friend.
Aluminum phosphide is used to kill insects and burrowing rodents, especially in grain stores. But it can be deadly to humans when mixed with water.
The Environmental Protection Agency lists aluminum phosphide in "Toxicity Category I" – the most toxic category. Specifically, the EPA points to the "acute effects via the inhalation route."
How common are pesticide deaths?
An estimated 1 million to 5 million cases of pesticide poisoning occur every year, "resulting in several thousand fatalities among agricultural workers," the