Story highlights
Mark Goldfeder says the US was hypocritical in abstaining on the UN resolution, which he says wrongly branded the settlements as illegal under international law
President Obama has explained in the past why such a resolution will only harm prospects for peace, Goldfeder writes
Editor's Note: Mark Goldfeder is senior lecturer at Emory Law School and senior fellow at the Center for the Study of Law and Religion. He teaches law and technology, among other courses. The opinions expressed here are his own.
(CNN) —
On Friday, the Obama administration decided not to veto a UN Security Council resolution harshly criticizing Israel and calling its settlement activity illegal. The decision not to veto was cowardly, hypocritical, wrong, and yet, thankfully, ultimately ineffectual.
Do not be misled – the decision to abstain was not the thoughtful action of a principled leader determined to make peace no matter what the cost. At worst, it was the cowardly move of a lame-duck politician who waited until there was absolutely zero political accountability before reversing his previously held position on vetoing anti-Israel Security Council resolutions (despite bipartisan calls from congressional leadership for him to stay the course) in order to take a symbolic parting shot at Prime Minister Benjamin Netanyahu, and President-elect Donald Trump .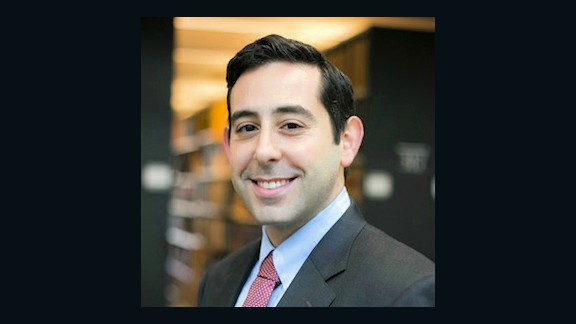 At best, it was another failed attempt by President Obama to impose his will by any means available on a situation that he has never fully understood – despite the fact that the entire time he had any political accountability he explicitly said that he would never sink to use these means, which he acknowledged are ineffective, and in fact even counterproductive because they encourage the parties to harden their positions and refrain from further direct negotiations.
That is why the decision Friday was so troublingly hypocritical - to quote from President Obama himself, in a speech at the United Nations itself in 2011 (when he did veto a similar proposal, right in the midst of his reelection campaign):
"Peace is hard work. Peace will not come through statements and resolutions at the United Nations – if it were that easy, it would have been accomplished by now. Ultimately, it is the Israelis and the Palestinians who must live side by side. Ultimately, it is the Israelis and the Palestinians – not us — who must reach agreement on the issues that divide them: on borders and on security, on refugees and Jerusalem."
History of the dispute
Apart from the hypocrisy, the president's decision was also wrong, as a matter of law.
Some brief history is in order. In 1922 the League of Nations Mandate for Palestine established an area (which included the West Bank) to be a national home for the Jewish people. Article 6 of the mandate explicitly encouraged "close settlement by Jews on the land." ("The Administration of Palestine, while ensuring that the rights and position of other sections of the population are not prejudiced, shall facilitate Jewish immigration under suitable conditions and shall encourage, in co-operation with the Jewish agency referred to in Article 4, close settlement by Jews on the land, including State lands and waste lands not required for public purposes.")
When the United Nations was formed it affirmed existing arrangements of this nature, and after Britain announced that it would leave the area, the United Nations proposed a partition plan that was not accepted by the relevant sovereign parties, (because the Arab world rejected it) leaving the Mandate lines unrevised.
Scholars such as Eugene Kontorovich and Abraham Bell have noted that under the international legal principle of Uti possidetis juris, "widely acknowledged as the doctrine of customary international law that is central to determining territorial sovereignty in the era of decolonization," emerging states presumptively inherit their pre-independence administrative boundaries, and thus international law clearly dictates that Israel inherit the boundaries of the Mandate of Palestine as they existed in May, 1948. Israel thus has title to the land.
When Israel declared independence in 1948 it was immediately attacked by five Arab nations. The United Nations blamed the Arabs for the violence and aggression meant to undermine the Resolution and forcefully take land, and the Spokesman for the Arab Higher Committee readily agreed.
If there was ever an occupation of Palestinian territory under international law, it happened between 1948 and 1967, when two of the invading Arab armies, Jordan (West Bank) and Egypt (Gaza Strip) occupied territory that they had taken through aggressive action – the kind of aggressive action that the new Resolution explicitly reminds us is forbidden under international law.
This was, of course, territory that was part of the Mandate for Palestine and therefore rightfully under Israeli title: from 1949 to 1967, Jordan and Egypt literally occupied Palestine. The Green Line was drawn for no other reason than to mark off on a map how far the two invading armies had managed to get. The armistice agreements themselves state that these were not ever meant to be actual borders. Thus to give meaning under international law to these 'pre-67 lines' is, ironically, to retroactively ratify aggression against the mandate and support occupation.
In 1967, Israel regained those territories in what was undisputedly a defensive war. While the UN charter forbids aggression, UN Charter Article 51 clearly recognizes "the inherent right of individual or collective self-defense if an armed attack occurs against a Member of the United Nations." In 1967 then, Israel legitimately regained sovereignty having never lost title.
To quote Former State Department Legal Advisor Professor Stephen Schwebel, who later headed the International Court of Justice in the Hague: "Where the prior holder of territory had seized that territory unlawfully, the state which subsequently takes that territory in the lawful exercise of self-defense has, against that prior holder, better title."
As this was the only defensive re-conquest of previously occupied territory that has ever happened under the UN charter one might be forgiven for wondering if the law on point is somewhat murky, but it is not; Kontorovich and others note that pre-1967 sources evidence the fact that defensive conquest would be considered legitimate, but the truth is that even if the law was somehow grey in this area, one of clearest doctrines of international law is the Lotus principle, which says that sovereign states may act in any way they wish so long as they do not contravene an explicit prohibition, i.e. if there is no law against it – and there is no law against defensive re-conquest - then it is legal under international law.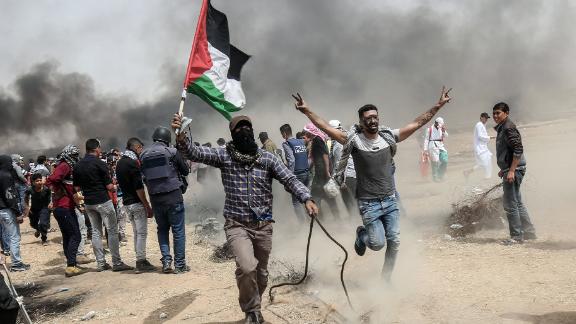 Now playing
02:11
The history of Gaza in 2 minutes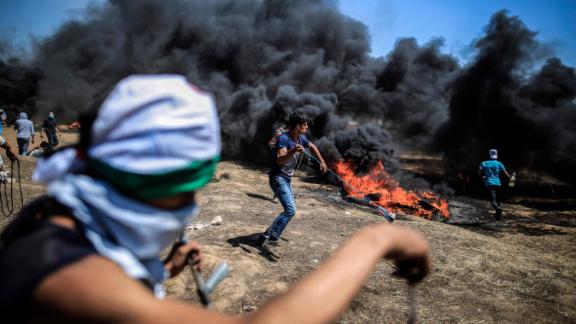 Now playing
02:06
What sparked the latest Palestinian protests?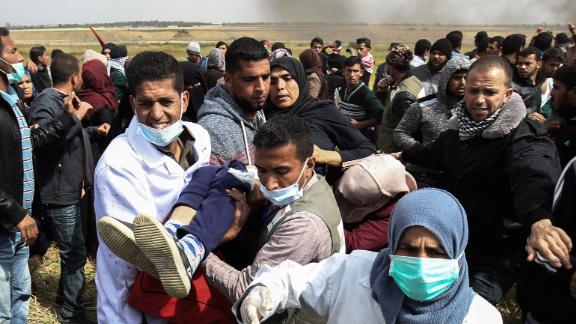 Now playing
02:21
Palestinians: Over a dozen killed in protests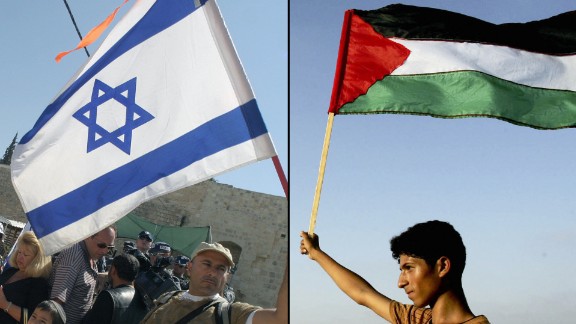 Now playing
00:51
What's the Israeli-Palestinian two-state solution?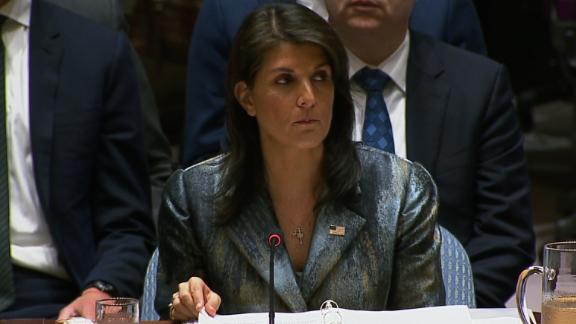 Now playing
01:31
Haley to Abbas: US embassy decision is final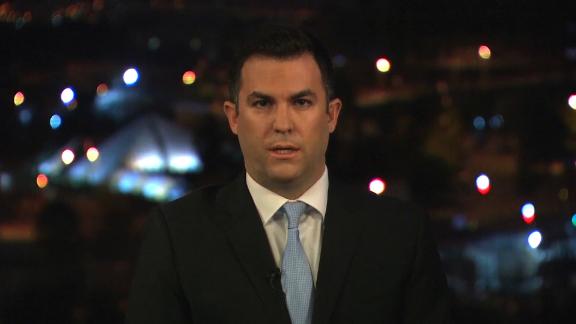 Now playing
07:22
Spokesman: Deliberate violence in Gaza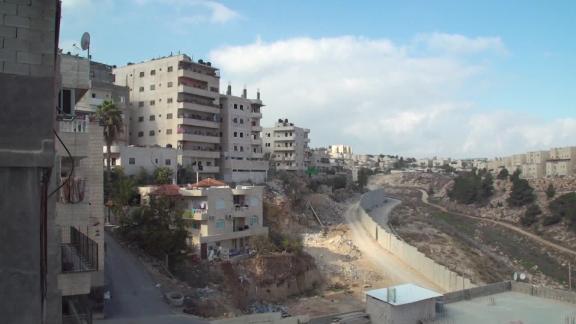 Now playing
02:00
Refugee camp island of isolation in Jerusalem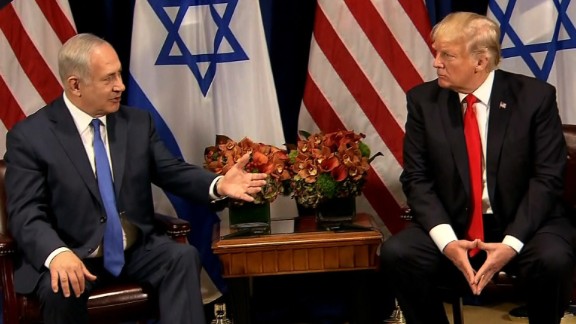 Now playing
02:36
Trump: Good chance for Middle East peace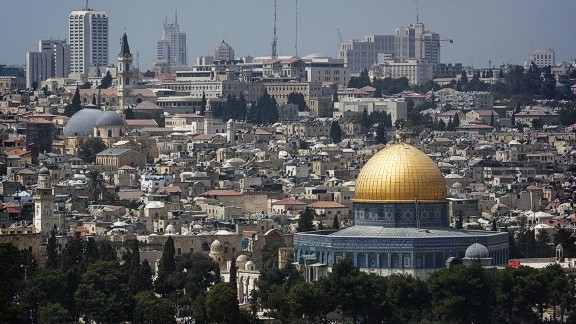 Now playing
03:21
How the Six Day War reshaped the Middle East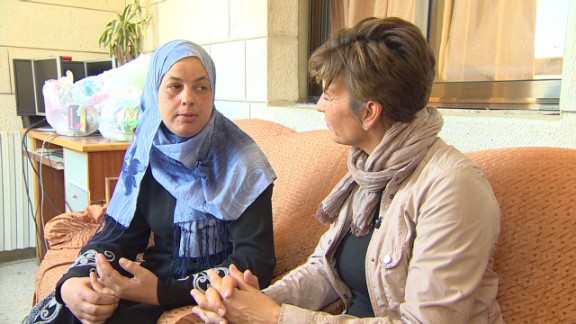 Now playing
02:52
Israel-Palestine Conflict: Grief of a mother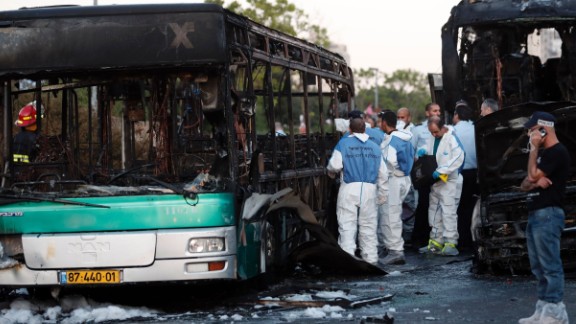 Now playing
01:09
Police: Bus explosion 'no doubt' was an attack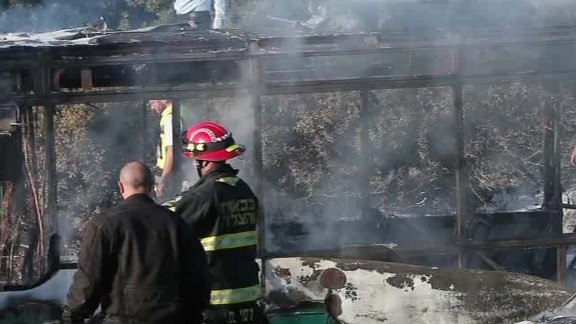 Now playing
03:05
Israeli police confirm explosive device in bus fire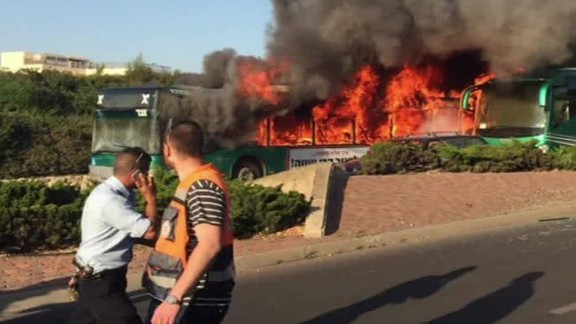 Now playing
01:04
Bus catches fire in Jerusalem
In short; Israel was given land under a Mandate that was never repealed, two other countries attacked Israel and squatted on the land for a while, and then, when they attacked Israel again and lost, Israel regained the land she had originally been given. Israel has exclusive title and sovereignty; from an international law perspective this is not an occupation.