Story highlights
Chicago's violence hits home for NBA star Dwyane Wade
Wade wants to fight the city's problems, but knows he can't do it alone
Editor's Note: Matt Winer is a host for Turner Sports and NBA TV. He recently went to Chicago to interview Chicago Bulls star Dwyane Wade about returning to his roots, and came away with a unique perspective on a hurting city.
(CNN) —
The Uber driver turned toward me with a look of genuine concern when she confirmed our destination, East 58th Street and South King Drive, and exclaimed, "That is NOT a good area!"
On that particular crisp late October evening, at least, I felt perfectly safe. I arrived at Washington Park on Chicago's South Side to meet Dwyane Wade, the hometown-kid-turned-international star, who was filming a commercial for Gatorade, one of his sponsors.
There was plenty of private security keeping an eye on the star. Our biggest concern for the interview was whether shout-outs from the street would disrupt our audio as fans gawked at the 12-time NBA All-Star and the Hollywood-style production in progress.
The incongruity of glitz in one of the city's most violent neighborhoods was stark, and I was there to ask him the unanswerable: What can he or anyone else do to address the epidemic of gun violence in Chicago?
By then I'd already spent some time in the city's troubled neighborhoods trying to understand why an extraordinary number of young black men are picking up guns and ending other young black men's lives (nearly all the known shooters and most victims are young black men).
They just look like neighborhoods
What stood out to me immediately was how unremarkable the neighborhoods themselves are. Small houses, low-rise apartment buildings, small clusters of business.
A drive around the community doesn't hint at statistics that suggest a war zone. Chicago has recorded more than 700 homicides already this year, a grim threshold not reached in decades. More than 90% of those killings were shootings, and the vast majority of victims were killed within five police districts south and west of the Chicago Loop.
The issue became tragically personal for Wade in August, just over a month after he chose to sign a free agent contract with the Chicago Bulls that would bring him home for the first time in his NBA career.
Courtesy Aldridge Family
Wade's cousin, 32-year-old Nykea Aldridge, was caught in crossfire as two gunmen – police say they were gang members out of prison on parole – fired at a rival. The mother of four was pushing her baby in a stroller on the way to register her kids at school when she was killed.
"When your Auntie is the one crying on your shoulder. If you're looking at your nephews and nieces and their lives are turned upside down," Wade says, "it becomes real."
As sickening as the circumstances of Aldridge's murder were, the reality is that in 2016 her story would barely have registered if not for her famous cousin.
Wade grew up on the South Side and in the South suburbs. He's well-acquainted with the area's rough edges. As he and others have noted, gang violence has been a problem in Chicago since Al Capone was shooting up the South Side during Prohibition.
No boundaries, lots of fear
What's changed, I was told repeatedly, is that gangs no longer operate predictably. Perversely, a void in gang leadership, for lack of a better word, has led to a breakdown in boundaries.
Wade says as a child the bad guys in his neighborhood watched out for him and his family. For the most part gangs limited their violence to turf wars, gangs vs. gangs.
Locals say the shootings today seem arbitrary by comparison. Fueled by drugs, incited by the smallest perceived slight – often stemming from social media feuds – or for no apparent reason at all, they shoot.
There is no mediation. No conflict resolution. No trust for police intervention. Just guns, which can be had "in five minutes," and vengeance.
The fear is palpable, even among gang members themselves.
As part of our effort to understand the problem, we arranged on-camera interviews with a pair of young men described to us as gang members, one in his teens and one in his mid-twenties.
We agreed to preserve their anonymity by obscuring their faces and altering their voices after the fact so they could speak freely, but when the cameras rolled they got cold feet. Eyes darting, shifting in their seats, neither would admit to gang activity or shed light on gang life.
Later I was assured they were, in fact, affiliated. The younger of the two was described to me as a "shooter." The older, who reeked of marijuana, dropped a roll of cash as he got up from his chair. It was a frustrating and confusing exercise, but what stuck with me was that these guys are scared.
Director, priest help in their own ways
Spike Lee, who tackled the causes and effects of Chicago's growing body count in his extravagant film "Chiraq," calls for federal intervention.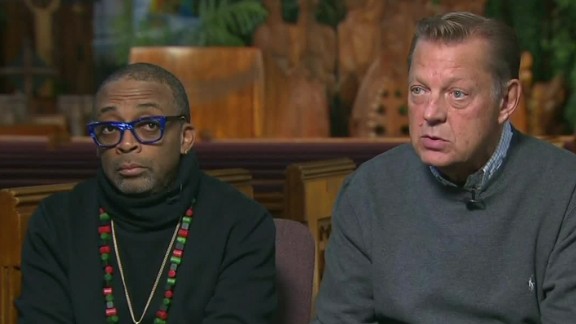 "A state of emergency should be called for the city of Chicago," he says. "I think they could bring in the National Guard. What the mayor's doing is not working."
I spoke with Lee in the gym at St. Sabina Catholic Church, where the Rev. Michael Pfleger was holding the annual Peace Games, a day of basketball born of the idea that a court could be common ground for gangs. Lee based a character in "Chiraq" on Pfleger, an activist Catholic priest who has advocated for the underserved population in Chicago's troubled West and South sides since the 1960s.
"I think it takes one loving them," he says of the neighborhood kids he tries to redirect. "Respecting them. Holding them accountable, then giving them options. You can't just tell somebody to put down the gun or stop selling drugs. You've got to give them something, not just tell them what not to do."
Pfleger's basketball game, which he began five years ago, has since expanded into a league and, more importantly, an education and jobs program. Dozens of the young men who arrived at his gym as hardened gang members – "brothers from the block," he calls them – have found their way to college or full-time employment, monumental achievements in neighborhoods where it's easier to get a gun than a job.
Jonathan Owens is one of Pfleger's success stories. He came to St. Sabina as a Peace Games player and now holds down a full-time job. But it's easy to hear the despair in his voice when he describes the mindset of so many young men in his neighborhood focused on settling scores.
"It's people want to get even," he says. "They don't want to let the police deal with it because they feel like the police is bad – 'We going to take it into our own hands. We going to go get even,' or if they don't want to get even they want to take more. I don't believe it's ever going to stop, sometimes."
Wade and his family try to forgive
Like thousands of Chicagoans directly affected by gun violence, Wade and his family are struggling to make sense of the senseless, and trying to forgive. Wade says the men accused of killing his cousin are both perpetrators and victims.
"A lot of it comes from their environment," Wade says. "A lot of it comes from what they know, and that's not their fault."
Of course it's no one person's or entity's fault, and it will take more than one person for an entire community to claw out of the abyss, but Wade feels the weight of expectation that he'll help solve the problem.
Many see opportunities for investment in empty storefronts and look to Wade and other successful Chicagoans to pitch in.
The most vulnerable young people, the ones who wind up picking up the guns that are ubiquitous in those areas, are the ones with nothing better to do. These neighborhoods are in desperate need of investment and local businesses owned by people with stakes in those communities.
Wade says he plans to do his part, but he quickly points out his contributions will mean nothing if parents aren't parenting, if the police can't regain the trust they've lost, and if the business owners aren't hiring.
"I know that I will donate money to the city of Chicago to try to help certain communities," he says. "I know I will do that. But as I do my job others have to do theirs. Obviously we put responsibility on our youth, but they're following their adults."
Understandably many don't want to wait to find out what comes next. The Uber driver, the young woman worried about my well-being, told me she began planning her escape from Chicago when a bullet penetrated the front wall of her home and into the living room where her toddler was playing. She asked how I like Atlanta.