Story highlights
Lawmakers vote 234-56 to impeach President Park Geun-hye over corruption scandal
Constitutional Court will deliberate, decide whether to approve Park's impeachment
Lawmakers in South Korea's National Assembly voted overwhelmingly Friday to impeach President Park Geun-hye over a corruption scandal. The vote was 234-56, with six abstentions.
The country's Constitutional Court will now deliberate the impeachment motion, a process that could take up to 180 days.
Park apologized on national TV following the vote, saying she was careless and had caused a "big national chaos" – an apparent reference to her sharing classified information with a confidante lacking security clearance.
"I solemnly accept the voices of the National Assembly and the people and sincerely hope that the current confusion will come to an end in an orderly manner," said Park, the country's first female leader.
"… I will respond to the impeachment judgment of the constitutional court and the investigation of the special prosecutors, following the procedures set by the constitution and the law with (a) calm mind-set and then will accept its decision."
South Korea presidential scandal: What you need to know
Prime Minister Hwang Kyo-ahn will be acting President for the duration of the court's deliberation.
He vowed to "run state affairs in a correct and transparent manner."
"I earnestly and humbly ask all of you to unite so that the voices on the streets can be sublimated into the driving force behind the effort to overcome the current national crisis," Hwang said.​
Under the South Korean Constitution, impeachment requires a two-thirds majority of the 300-member legislature to pass.
Growing South Korean protests demand President Park's resignation
Thousands took to the streets to celebrate the news. National Assembly Speaker Chung Sye-kyun made the announcement, saying lawmakers had an obligation to restore order and to execute the functions of the government.
In a phone call with Defense Minister Han Min-koo, the acting President said that North Korea possibly could use the political upheaval to stir up trouble south of the 38th parallel and that the South Korean military should maintain its readiness.
"While retaining a watertight national defense posture, the government will work closely with the international community to thoroughly respond to the North Korean nuclear problem," Hwang said.
Park has faced massive protests since it emerged that her confidante and adviser, Choi Soon-sil, had access to confidential government documents despite holding no official government position.
Choi is accused of using her relationship with Park to accumulate millions of dollars in donations to her foundations and has been detained after being charged with abuse of power, fraud and coercion.
Two of Park's former aides also face criminal charges.
The impeachment is only the country's second. In 2004, late President Roh Moo-hyun was forced out of office for two months.
The Constitutional Court later restored Roh to power, rejecting charges of abuse of power and mismanagement.
What happens next?
The Constitutional Court's nine members need to return a two-thirds majority to oust Park.
In that case, a new election would be held within 60 days.
South Korean elections are "highly unpredictable. No one knows (who will win) until the last minute," said John Delury, associate professor of Chinese studies at Yonsei University's Graduate School of International Studies.
"It's going to be extremely difficult for a candidate from (Park's) party to win – there is such deep ill will and discontent toward her and her party."
He added there are about half a dozen serious contenders for the presidency if Park is removed.
Much of the parties' platforms will focus on domestic issues, said Delury, with corruption and a separation between government and big business high on the agenda.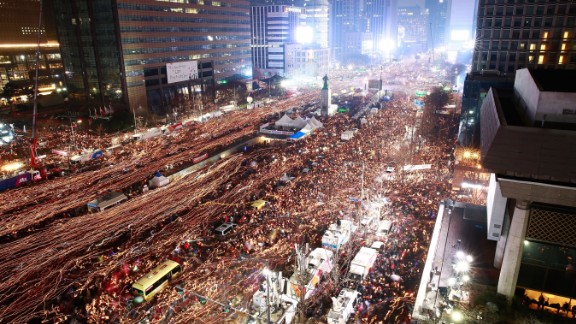 Photos: South Korea: Growing protests demand President Park's resignation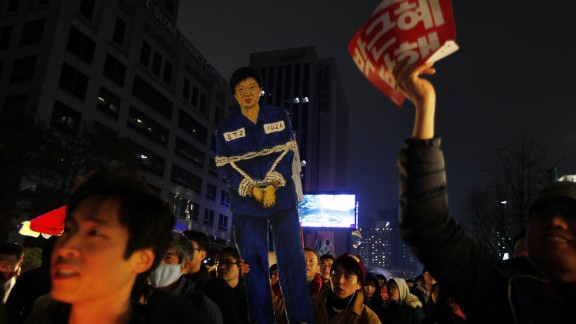 Photos: South Korea: Growing protests demand President Park's resignation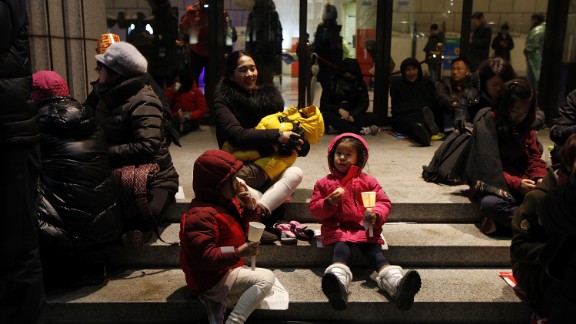 Photos: South Korea: Growing protests demand President Park's resignation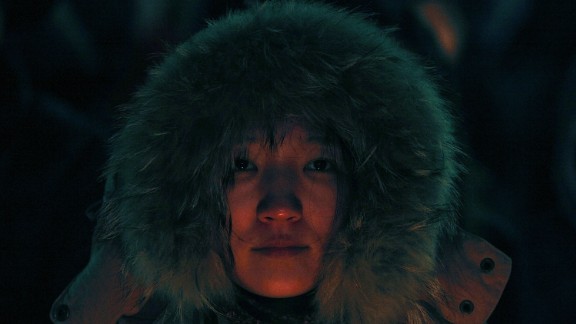 Photos: South Korea: Growing protests demand President Park's resignation