Story highlights
Russian foreign minister says the Syrian army has stopped military actions in Aleppo
CNN crews in Aleppo say they heard mortar rounds going off despite the announcement
(CNN) —
The Syrian army has stopped all military actions in Aleppo and is focusing efforts on evacuating residents, Russian Foreign Minister Sergey Lavrov said Thursday.
"This is the largest ever evacuation of eastern Aleppo residents, with close to 5,000 residents being moved," Lavrov told reporters at the summit of the Organization for Security and Cooperation in Europe, or OSCE, in Hamburg, Germany.
Lavrov's words were echoed by Russian Foreign Ministry spokeswoman Maria Zakharova, who called this the "biggest operation for civilian evacuation."
CNN crews on the ground in Aleppo could still hear mortar rounds going off despite the announcement.
US, Russia meet to discuss Syria
Lavrov's comments come one day after a meeting with US Secretary of State John Kerry to discuss ways to end the bombing of Aleppo, allow safe passage of those who want to flee the war-torn northern Syrian city, and deliver humanitarian aid to its remaining residents.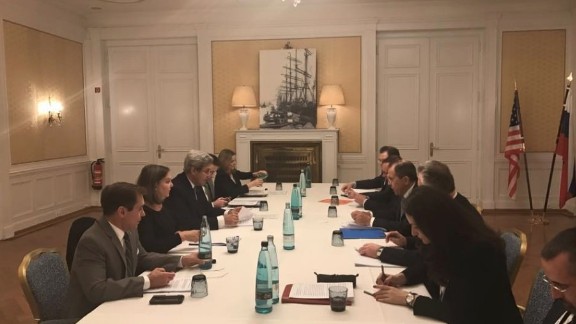 Russian Foreign Ministry/Russian Foreign Ministry
The two met for about 45 minutes Wednesday evening in Hamburg, ahead of a two-day OSCE summit. They discussed "ongoing multilateral efforts" to end the fighting in the city, State Department spokesman John Kirby said.
"We're working … and we have to wait for certain feedback and input, but we are working on something and we'll see where we get. Confident. Hopeful. We'll see where we are, " Kerry told reporters Thursday morning before leaving the OSCE meeting.
Plans to end the violence include a US-led initiative, floated on December 2, to guarantee safe passage of rebel forces out of the rebel-held eastern part of Aleppo.
Russian state news agency TASS reported the Russian government supports the US initiative.
"I confirm the support to the US initiative of December 2," Lavrov told a reporter after his meeting with Kerry, according to TASS.
Lavrov and US officials are set to meet in Geneva on Saturday to discuss "militants' pullout from Aleppo," according to Russian state media.
On Thursday, the head of Britain's foreign spy agency accused Russia and Syria of turning Aleppo "into a desert and call it peace."
Assad not in favor of ceasefire.
In an interview with Syria's al-Watan newspaper on Thursday, President Bashar al-Assad rejected the offer of a humanitarian ceasefire by the rebel opposition as his army tightened the noose on the rebel-held part of the key city, according to Syrian state media.
He lauded the Syrian army's assault on Aleppo, claiming the effort to recapture it represents "a significant landmark" in bringing the country's 5-year civil war to a close.
However, in his first public comments since the Aleppo offensive began in mid-November, he also cautioned that retaking Aleppo did not in itself mean an end to the bloody conflict.
"The battle of Aleppo will be a gain, but to be realistic, it doesn't mean the end of the war in Syria," he said.
"It is a significant landmark towards the end of the battle, but the war in Syria will not end until terrorism is eliminated."
Syrian forces retake key neighborhoods
Syrian government troops now control most of the neighborhoods in the old city of Aleppo after days of fighting against rebel forces, with only small pockets remaining in opposition hands.
Overall, the rebels hold only about a quarter of war-ravaged eastern Aleppo, residents and activists inside the city told CNN.
Many civilians remain trapped in the shrinking rebel-held area, with food, fuel and medical supplies almost exhausted and no safe route out.
On Wednesday, Syrian rebels in that sector called for a five-day humanitarian ceasefire, and the Syria Civil Defense, better known as the White Helmets, Thursday called for safe passage for their volunteers, families and other humanitarian workers as Syrian government forces and their allies close in.
"If we are not evacuated our volunteers face torture and execution in the regime's detention centers and therefore we need urgent action to save the lives of humanitarians in the besieged part of the city," the group said, adding members believe they only have about 48 hours left.
James Prince, president of the Democracy Council – which works with US-backed Syrian opposition groups – said a lack of US support has left the opposition with no leverage to negotiate and is forcing it to surrender and leave Aleppo to stop the bombing.
"Let's be clear. This is a withdrawal by opposition forces from Aleppo in the face of massive combined force of Russia, Hezbollah and the Assad government," Prince said.
"Other than the humanitarian benefit of evacuating civilians, the reassertion of Assad's control of Syria's most populous city will lead to more bloodshed and bolster recruitment efforts of extremists like (ISIS).
"The world needs to find a comprehensive solution in Syria that involves transition to a legitimate federal government and the withdrawal of all foreign forces."
Desperate situation
One activist in eastern Aleppo told CNN as many as 200,000 people, including rebels and their families, were crammed into 10 rebel-held neighborhoods, some having fled from other areas under fire.
He described the situation as "apocalyptic," saying the few medical facilities still operating were packed with injured civilians and resembled "slaughterhouses," with no medical supplies or proper equipment.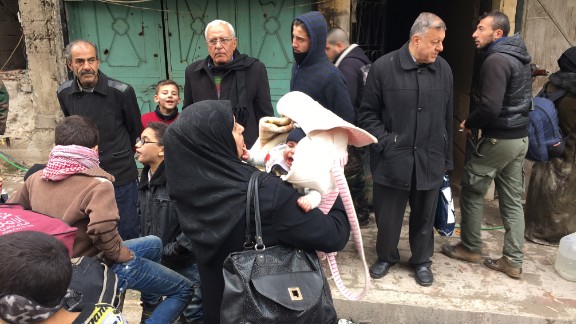 Fred Pleitgen/CNN
Dozens of people have been killed daily in the strikes and crossfire between the regime and rebels since the Syrian forces began their push into eastern Aleppo on November 26, activist groups said.
CNN's Frederik Pleitgen reported from Aleppo while Euan McKirdy wrote from Hong Kong. CNN's Kareem Khadder, Schams Elwazer, Laura Smith-Spark Jill Dougherty, George Kazarianand and Samantha Beech contributed to this report