(CNN) —
The last time Jodie Sweetin stood on the steps outside the red-doored Victorian row house featured in the "Full House" opening credits, she was about 6 years old.
The actress, 34, remembers it vividly.
She had just wrapped the first season of the series and went to San Francisco with her parents for a family vacation. Her mother got the address for the now iconic house from the show's creator Jeff Franklin so they could pay a quick visit.
Sweetin still has the hastily snapped photo her mom took of her, clad in a pink sweater, standing on the front steps.
"I haven't been here since," Sweetin told CNN on a chilly afternoon last week as she and the cast gathered at the home to celebrate Season 2 of the spin-off "Fuller House." "It's great to be back."
The cast reunion at the house was made possible by Franklin, who recently purchased the home for about $4 million.
Franklin admitted it was a surreal experience seeing the new and legacy cast members at the home.
In the new series, which debuted its first season back in February, Candace Cameron Bure plays a widowed DJ Fuller who is raising three boys with the help of her sister (Sweetin) and best friend Kimmy Gibbler (Andrea Barber).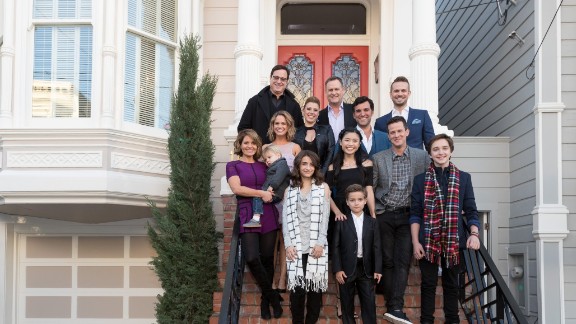 Drew Altizer/Netflix
The three leads were joined by Bob Saget, Dave Coulier, Scott Weinger and the children and adult actors from "Fuller House" at the event.
"It's a great moment for me," he said. "I just felt like we should keep this house in the family."
The purchase comes with an added benefit: The series will soon get to shoot new footage of the house, something that hasn't been done since the took the original exterior shots in 1987. (The interior was never featured on "Full House.")
"We can shoot in 4K and maybe we'll bring the cast up and have them come out of the house — something fun," Franklin said. "So it's just great to have the house back – we got everybody else back."
Indeed, the chance to see the Tanners and friends back in action was an initial draw for the series, as was speculation about the possible return from former child stars Mary Kate and Ashley Olsen. They did not appear in Season 1 or the upcoming sophomore season.
But Barber says viewers stuck around because it was a reunion that didn't disappoint.
"It's like reconnecting with old friends that you grew up with," she said. "So many fans have told us that they're so grateful that we've come back to do this show because they feel like 'Full House' was their own family – like they grew up in the Tanner household."
Sweetin in some ways feels the same. As an only child, she said she was grateful for a chance to spend time with the TV family who became like surrogate siblings in her real life.
"I've told Candace this before, but she was always somebody I've looked up to and that has been a really important piece of my life, whether she knows it or not," she said, getting choked up. "And so, getting to do this with her and be her little sister again, it means a lot."
Like in the show itself, it doesn't take much for the actors to share a hug or exchange kind words about one another. Sweetin thinks this is reflected on screen, which is why fans keep coming back.
Saget has another theory.
"If you think about television during the Cold War, it was 'Leave it to Beaver,' during '[Vietnam], we had 'Happy Days.' When the country goes and does some things that upset people and the world is upset – and we're clearly in a disruptive time – this is such a nice thing to turn to," he said. "It's nostalgic … and it is something you can watch with your family."
Whatever the reason, "Fuller House" continues to enjoy success. Netflix does not release ratings, but some estimates have it ranked as the most-watched TV series currently airing.
Saget compared the global nature of their appeal to "Star Trek."
Coulier didn't miss a beat, chiming in: "We're living long and prospering."