(CNN) —
Warning: This story contains spoilers about the "This Is Us" fall finale.
For those hoping the "This Is Us" fall finale would continue the show's tradition of breaking viewers hearts, the episode did not disappoint. There was drama (Randall's rooftop intervention with his suicidal coworker), reveals (grandpa is gay), and shocking moments (poor Toby) aplenty. But in the midst of the Pearsons' holiday celebrations, it's important to acknowledge the character that may not have been at the center of any twists in this episode, but was certainly the eye of the family storm: Rebecca (Mandy Moore).
If anything has been proven in the last nine episodes of the NBC breakout hit, it's that Rebecca is not just a mother, she's every overworked, chronically worried, sometimes-frantic, always-present, never-perfect mother.
A single quiet scene during the noisy action of the fall finale perfectly captured this.
Rebecca and Kate (Chrissy Metz) were in the car after returning from Kate's gastric bypass surgery consult when Rebecca hit her daughter with a biting question: "Did I do this?"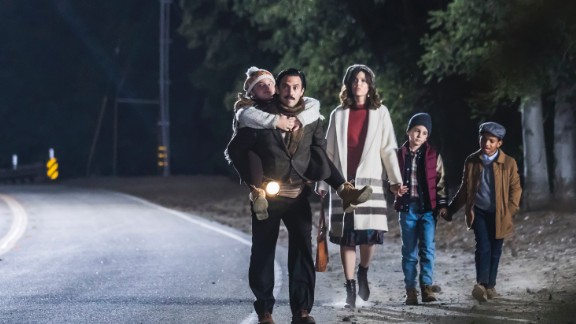 NBC/Episodic/Ron Batzdorff/NBC
Throughout the first half of the season, the show's flashbacks have been peppered with looks into Kate and Rebecca's strained relationship, stemming from Rebecca's policing of Kate's eating habits. In the fall finale, for example, Rebecca almost dismissed her daughter's appendicitis because she believed the young girl's stomach pains were a result of her binging on cookies meant for Santa.
In the car, Kate responds honestly to her mother's pressing question.
"I don't know," she said.
Instead of getting into the blame game in the car, the tension is broken by a humorous moment involving a blow-up snowman.
Later, they arrive at Randall's house together for Christmas Eve festivities. No mention is made of their conversation, but like most things in life, it's assumed this complicated mother-daughter issue is to be continued.
The same can be said of Rebecca's current strained relationship with Randall (Sterling K. Brown).
In last week's episode, Randall went all the way to the family's cabin in the woods to escape the pain of learning his mother had kept his birth father's identity from him for 36 years. At the end of the episode, with help from a mushroom-induced hallucination of his father, Jack (Milo Ventimiglia), Randall reached a point of peace.
In one vision, Jack put it to Randall succinctly: "She had three wildly different kids – all with their own sets of problems. Our marriage wasn't always perfect. I certainly wasn't. And she had her own things to deal with, too. But she kept everything out. She always made sure we were all safe."
Later, Randall found himself at his mother's doorstep.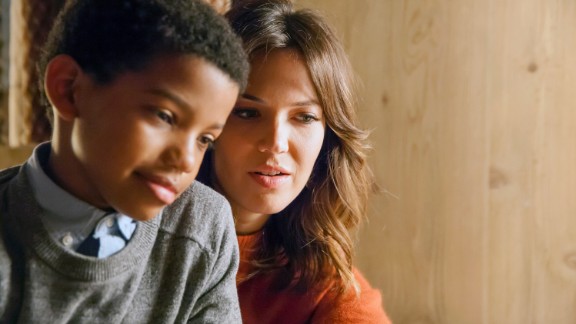 Ron Batzdorff/NBC
"You kept that secret for 36 years – that must have been incredibly lonely," he said.
She sobbed and tried to hug him, but he stepped away. He wasn't ready for that yet, but added, "See you at Christmas."
"This Is Us" has earned a lot of attention in recent months for its heart-tugging approach to the story of a blended family and for its ratings success. (Last week's episode beat Fox's "Empire" in the ratings after three days of delayed viewing was accounted for, giving the show a series high viewership of 14.5 million.)
Hopefully not lost in that praise parade is appreciation for Moore's Rebecca, whose storyline adds new layers to TV's portrayal of mothers and their adult children.