The father of 4-year-old twin girls. A sales associate at Urban Outfitters. A woman who battled gender dysphoria for years. A 17-year-old member of the Pacific Boychoir.
These are among the 36 people who lost their lives last Friday in a fire at an Oakland, California, warehouse where an electronic dance party was being held.
It's one of the city's deadliest blazes and the worst nightclub fire in more than a decade in the United States, in terms of the number of victims. In 2003, 100 people died in a fire at The Station in West Warwick, Rhode Island, after a band's pyrotechnics ignited the club's ceiling.
Here's what we know so far about the victims:
Cash Askew
Askew, a 22-year-old musician who lived in Oakland, played in the band Them Are Us Too. Dais Records, based in Los Angeles and Brooklyn, released the band's debut album, "Remain," in 2015.
The label issued a statement about Askew, calling her "one of the most talented and loving people we've ever known."
"We will never be the same. Completely devastated by the loss of Cash Askew," the statement reads. "Please keep her and her family in your thoughts, along with all those lost in the Oakland tragedy."
Em Bohlka
Bohlka, 33, of Oakland battled gender dysphoria for years and only recently came out as a woman to a handful of close friends and family, her father wrote on social media.
"I just wish with all my heart that she had more time to live her life as she truly wanted," Jack D. Bohlka said of his daughter. "My heart goes out to the entire trans community who feel as if they must gather in unsafe buildings to experience their community and celebrate their identity."
Friend Kassidy Heal posted to Facebook, "She was Matt Bohlka to most of you, but she was Auntie Em to my kids who loved her so much and didn't care how she identified herself, they just wanted to be able to see her… . I have changed my pronouns and adjectives because I know that is how she wanted it. I really sucked at it when I saw her last and I told her I was uncomfortable because I kept saying dude and man. She gently rubbed my shoulder and said, 'the fact that you are even trying means the world to me.'"
David Cline
Cline, 24, lived in Oakland at the time of his death but was originally from Santa Monica.
The Alameda County Sheriff's Office Coroner's Bureau confirmed his death in a statement.
Cline's brother, Neil Cline, wrote on Facebook, "We just received word that my brother David Cline passed away in the Oakland Fire. To all of you, thank you. Thank you for your kindness, help and love. To David, we love you. You will be with us always."
Micah Danemayer
Danemayer, 28, grew up in Massachusetts and in 2011 graduated from the Massachusetts College of Art and Design, according to his Facebook page.
Danemayer was very involved in the music scene in the Bay Area. Friend Tomas Hemstad wrote on Facebook that "performing for him, he had exactly that kind of subcultural energy that make me still dependent on our DIY scenes. A thirst for new sounds and talent and an enthusiasm that could flatten out any obstacle put in front of him."
Another friend, Vashti Lilitu, wrote on Facebook that Danemayer was identified after the fire by his tattoos. "I think that Micah would get a kick out of being identified for his tattoos, as they were so important to him, and he was so proud of how his body art was part of his identity," he wrote.
Billy Dixon
Dixon, 35, lived in Oakland but grew up in Chagrin Falls, Ohio, where he always played in a band.
Jacqueline Vu Patino said her friend was a talented musician and computer engineer who "always had a bright energy that was uplifting and contagious and was kind to everybody that he met."
CNN affiliate WJW spoke to Ohio Supreme Court Justice William O'Neill, who knew Dixon. "We know loss here, but this one hurts. This hurts, it just hurts. Billy was a special kid. That's all I need to say. … He was special," O'Neill said.
Chelsea Faith Dolan
Musician Chelsea Faith Dolan, 33, had traveled to Oakland to perform at the warehouse, her grandmother Marion Dolan said.
"That was her life. Music was her life. Music was everything to her. She just lived for it," she told CNN affiliate WIVB.
"She traveled all over the country to play. Whenever there was anything going on with electronic music, she was there."
Chelsea had been living in San Francisco.
"I know she's gone. But it's still hard to accept. She was just an upbeat girl, she was just always smiling, I never saw her down," Dolan told WIVB.
Riley Fritz
Riley Fritz, 29, grew up in Connecticut and moved to California a few months ago, her father told CNN affiliate WTIC.
Fritz said that one of the friends she had been living with called him to say that his daughter had been at the party.
He said his daughter began identifying as a woman in college and went by Riley. She performed under the stage name "Feral Pines."
Friend Gabriel Ohara Durkee wrote on Facebook, "Rest in peace Riley Fritz. You were truly one of a kind. I will always remember the way you threw around your bass in the earlier days of Host, dancing in the living room of the Stolen Sleeves Collective, and sharing our genuine love of good and admittedly terrible music together.
"This is the most tragic and shocking news I've heard in some time. My thoughts go out to the other victims, families and friends of other victims of this weekend's tragic warehouse fire in Oakland. Be safe. Love you."
Alex Ghassan
Ghassan, 35, spent the past seven years producing and directing projects for institutions, record labels and independent artists and corporations in the New York City market, according to a biography on his website. Most recently he'd been working in California as a contributing documentary producer for PBS affiliate KQED in San Francisco.
His mother, Emile Grandchamps, told CNN's "New Day" that Ghassan didn't live in the building where the fire occurred, but attended the party with his fiancée to support the artists. She said that her son planned to move to Finland with his fiancée, Hanna Ruax, who also died.
"He had a lot of things waiting for him," she said.
Ghassan was the father of twin 4-year-old girls, she said.
"I lost my only child," Grandchamps said. "My granddaughters don't have a father. My husband doesn't have a son. My family doesn't have Alex."
He was originally from New Jersey and of Haitian descent. His sister, Richardine Bartee, confirmed his death on her Facebook page, writing, "Alex, I miss you and I love you, and I always will. I will do my best to continue to help the people that need help, just like you have. You were a great man with a great soul. I hope to be half as great as you."
Nick Gomez-Hall
Gomez-Hall, 25, lived in Coronado and worked at the Berkeley-based publishing house Counterpoint Press, where colleagues called him "an extraordinary co-worker and a true friend."
The company released a statement on Gomez-Hall's death on its Facebook page:
"Counterpoint is devastated over the loss of our co-worker and dear friend Nick Gomez-Hall due to the Oakland Ghost Ship fire," it reads. "From the second Nick started at Counterpoint, he became part of our family. Whether he was recommending new music to listen to (and it was always so good), regaling us with tales of the bowling alley, offering his beloved truck for a ride if anyone needed it, or sharing his much appreciated opinions about a book jacket or manuscript, he made everyone feel like they were his friend. He was kind, considerate, hilarious. … In short, he was an essential part of our team.
Michela Gregory
Michela Gregory, 20, was a student at San Francisco State University. She graduated from South San Francisco High School in 2014, according to her Facebook profile. She was a sales associate at Urban Outfitters.
Her mother, Kimberly Gregory, posted to Facebook after her daughter's death, "My heart is broken."
Gregory was at the warehouse with her boyfriend, Alex Vega, who also died. Friend Jacob Narvaez wrote of the couple, "I knew these two thanks to a mutual love of music, art, and dance. Two beautiful souls taken at such a young age."
Sara Hoda
Hoda, 30, was an elementary school teacher at Urban Montessori in Oakland.
Carol Crewdson posted on Facebook about her former roommate's love of children and her compassion.
"Sara was a principled person, she was compassionate, decent, and honorable. She didn't do drugs and she wasn't a drinker. She was a teacher and a gardener, working at a Montessori school. She was a good hardworking person, she loved children and the Earth, and she put those principles into actions," Crewdson wrote. "She didn't deserve to go like that. After reading an account of what it was like to get out of there, all I can hope is that it happened quickly."
Crewdson knew her friend was attending the party and wrote that her truck was found parked outside the venue. She kept hoping if she posted on Facebook about Hoda she would learn she survived.
"I'm sorry loves, but it looks like she went with the flames. I'll keep you posted on what happens next," Crewdson wrote." I'm feeling pretty beat up about it … Sara was a good person. She deserves to be remembered."
Travis Hough
Hough, 35, was a musician and artist from Oakland.
He composed and performed very high energy, dance-oriented music, his artistic manager Brendan Dreaper told CNN.
Hough had previously been a glass blower and his "day job" was working in expressive art therapy, helping kids resolve their emotional issues through art.
The musician had been a "super positive person, always looking on the bright side, always wanting to make a situation fun and explore the absurd," Dreaper said. They had been in discussions with a record label and had talked about Hough's future plans the day before the fire, he said.
Hough had been at the Ghost Ship because he was part of a group of musicians who supported each other and had known some of those performing, Dreaper said.
Johnny Igaz
Igaz was deejaying on the second floor of the Ghost Ship when the fire started, according to the Sfcritic.com in a tribute post to Igaz.
"He has this smile – it stops you. It contains that spark of creativity, of magic and mischief that makes you want to cozy up to it," the tribute said.
Igaz, 34, was a music producer and DJ who went by the stage name Nackt. He grew up in Alameda and went to Ruth Asawa San Francisco School of the Arts and Alameda High School, according to his Facebook page.
Earlier this year, he said he was finally satisfied with his life, according to a Facebook post from his brother, Paul Igaz.
"As I look back on the years shared together, it's with certitude that I say that no single person has ever affected or influenced me more as much as my older brother," Paul Igaz wrote. "Of course he shaped me in many areas of life beyond music, but it was in particular his ability to transmit to me his love of music – and through music, an appreciation of a culture of diversity – that ensures that his soul will live within my soul, and the soul of all who know him or his music, eternally."
Igaz was a music buyer for Green Apple Books and Music in San Francisco. The company posted a tribute to Igaz on its social media pages, writing in part, "His charisma and passions were instantly engaging, and he had a welcoming composure that made everyone feel like a friend. He told us (and his brother Paul confirmed it) that this was his dream job."
Ara Jo
Jo, 29, grew up in Los Angeles and was living in Oakland.
Jo's Facebook page said she worked for the East Bay Alternative Book and Zine Fest, which takes place December 10.
Colton Mars said of Jo on Facebook: "You are a bright light to so many of us. You are a role model to everyone. You are the kindness and genuine beauty we all need in our lives."
Friends and family have been drawing up tattoos in memory of her.
Donna Kellogg
Kellogg, 32, went to the art show probably to blow off a little steam after hitting the books at the end of her school term, her friend Josh Howes said.
Howes got a text message from Kellogg's stepfather that she didn't make it out.
Howes spoke to her by phone a week ago, and had seen her a week before that. Kellogg loved house shows, and the underground open art space would have been something she enjoyed, Howes said.
Susan Slocum told CNN's Anderson Cooper that her daughter was drummer in a band. Kellogg was so eclectic that her family called her "the Bohemian," Slocum said.
"She was, in my opinion, beautiful, smart, independent, strong, courageous, and she was very artistic," Slocum said.
She added: "She was a little redhead with a lot of fire and energy, but … a very loving young woman, too."
Kellogg had just gotten a haircut and told her mother she looked like Tinkerbell, according to Slocum. Slocum said her daughter's hair fit her personality. She would "be like Tinkerbell, with a little bit of spunkiness, too," she said.
Kellogg loved her music. Her family believes she was dancing on the second floor with friends when the fire started. Slocum said: "She died doing something she enjoyed doing."
Slocum said the family lost their 18-year-old son in 2009.
"So, we've been down this road before," she said.
Slocum added: "You find the strength … that you never knew you had."
Amanda Kershaw
Kershaw, 34, was an avid photographer and loved dance music.
She grew up in Chelmsford, Massachusetts, but lived in San Francisco with her husband, Andy. The couple married in 2007, according to her Facebook page.
Kershaw's friend Robyn Banks wrote on Facebook, "I will greatly miss her sense of humor and affinity for the absurd."
Edmond Lapine
Lapine, 34, graduated from Judge Memorial Catholic High School in Salt Lake City, according to his Facebook profile. He attended The Evergreen State College in Washington state.
His former girlfriend, Madeleine Woodhead Nutting, wrote on Facebook: "Almost a year ago, when we decided to part ways as a couple, we both sobbed for a long time, had a huge hug, and when I walked him out to his car he said, 'I am your family. Whatever you need.' And he meant it. We took space for a few weeks, but by February we were back to doing our weekend trips, usually to record stores or Urban Ore or Thrifttown, or he'd help me with whatever errands I needed a car for."
The last time she saw Lapine, he was excited about visiting his mother for Thanksgiving in Portland and was nervous about starting a new job in a San Francisco gallery, Nutting wrote.
Friend Amanda Stauffer said Lapine taught her to play guitar. "He gave me lessons, and his patience and enthusiasm for the whole project can only be described as saintly in the face of my unwavering lack of discipline," she wrote.
Griffin Madden
Madden, 23, went to UC Berkeley and was with his friend David Cline the night of the Ghost Ship fire. Cline also died.
Madden's roommate Mohana Kute wrote on Facebook, "Griffin loved to make music, dance to Robyn and read Spinoza, whom he lovingly referred to as Spinny. My room was right next to his. … David and Griffin are two of the best people I have had the privilege of living with and I will never understand why their lives were taken so carelessly."
A GoFundMe page has been set up for Madden's family. "It's hard to use this space to begin to describe how much Griffin means to all of us and how profoundly we feel lost without him," a friend wrote on the fundraising site. "I am just going to hope anyone who reads this knows and understands what an unimaginable hole there will now be in all our lives.
Joseph Matlock
Joseph Matlock, 36, was an electronic musician who performed under the name Joey Casio, according to a Facebook post from his parents.
"As difficult it is to lose Joey, we are thankful that the uncertainty has passed we can try to move on. On Wednesday evening, we gathered with about 120 people who came to pay tribute to Joey, tell stories and cry together. It was a beautiful time and we were thankful to be able to share this time together with them," Kathe and John Matlock wrote in the Facebook post.
He released several singles for the K Records label out of Portland, Oregon. A K Records news release described Matlock as "a one-man dance party. Continually reassembling the wired connections of white-hot punk energy and post-disco electronic dance music."
Draven McGill
McGill, 17, sang in the Pacific Boychoir and was the youngest victim of the fire.
"It is both painful and poignant that the victims' lives were lost while seeking community and connection through a shared love of art and creative expression," San Francisco Unified School District Superintendent Myong Leigh wrote in a letter to teachers, identifying McGill as a victim. "We mourn especially deeply for our student, the fire's youngest victim, and with and for his family."
McGill's former teacher, Rachel Cohn, posted a tribute on Facebook.
"I am remembering clearer than ever his laugh, and his intense eyes in class – always tuned in, seeking, curious, craving more," Cohn wrote. "Honoring Draven in my thoughts and prayers."
McGill was an 11th-grade student at the Ruth Asawa San Francisco School of the Arts.
His friend and choirmate Julian Gandhi wrote that McGill's death was devastating.
"A friend of mine from the choir, Draven McGill has passed away in the Oakland fire. It is a hard loss to me and many other people in the PBA community. I send my prayers to his family and friends. To a lot of you, this year has been a rough one. But the good thing is that we have each other and that's what matters. Rest In Peace Draven."
Jennifer Mendiola
Mendiola, 35, was a fifth-year health psychology graduate student at University of California-Merced and recently had two papers published in Preventive Medicine Reports and the Journal of Behavioral Medicine, according to a statement from UC Merced.
Colleagues described her as a passionate and determined scientist, with an inquisitive mind and a collaborative spirit.
She studied factors that influence risk behaviors and poor health, including one's close relationships and emotional experiences, the school wrote.
Mendiola was finishing her dissertation proposal for defense in January, UC Merced said.
Jennifer Morris
Morris, 21, of Foster City, was known as "Jenny" to friends.
She was a student at the University of California at Berkeley and previously studied at UC Santa Cruz, according to her Facebook page. She graduated from San Mateo High School in San Mateo, California.
Friend Evan Parry wrote on Facebook, "Good bye old friend. Fair well it seems, we'll dance again, in our dreams. Here's to the good times, long nights and memories. Will miss you a ton Jenny Morris."
Vanessa Plotkin
Plotkin, 21, was a third-year sociology student at UC Berkeley who went to the Ghost Ship with friends.
"This is just like a nightmare. I can't believe this," her father, Gary Plotkin, told the San Francisco Chronicle.
Friends and family shared messages of prayer and strength after her mother posted a photo of her daughter Monday on Facebook. "Gary and Valerie, my heart and prayers are with you," wrote one Facebook commenter.
Friend Tet Quintos wrote on social media, "I will definitely miss our dance and laugh together, you always giggles with my silly antics, you were the sweetest girl I met, you touched all of us and will never forget you, you'll always have a special place in my heart."
Hanna Ruax
Ruax, 32, had traveled from her native Helsinki, Finland, to Oakland to reunite with her "partner in crime," her fiancé, Alex Ghassan, according to her Facebook feed. Ghassan also died.
Ruax was a jewelry designer who collected recycled items to make her works of art. The name of her company, NANNANDA, came from her childhood nickname of Nanna and "ananda," the sanskrit word for "bliss."
After the fire, her father, Yrjö Timonen, asked if anyone had heard from his daughter on Facebook. On December 5, he posted the words no father ever wanted to write: "Lepää rauhassa rakas Hannani," which translates to "Rest in peace, my dear Hanna."
Benjamin Runnels
Known to some as Charlie Prowler or Ben Benjamin, the 32-year-old Runnels was the lead singer of the band Introflirt.
Introflirt's self-described "croonwave" style "is a result of founder & singer Ben Benjamin spending countless weekends in an Oakland piano bar, honing his chops with mid-century jazz standards, realizing a vintage flair and rich vocal technique rarely heard in electronic music," according to the biography on the band's website.
Runnels' mother, Lorrie Runnels, confirmed her son's death on Facebook, saying the family is flying to Oakland to meet as many of his friends as possible. "He was the brightest shining star and we carry him in our hearts," she wrote.
Friend Colin Jensen Peden wrote on Facebook, "Ben Runnels (Ben Benjamin / Charlie Prowler / Introflirt) was a beautiful singer and really nice young man who I had the good fortune to interview for KALW."
Nicole Siegrist
Siegrist, 29, who also went by the name Denalda Nicole Renae, regularly wore wacky wigs and colorful hats.
Co-worker Eric Martin said she left deep impressions with even the briefest of interaction.
"She wasn't afraid of reflection, and she actively challenged herself to change and improve," Martin said. "Her freedom was what so many of us seek, and in that sense she was who each of us wishes they were confident enough to be."
Friends of Siegrist told CNN affiliate KOLN that she graduated from Lincoln Southwest High School in Nebraska and attended the University of Nebraska-Lincoln.
Jennifer Kiyomi Tanouye
Tanouye, 31, was remembered by colleagues at Shazam, the music app maker.
"The Shazam family is mourning the loss of our amazing Kiyomi Tanouye in the #OaklandFire," the company tweeted. "We love you and will never forget you Kiyomi."
Longtime friend Lara Fowler went to Oakland's Mills College with Tanouye, although she had not seen her in a while.
"She had friends from all different walks off life. She was completely nonjudgmental and loving to everyone she met," Fowler recalled. Tanouye, who lived in Oakland, was a creative artist who marched to her own beat, she said.
"She had all these great hairstyles, constantly reinventing her hair, had artsy clothes," said Fowler. "She worked at this quirky little magazine store called Issues, so I'd go in and ask if she was working. She couldn't be pigeonholed; she was her own person always."
Alex Vega
Vega, 22, of San Bruno, was at the Ghost Ship with his girlfriend Michela Gregory, who also died.
Vega's brother, Dan Vega, set up a GoFundMe page for the family. On it, he wrote "I just want to say that my parents, our families and I are extremely grateful for all the continuous support we have been receiving. We are saddened to have gotten the heart wrenching news that Alex has been recovered and identified. Thank you again so very much for everything especially all your prayers, kind words and thoughts."
Brandon Chase Wittenauer
Wittenauer, 32, was a prolific musician who went by the stage name Nex Luguolo. The Hayward, California, resident was known to friends as Chase, and was part of a musical duo called Symbiotix.Fungi. He was the band's lead vocalist, according to the group's Facebook page.
Wittenauer lived in Nicaragua for a time as a child, according to his Facebook page. After the fire, Wittenauer's car was still parked outside the warehouse. His father posted a picture of it on his Facebook page, writing, "Please don't let it be true."
His friends share memories of the singer on Facebook.
"I woke up to this beautiful picture Saturday morning, no clue that disaster was around the corner. Just before opening Facebook the news feed on my cell was that of the Oakland fire, never ever putting the two together. And now here we are torn to pieces unable to fix it. Life can be so cruel. I feel selfish to say I want him back, i want this not to be true. I want to be back on California. I hate all this pain. Life is just not fair. I love you Chase! Your Tia!," friend Enid Dais wrote.
Another friend, Amanda Fish, wrote: "I love you so much Chase! You are the most kindhearted, likeable, and artistic person anyone that knows you has ever met. I am so lucky to know you and that you know me. I love you Chase! I cannot say that enough."
Jonathan Bernbaum
Bernbaum, 34, had begun to make his mark on a global stage before his life was cut short.
The visual artist was likely flanked by the electrical equipment he loved when the fire broke out, according to Bernbaum's friend, who spoke to CNN affiliate WTNH.
Bernbaum, a native of Berkeley, and a graduate of California's USC School of Cinematic Arts, had toured internationally alongside well known artists within the electronic music genre, according to WTNH.
"If you've seen a Knife Party show in the last ¾ years, there's a 99 percent chance you were watching Jon's visuals and know how talented he was," tweeted Rob Swire, one part of the house music duo Knife Party.
Barrett Clark
Passionate and patient is how friends describe Clark, 35, a sound engineer who died listening to the music that he loved, according to CNN affiliate KRON.
"He was a loving soul, utterly professional," friend and former colleague Tyra Ferrell told KRON.
"A lot of people utilized him for parties such as Ghost Ship, so he is definitely going to be missed in the art scene," she said.
A memorial page dedicated to Clark on Facebook describes him as an incredible DJ and musician who loved helping people hone their craft in the electronic music scene.
Jason McCarty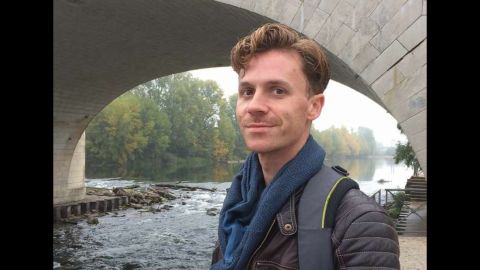 "The most normal weird guy," is how friends characterize McCarty, 35, an artist from a small town in Iowa.
A longtime friend who grew up with McCarty, Chris Escobar, told CNN affiliate KRON he was incredibly talented and didn't know the profound impact he had on people.
"You could tell what he was drawing came from the deep recesses of his mind," Escobar said.
After attending the University of Maryland at College Park, McCarty moved to California where he found kindred in this eclectic group of Oakland artists and musicians, according to the report.
Peter Wadsworth
Wadsworth, 38, was reportedly living inside the Ghost Ship warehouse where he died, according to CNN affiliate WHDH.
His LinkedIn page showed he was working with drone technology and that he studied psychology at Harvard University and Reed College in Portland, Oregon.
A friend told CNN affiliate KGO that Wadsworth, who she said had a "quirky intelligence," was always looking out for friends.
Wolfgang Renner
Renner, 61, was the oldest victim to perish in the Oakland warehouse fire.
He died alongside his girlfriend, Michele Sylvan, 37, according to KRON.
In a statement to KRON, Renner's friend, Robert Janca, who knew the couple, said he was "about as free of an individual as anyone is likely to ever meet."
"It was a joy to go and visit him as he was a capable host who made all of his friend's feel welcome and celebrated," he said.
Michele Sylvan
Sylvan, 37, was enjoying a night out with her boyfriend, Wolfgang Renner, when the three-alarm fire tore through the Oakland warehouse.
A friend to the couple told KRON she was a "potent visionary and was always up for life's adventure."
Robert Janca also described the clothing designer as wildly creative.
Both Sylvan and Renner were among the last victims identified.
Nicholas Walrath
"Fire. I love you."
It was the final text message Walrath, 31, would ever send his girlfriend, according to the San Francisco Chronicle.
A graduate of the New York University School of Law, Walrath was a young attorney with a promising future,and had recently signed on with the San Francisco law firm Durie Tangri LLP.
"In the short time he had been at our firm, Nick already had shown himself to be a fine lawyer a well as a good and caring person," Durie Tangri said in a statement.
His former French teacher told CNN affiliate KDKA that Walrath was a model student.
"I expected he would excel in the world and unfortunately his life was cut short," David Ghogomu said.
CNN's Amanda Watts, Mallory Simon, Ralph Eliis and Christina Zdanowicz contributed to this report.