Story highlights
NEW: About 70% of the building cleared as of Monday afternoon
Ex-resident says police knew people lived at warehouse; she called them herself
(CNN) —
The search for answers continued Tuesday in Oakland as city, state and federal agencies sifted through wreckage in one of the city's deadliest building fires on record.
Bucket by bucket, investigators painstakingly removed debris from inside the warehouse-turned-art-space, narrowing the fire's origin to the rear of the building, Oakland Fire Deputy Director Darin White said. By Monday afternoon, about 70% of the building had been cleared.
In another area of the property, the sheriff"s coroner began autopsies on the 36 bodies so far discovered, Alameda County Sheriff Gregory J. Ahern said.
A criminal investigation team from the Alameda County District Attorney's Office is on site, working alongside law enforcement, the Oakland Fire Department and federal investigators to ascertain criminal liability, and, if so, who could be responsible, District Attorney Nancy O'Malley said.
"It is not clear right now and is too early to speculate," she said of the circumstances of the fire that broke out late Friday. "We will leave no stone unturned."
Meanwhile, questions remain about leaseholder Derick Ion Almena, the man behind the arts collective known as the Ghost Ship, and what, if anything, could have been done to prevent the tragedy. Almena, who is believed to have been away from the site when the fire broke out, has not responded to CNN's requests for comment, but spoke to CNN affiliate KGO.
"They're my children. They're my friends, they're my family, they're my loves, they're my future," Almena told the station, referring to the Ghost Ship residents. "What else do I have to say?"
Outpouring of support
At least 33 people have been confirmed dead, including teenagers and a deputy's son, in a massive blaze that gutted a converted warehouse over the weekend during an electronic dance party.
At least 36 people are confirmed dead, including teenagers, a deputy's son, and three people from outside the US, in the blaze, which gutted the converted warehouse during an electronic dance party Friday night. Twenty-two victims have been positively identified and their families have been notified. An additional 10 victims have been tentatively identified and three victims need scientific identification, the city said in a statement.
Warehouse fire: What we know about the victims
Most of the bodies were found in the center of the building, Oakland Fire Battalion Chief Melinda Drayton said.
The fire spread so quickly that resident Jose Avalos had no time to help, he told CNN. He was in his loft when he heard someone call for an extinguisher. Before he could get down to offer support, he heard someone say, "Fire! Everyone get out!"
He grabbed his dogs and rushed to the front door where he fell into others trying to escape, he said.
"By the time I was through the front doors, I could just see the flames coming and then they just engulfed the front archway of my studio," he said. "I looked back and I just saw smoke everywhere. I couldn't really see anything. Got out of the building and I just saw smoke and then flames coming out the doors and the windows."
One of deadliest fires ever in Oakland
It could take weeks to identify victims through DNA and dental records, Alameda County Sheriff's Office Sgt. Ray Kelly said. Officials have asked victims' families to preserve their loved ones' personal belongings, including hairbrushes and toothbrushes, that could contain DNA samples. Kelly added that officials were also working with the transgender community to identify some of the victims.
Read more
Drayton, who has been with the department for 19 years, called it one of the most deadly fires in the city's history. A fire in Oakland Hills in 1991 killed 25 people.
Southern California artist Anneke Hiatt, who has been monitoring the situation because she had friends there, said she is starting to lose hope.
"It just doesn't seem that that's a fire that's survivable, so the reality, I think for a lot of us, is beginning to set in," she said.
Concerned family and friends used social media to find loved ones and offer support.
A former California state chief fire marshal said firefighters have to move slowly and cautiously for several reasons.
'I had to let him go'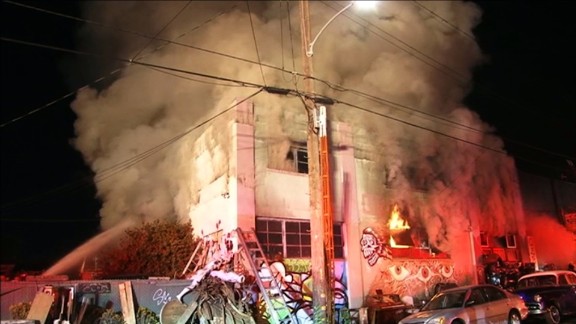 Photos: Oakland warehouse party fire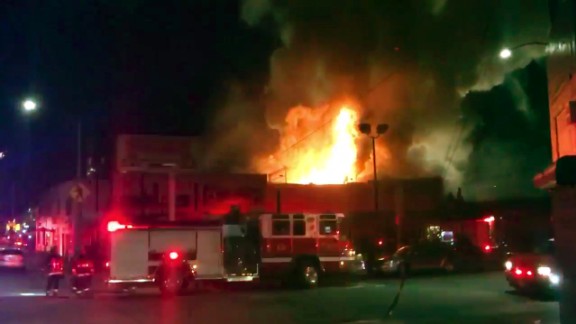 Photos: Oakland warehouse party fire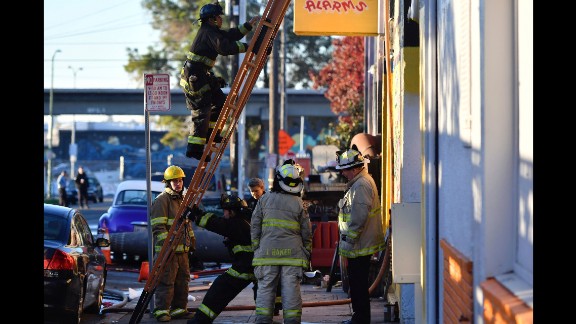 Photos: Oakland warehouse party fire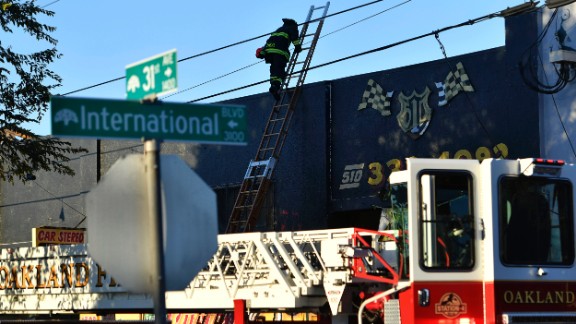 Photos: Oakland warehouse party fire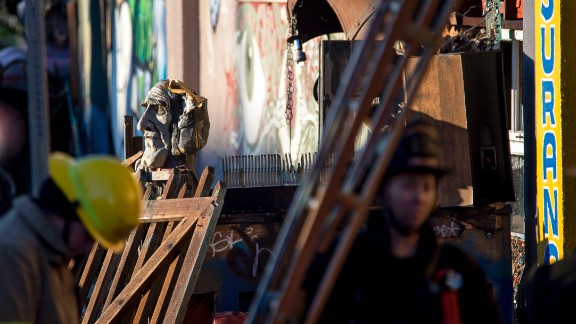 Photos: Oakland warehouse party fire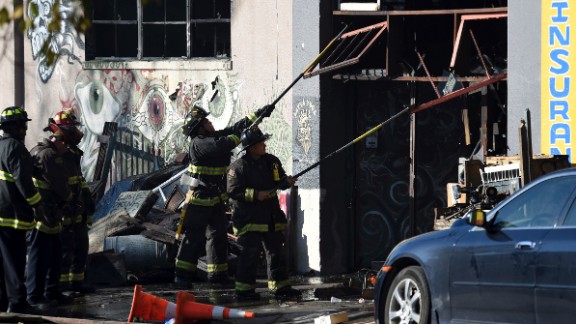 Photos: Oakland warehouse party fire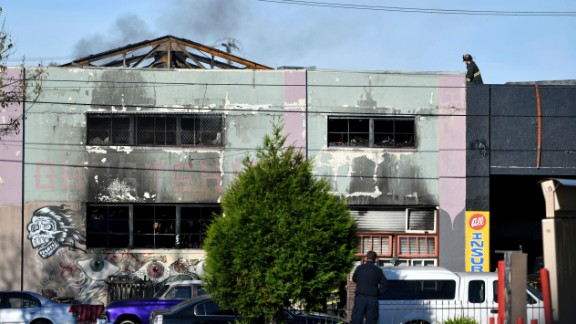 Photos: Oakland warehouse party fire
For filmmaker and photographer Bob Mulé, the warehouse was both his home and his community.
After seeing the flames, Mulé ran to find a fire extinguisher. He found one, but could not open the pin. When Mulé turned back to save his camera and laptop, he spotted a fellow artist who called out for help. Mulé suspected that heavy-set artist had broken his ankle after falling from the second floor.
"I broke my ankle. I need you to pull me out," a distraught Mulé recalled the artist saying. "The fire was just getting too hot and the smoke was just getting too bad and I had to leave him there."
The Oakland 'Ghost Ship'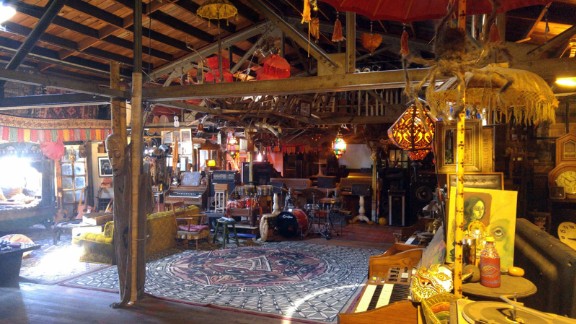 www.oaklandghostship.com
The building is known as the "Ghost Ship."
Oakland warehouse fire: What was the Ghost Ship?
Photos posted online show an interior cluttered with drums, keyboards, guitars, clocks, ornate beds, plush sofas, mirrored dressers, tables, benches and artifacts. Exotic lamps hang from the ceiling, and paintings adorn some of the walls.
"It was not a bunch of irresponsible people looking for a drug thrill," resident Swan Vega, 33, told CNN. "It was a known community house, a place for the creative class to support each other, gain momentum, hash out projects, and just be joyous. And this is the most tragic outcome."
Darin Ranelletti, Oakland's interim director of planning and building, told reporters Saturday the city had only approved permits for the building to be used as a warehouse, not for residences. City officials also had not signed off on a special permit for the event, Ranelletti said. In addition, firefighters found no evidence of sprinklers in the warehouse.
Firefighters found no evidence of sprinklers in the warehouse.
Vega acknowledged that "nobody should've been living there." But she said there's not enough affordable housing for artists in the Bay Area.
"We need housing," she said. "We need help."
Past concerns
Last month, the warehouse's owners had received notification of city code violations for hazardous trash and debris, property records show.
Former California State Chief Fire Marshal James McMullen said it was his understanding that the owner of the space had been approached about illegal occupancy and trash and debris strewn "around in the way of forming a fire hazard."
Shelley Mack, a jewelry maker who lived at the Ghost Ship until February 2015, said she paid $700 to move in and another $700 for improvements that never came. The sole bathroom for residents was in bad repair, a transformer blew a couple of weeks after she moved in and fires were sparked by faulty electrical cords, she said. The space had intermittent power and heat when she lived there, she said.