Story highlights
Fatal shooting of Joe McKnight happened at intersection in New Orleans suburb
Authorities: Ronald Gasser has not been charged; case remains under investigation
Former NFL running back Joe McKnight was fatally shot during an apparent road-rage incident while standing beside a man's car at a suburban New Orleans intersection, authorities said Friday.
McKnight, 28, who played for the New York Jets and Kansas City Chiefs, and Ronald Gasser apparently became involved in an Thursday afternoon incident on the Crescent City Connection, formerly known as the Greater New Orleans Bridge, Jefferson Parish Sheriff Newell Normand said at a news conference.
The problem may have been that one man cut the other off in traffic, Normand said.
One driver followed the other to an intersection in Terrytown, where McKnight parked his Audi Q7 SUV on the right shoulder of the road, a sheriff's office news release said. Gasser's Infiniti G37 two-door sedan was in the right lane and parallel to the SUV, the release said.
Witnesses said the two were "in a heated verbal exchange" from their vehicles, officials said.
At some point, Gasser "discharged three rounds from a .40-caliber semiautomatic handgun from the driver's seat of the blue Infiniti through the open passenger window. These rounds struck (McKnight), who had previously exited the gray Audi Q7 and was positioned at the passenger window of the Infiniti," the release said.
Gasser remained at the scene, handed over his weapon to authorities and admitted to shooting McKnight, Normand said. No gun was found in McKnight's possession, Normand said.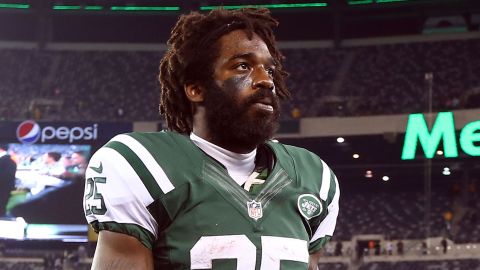 Normand said Gasser, 54, was released from custody Thursday night.
In explaining why Gasser was allowed to leave, Normand said authorities need to talk to more witnesses.
"If you make a rush to judgment and you make a strategic or tactical error from the beginning (it's) very hard to recover later," he said.
Normand said an arrest triggers court hearings at which evidence must be revealed. "We did not want to get to that threshold at that point in time," he said.
He said that the stand-your-ground law "is one of the issues that looms on the horizon. …"
Reggie Bush: 'I was pretty angry'
The shooting shocked New Orleans and the football community, including Reggie Bush, a current NFL player who preceded McKnight at the University of Southern California.
"I have to admit when I heard today that the guy was released without charges I was pretty angry," Bush said in an interview with Brooke Baldwin on CNN. "And I still am pretty angry. And I'm not sure what all the details of the situation are but I know that it just doesn't make sense."
Bush said the killing "seems unreal because for me we just had to bury one of my ex-teammates, Will Smith, who went through a very similar situation because of road rage."
In April, Will Smith, who played defensive end for the New Orleans Saints, was shot to death and his wife was wounded in downtown New Orleans, apparently after a traffic dispute with another man, authorities said. Cardell Hayes was charged with second-degree murder in Smith's death.
'This is not about race'
Sheriff Normand said there's no evidence the shooting had a racial basis, despite heavy social media traffic on that subject. McKnight is black and Gasser is white.
"Everybody wants to make this about race," Normand said. "This is not about race."
The sheriff said protesters who had already gathered on the streets of New Orleans would not be allowed to block traffic.
The sheriff noted that "the man who raised" McKnight was a former deputy sheriff for Jefferson Parish. He said people in the sheriff's office are close to McKnight's family, but "this (investigation will be done in the proper way."
Jefferson Parish Coroner Gerald Cvitanovich said McKnight was shot in the right shoulder, the right chest and the hand.
Alleged prior incident
In 2006, a misdemeanor charge stemming from an alleged road rage incident involving Gasser was dismissed, the sheriff's office said.
The charge came after a man reported to police that Gasser followed him in his pickup, got out and punched him several times in a gas station parking lot. The sheriff's office said it is unsure why the case was dismissed.
Court records show Gasser failed to show for his arraignment in September 2006 and early in October he paid a fine for contempt. On November 27, the case was dismissed by the district attorney., court records say.
High school hero
McKnight, a resident of nearby Kenner, was a football standout at John Curtis Christian High School in River Ridge, Louisiana.
He was named Louisiana's "Mr. Football" in 2006, and The Times-Picayune newspaper named him the male high school athlete of the decade in 2009.
Rivals.com, a recruiting website, ranked him the best running back in the 2007 graduating class and the second-best player in that class. Parade magazine named McKnight the co-player of the year, along with Jimmy Clausen.
McKnight went on to play at the University of Southern California, where he was hyped as "the next Reggie Bush," the Daily Trojan's website reported.
McKnight never matched Bush, who led the school to a national championship, but he established himself as a dependable running back, the Daily Trojan said.
Pro career
After his junior year, McKnight left USC and was drafted into the NFL. He played from 2010 to 2012 with the New York Jets, working mostly as a kick returner on special teams. One of his highlights was returning a kickoff 107 yards against the Baltimore Ravens.
McKnight sat out 2013, played 2014 with the Kansas City Chiefs and played briefly in 2015 with Canadian pro football teams the Saskatchewan Roughriders and the Edmonton Eskimos.
McKnight had been in talks about playing for another NFL team, McKnight's stepfather, Elmo Lee, told CNN affiliate WVUE-TV. CNN could not immediately confirm that statement.
"I just want people to know that this was not a troubled kid. The boy was just trying to make it back in the NFL, that's all he wanted to do," Lee told the TV station. "That was his whole dream since 6 years old. I've been knowing him from 6, and this is just senseless, and it has to stop. Somewhere it has to stop."
Tributes pour in
People who knew McKnight in the world of football were grieving.
Bush tweeted: "RIP my brother Joe McKnight this one hurts bad."
Seattle Seahawks coach Pete Carroll, who coached McKnight at USC, tweeted: "Deeply saddened by the loss of Joe McKnight. This is a terrible tragedy. Everyone loved Joe and we are going to really miss him."
DeMaurice Smith, executive director of the National Football League Players Association, tweeted: "The community of NFL players is saddened and shocked by the tragic loss of Joe McKnight. RIP."
Buffalo Bills coach Rex Ryan, who coached McKnight at the Jets, posted on the Bills webpage: "Hearing this news about Joe McKnight is just so heartbreaking. He was such a great guy who meant a lot to a lot of people. When he first came to us at the Jets, he was this raw, talented kid. He had some issues as do a lot of guys.
"Obviously, we know the background, him going through (Hurricane) Katrina and a lot of different things. But he was always determined to get better–better as a football player and better as a man–and I thought he did that. That was exciting for me to see. …
"Joe will be remembered for a lot of good things and I was proud to have known him and proud to have coached him."
CNN's Shawn Nottingham contributed to this report.