Story highlights
Tennessee has long been known as the Volunteer State
After wildfires, communities around Gatlinburg say they're living up to the name
Gatlinburg, Tennessee
CNN
—
Tennessee is known as the Volunteer State; even its beloved University of Tennessee sports teams use the name. When wildfires forced thousands from their homes in Gatlinburg this week, evacuees and helpers noticed how the state lived up to the nickname.
"That's how the state got the nickname, people helping people. It is just people's nature," said La Vergne Fire Department Capt. Marcus Harney.
Harney and his crew from middle Tennessee came to Gatlinburg on Tuesday as reinforcements. As he stepped out of his firetruck to get a cup of coffee on Tuesday night, he said, a woman walked up and handed him $20 – the coffee was on her. Before he could say, "thank you," she was gone.
Free hotels, coffee on the house
Inside the local Starbucks, the giving didn't stop. The coffee shop was giving out coffee to firefighters and law enforcement on Wednesday, and it was taking care of those forced from their homes.
"It's kind of what we do here. We are a family," said Sam Ford, the shift supervisor at Starbucks in nearby Pigeon Forge, after serving Tim Morrison his second cup of coffee. Morrison and his wife, Shirley, lost their home, a few cars and three cats in the fire.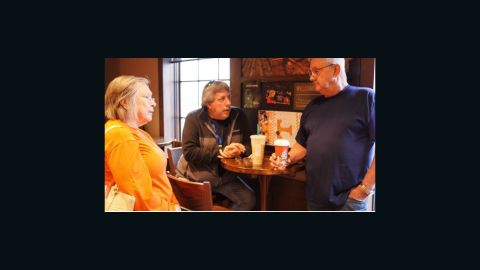 Judson Jones/CNN
"If we walk in somewhere, they comp things. Even our hotel comped our night at the hotel," Tim Morrison said.
"I feel very fortunate after seeing the situations of other people," Shirley Morrison added.
Phil Derosia, a friend of the Morrisons, said none of his properties nearby was damaged in this fire, but he knows how generous the community can be. When he first moved to Gatlinburg in 1992, his new home burned down within 24 hours. The next morning, he walked into the local restaurant, and people he had never met started giving him things.
"It's just what people do here," he said.
Helping man's best friends
Humans aren't the only ones who needed help as a result of the Gatlinburg fires. Dogs and cats become separated from their owners in the panic of evacuations. These stray animals that are rescued are taken care of by those around who are available to volunteer.
"It has been awesome. We have had so many people coming in we don't have enough jobs for them," said Karen Summerville, the volunteer coordinator for the Sevier County Humane Society. Some volunteers have driven in from other states to help care for animals, she said.
CNN/Judson Jones
One golden retriever arrived Tuesday with singed whiskers. When his owners were identified, volunteers learned they'd lost other pets in the fire, but they were thrilled to reunite the dog they'd called Buddy with his family.
Sherry Hagmeier, a Humane Society board member, said they are getting calls from all over the country to assist, and people are bringing in truckloads of items to support the animals.
'We are the Volunteer State'
CNN/Judson Jones
Stacy Humphrey, a first-time volunteer for the Red Cross, shuttled evacuees to a shelter on Monday night as the fires raged. Once, she had to turn around because a fire crossed the road in front of her.
At the shelter, she said, it was chaotic. "I don't know if 'surreal' is the right word," Humphrey said, trying to describe how she felt every emotion as she saw the tight-knit community coming together.
"I think it being 'Volunteer State' instills something in them. It is something that is ingrained in people from the region," Humphrey said.
Volunteers have also stepped up to fight the fire at the front line.
Dozens of volunteer firefighters have join forces with local fire departments across the Tri-Cities to contain the wildfires, the Johnson City Press reports. A photo posted on the Johnson City Professional Firefighters Association's website showed a group of firefighters getting some much-needed rest after battling the flames for more than 36 hours. The five firefighters pictured managed to find a brief moment of respite before returning to work. Firefighters regularly work 24-hour shifts.
Johnson City Firefighters Association
Tennessee's nickname comes from a group of volunteer soldiers who contributed to the Battle of New Orleans during the War of 1812 and showed exemplary valor.
The name seems to stick with many residents of the state.
"It's amazing," said Ben Norvell, the band director at a local high school who volunteered to help, even as some of his family members lost their homes. When a news story happens to you, "you don't know what the outcome is going to be, but you know those people are there."
CNN/Judson Jones
Alan Sheets, a Red Cross volunteer from Knoxville and night shift manager at a fire shelter, has been volunteering for 12 years and at 50 disasters, he said. Most recently, he helped during the Louisiana floods, then deployed to Orlando ahead of Hurricane Matthew, and then to North Carolina to help with the hurricane flooding.
He had only been home one week before this fire disaster hit close to home. Still, the volume of the response was powerful.
"I have been impressed with how many event-based volunteers that we have from all over," Sheets said, describing volunteers who aren't regular Red Cross helpers.
Based on the state's history, he's not surprised.
"We are the Volunteer State," he said. "We hang around longer."