Story highlights
Attacker's purported Facebook page had grievances about attacks on Muslims
The attacker was an 18-year-old recent transfer student
Authorities believe the Ohio State University student responsible for Monday's attack on campus was inspired by terrorist propaganda from ISIS and deceased Yemeni-American cleric Anwar al-Awlaki, two law enforcement sources said.
The sources point to Abdul Razak Ali Artan's Facebook posts before his short-lived rampage on the Columbus campus. The posts referenced Awlaki, who was a leader of al Qaeda in Yemen. Sources also note the style of the attack was encouraged by ISIS in a recent online magazine.
Despite claims from the Islamic State's purported media wing that Artan was an ISIS soldier, there is no indication so far that Artan communicated with any terror group; evidence points to a lone wolf attack. Investigators are inspecting his computer and cell phone and talking to family and associates, as they try to determine what led him to act.
Artan bought knives on the day of the attack, a law enforcement official said. Artan rammed his car into a group of people on the Columbus campus and then got out and charged at passersby with a knife. Ohio State University Police Officer Alan Horujko shot Artan after he failed to obey orders to stop, killing him and stopping the attack.
Of the 11 people injured three remain hospitalized, Dr. Andrew Thomas said at a news conference Tuesday. Thomas is chief medical officer of the OSU Wexner Medical Center.
Over almost as soon as it began
Classes resumed Tuesday as the campus community comes to grips with the incident.
One of the victims released Tuesday, Professor Emeritus William Clark, described the rapid escalation of events, which lasted less than two minutes from the moment when Artan drove up on the curb until he was shot.
Watts Hall had just been evacuated for a fire alarm before Artan drove up and crashed his car into a cement planter, accounting for the large group of people outside, Clark said.
As Artan's car was stopping it clipped the back of Clark's leg, sending him into the air before he landed on his back. He suffered deep cuts and bruises on his leg.
It all happened so fast that Clark said he barely noticed Artan. He declined to speculate on what motivated Artan without knowing him personally or the facts at hand.
"I'm only too aware of the things that drive students to do things they wouldn't normally do," he said.
"At the end of the day I'm sore and going home this afternoon and he's dead," he continued. "My sense, out of respect for the living and the dead, is we should wait to find out what the truth is."
Facebook posts yield clues
Artan left his native Somalia with his family in 2007. They arrived in the United States from Pakistan in 2014 as legal permanent residents and green card holders.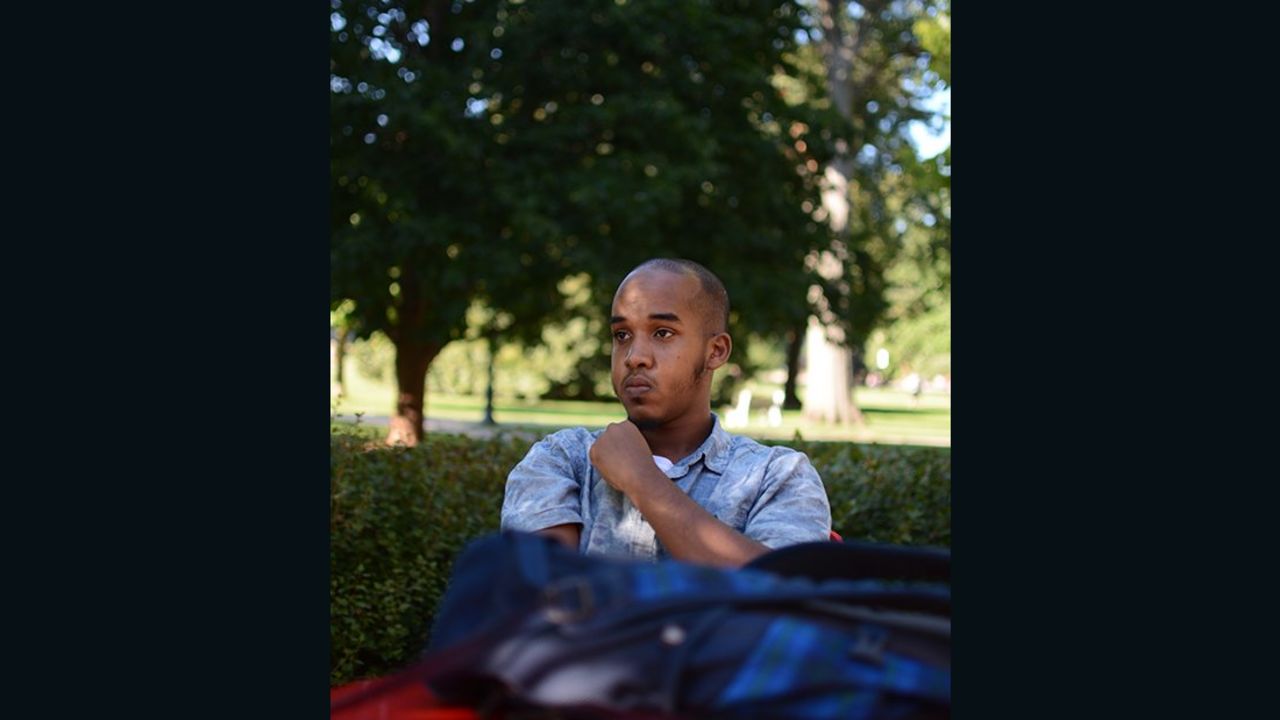 Artan had just transferred from Columbus State this semester. In August, Ohio State's student-run newspaper profiled Artan as part of its "Humans of Ohio State" series, in which he talked about his struggles to find a place to pray in peace on the large campus.
"I wanted to pray in the open, but I was scared with everything going on in the media," he told the newspaper.
Louann Carnahan, who lived next door to Artan, said she knew him and his family quite well and spoke to them every day. She described him as being very pleasant.
"I never expected any kind of behavior like that from him," she said. "I'm still beside myself that he was even capable of the acts that he did."
There were no visible changes in his behavior in the days leading up to the attack, she said.
In a Facebook post shortly before the rampage, the Somali immigrant said he was "sick and tired" of seeing fellow Muslims "killed and tortured," according to federal law enforcement officials.
He urged America "to stop interfering with other countries, especially the Muslim Ummah," a term for Muslim people at large.
"By Allah, we will not let you sleep unless you give peace to the Muslims," he wrote. "You will not celebrate or enjoy any holiday."
Artan said reports of human rights abuses in Myanmar pushed him to a "boiling point." The United States, which suspended its last sanctions against the former military dictatorship this year, said it had expressed concerns about the treatment of Myanmar's Rohingya Muslims.
"I can't take it anymore," he said in the post.
Three calls, three shots, one dead
Officer Horujko's quick response cut Artan's rampage short, officials said.
Horujko called in the car at 9:52 a.m. A few seconds later, he called again to say he had engaged with the suspect. At 9:53 a.m., he called a third time to say he had shot the suspect.
Student Logan Chapman, who was nearby at the time, said everyone thought it was an accident.
"So everyone was checking to make sure that the people who were hit were OK," he told CNN's "New Day." "As soon as everything had settled down, he got out of the car and started slashing people closest to the car with the knife."
Investigators used surveillance camera footage to track Artan's car before he arrived on campus, University Police Chief Craig Stone said. By tracing his movements, investigators were able to conclude he was alone in the vehicle and acted alone.
Gov. John Kasich praised the response, saying it showed "how much practice, how much training, how much expertise, how much coordination" existed among local law enforcement agencies.
"We are a strong, tough, resilient community," he said.
'Run, hide, fight'
Ohio State President Dr. Michael V. Drake and others credited the school's active shooter training and the campus alert system for helping the community maintain order while the scene was secured. Ohio State's Columbus campus is one of the largest in the United States. Nearly 60,000 registered students attend classes on the sprawling urban campus.
At 9:55 a.m., three minutes after Horujko's first call, the school sent out a campus alert reporting an active shooter incident.
"Buckeye Alert: Active Shooter on campus. Run Hide Fight. Watts Hall. 19th and College," Ohio State Emergency Management tweeted at 9:56 a.m.
Some students piled chairs against a door to block him from getting in as they awaited word on the attacker's movements.
Students had just returned to class Monday after Thanksgiving break – and after the Ohio State football team's big win Saturday over the school's biggest rival, the University of Michigan.
In a news conference Monday, Drake cautioned against jumping to conclusions when asked if the incident was terror-related or had anything to do with Ohio's Somali community, the second-largest in the country.
"What we want to do is really unify together and support each other; do our best to support those who were injured in their recovery, and then allow the investigation to take place."
CNN's Holly Yan, Pamela Brown, Scott Glover, Doug Criss, Lawrence Crook, Elise Labott, Justin Lear, Shawn Nottingham, Donie O'Sullivan, AnneClaire Stapleton and Amanda Wills contributed to this report.