Story highlights
Three are reported dead
About 15,000 acres scorched
Gatlinburg Mayor's home among 250+ structures lost
Gatlinburg, Tennessee
CNN
—
Three people died in raging wildfires in Sevier County, Tennessee, that scorched roughly 15,000 acres, showered residents with embers and sent people scrambling to evacuate from resort communities.
The wildfires, which started Monday, damaged or destroyed more than 250 buildings in and near the eastern Tennessee's resort towns of Gatlinburg and Pigeon Forge, but it spared some major tourist attractions in a dizzying 24 hours, officials said Tuesday.
Evacuees said the fire that spread without warning from the Great Smoky Mountains surrounded their homes, forcing them to leave with only the clothes on their backs.
"There was flames everywhere. It was a firestorm," Mark Benzschawel, 52, of Gatlinburg told CNN's Nick Valencia.
Benzschawel said police banged on his door Monday night to wake him and his partner, Denise Bearden. The couple alerted their neighbor, who managed to escape with her dog.
Gatlinburg Fire Chief Greg Miller said that the three victims killed in the blaze died in separate incidents.
"We pray we don't experience any more fatalities but there are still areas that we're trying to get to because of down trees and down power lines," Miller said.
The fire that sparked the dozen other blazes was "human-caused," National Park Service spokeswoman Dana Soehn said, without elaborating.
The blaze is under investigation.
Bracing for the threat of more fires
Firefighters continued to put out flames and clear roadways blocked by trees and telephone poles on Tuesday, Miller said.
Officials braced for the possibility of spot fires as high winds were expected overnight.
"The single greatest concern would be the wind," Miller said. "The greater the wind speed is, it just makes our job a little harder. It creates these additional spot fires."
According to CNN's Weather department, the nearby Great Smoky Mountains were under a high wind warning, with possible wind gusts of up to 60 mph. Up to an inch-and-a-half of rain was also expected overnight, which could help.
But lightening is expected with the thunderstorms moving through the area, which could also pose a risk of sparking additional fires in the drought-stricken region.
Officials said they are not certain when residents will be able to return to evacuated neighborhoods.
Gatlinburg mayor Mike Werner said destroyed properties in many cases are next to properties that appear untouched or with little damage. He said a curfew was imposed from 6 p.m. to 6 a.m.
"It's a devastating time for us, and for Gatlinburg," Werner said.
He added: "We're strong and we're resilient .. we're going to make it."
Gatlinburg fire victims: Houses torched, relatives missing
'Like a perfect storm'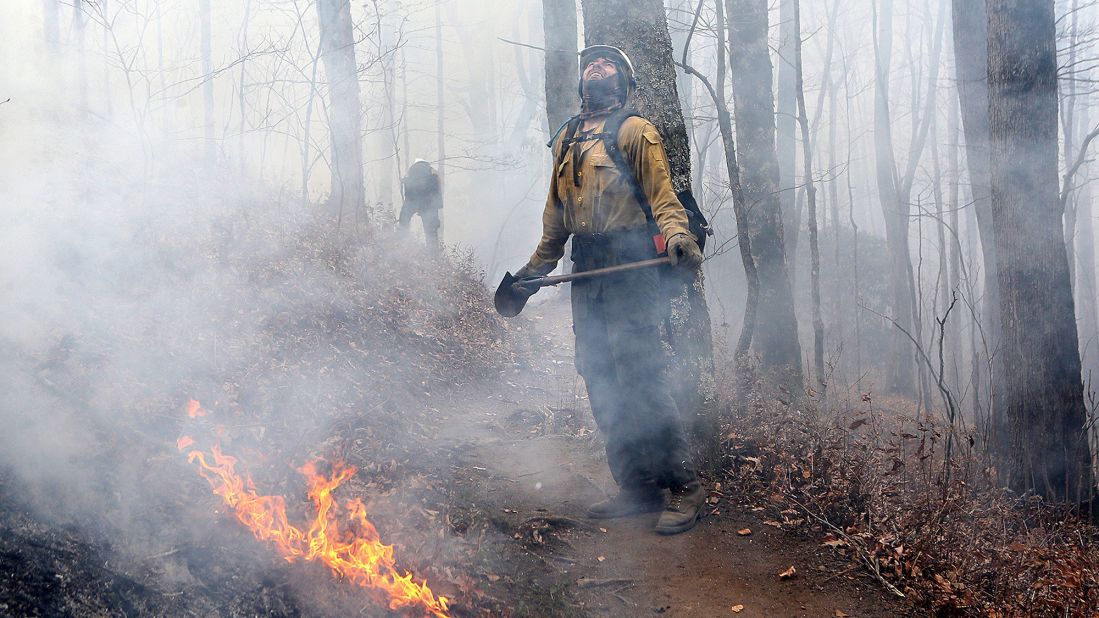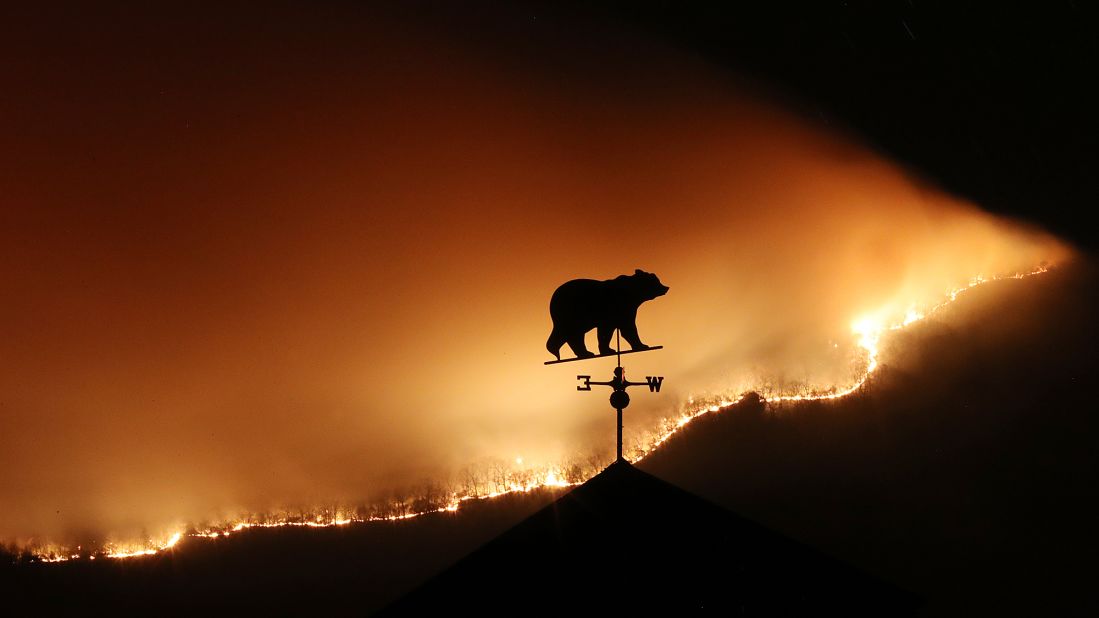 Wildfires scorch the Southeast
On Monday afternoon, a wildfire from the Great Smoky Mountains National Park spread into nearby communities. Strong gusts – up to 87 mph – scattered embers across long distances, starting fires that fed off drought-stricken trees. The winds also knocked down power lines, igniting new fires, Miller said.
"Everything was like a perfect storm," Cassius Cash, superintendent of the Great Smoky Mountains National Park, told CNN affiliate WATE. Rain fell Monday night, but it was too late and too little to prevent damage as the region felt wind gusts in excess of 80 mph.
A major attraction, the Ober Gatlinburg ski area and amusement park that overlooks the city, appeared to be spared. But on a road leading to the resort, what used to be homes have been reduced to burned-out husks.
Only the bricks remained intact – and only in places. The insides have been eaten away by the fire.
The cars parked outside have suffered the same fate – their paint burned to ash, their tires melted away. Uprooted trees leaned on power lines. Smoke turned the sky a bleak gray.
"It is absolutely devastating," said Mark Nagi of the Tennessee Department of Transportation, who posted footage of the devastation on his Twitter feed.
Fire destroyed a number of buildings at Gatlinburg's Westgate Smoky Mountain Resort & Spa. Smoke drifted Tuesday from burned-out vehicles and the buildings' charred remains. Chris Turner posted video of the damage to Facebook.
"It's all gone, guys," Turner said of one section of units on the bottom part of the property. "This got so hot, it melted the … pavement."
If you are able, 'evacuate immediately'
Authorities issued evacuation orders for Gatlinburg and nearby areas, including the north end of Pigeon Forge: "Nobody is allowed into the city at this time. If you are currently in Gatlinburg and are able to evacuate … evacuate immediately."
Pigeon Forge is home to Dollywood, the theme park owned by singer and actress Dolly Parton. At Dollywood, officials with the Great Smoky Mountains National Park evacuated guests from its resort and cabins as flames approached the area.
Parton said in a statement that she was heartbroken about the fires and was "praying for all the families affected."
"It is a blessing that my Dollywood theme park, the DreamMore Resort and so many businesses in Pigeon Forge have been spared," she added.
Schools in Green, McMinn and Sevier counties were closed Tuesday, the agency said, and about 12,000 people in Sevier County were without power as of Tuesday morning.
Several evacuation shelters opened and about 1,300 people stayed overnight at the local community center and park. Shaken residents, some needing oxygen after inhaling so much smoke, huddled with each other at the shelters.
"We watched a building go down in flames to the right of us," said one tearful evacuee, who was rescued by firefighters.
'It's just engulfed'
Despite evacuation orders, some people – including guests at one Gatlinburg hotel – could not safely leave the area as the fire advanced Monday night.
"I just see fire everywhere," said Logan Baker, a guest at the Park Vista Hotel. The fire swept up to the hotel parking lot, he told CNN affiliate WATE. He posted videos of the hotel doors and windows glowing from the fire looming outside.
Baker was among dozens of guests who couldn't leave because falling trees engulfed in flames had blocked the only road out.
The fire had not reached the hotel, but smoke had permeated the building, making it hard to breathe, he said. Guests stood in the hotel lobby Monday night with masks over their faces.
Elsewhere, the Great Smoky Mountains National Park evacuated employees from the Elkmont and park headquarters housing areas on Monday.
Facebook activated its safety check feature.
Tennessee Gov. Bill Haslam who flew over the scorched region said it was "a little numbing" to see the extent of the damage.
He said the region is a "special place" in Tennessee.
"Millions have families have come here and will continue to come here," Haslam said.
Nick Valencia, Amanda Wills, Keith Allen, Brandon Miller, Shawn Nottingham, David Williams, Christine Sever, Judson Jones, Jeremy Grisham, Jennifer Gray contributed.