Story highlights
Ruling ANC party reaffirms support of scandal-plagued President Zuma
Move follows damning, 355-page report on top-level government cronyism
South Africa President Jacob Zuma has received the backing of his party just weeks after a damning report into top-level government cronyism.
There had been speculation that the ruling African National Congress (ANC) party would hold a vote of confidence on Zuma, nicknamed the "Teflon President" for his ability to survive scandals, at its National Executive Committee meeting over the weekend.
However ANC Secretary General Gwede Mantashe said at a press briefing Tuesday that there was "no such vote" at the meeting and reaffirmed the party's support for Zuma.
In a rare admission of party division, Mantashe also announced that during the meeting there was a call for Zuma to consider stepping down, leading to what the Secretary General described as a robust and open debate.
The meeting follows a hefty report in late October that alleged corruption at the highest levels of South African government. The report by the Public Protector, appointed to investigate complaints of government misconduct, implicated the President and his cronies, although Zuma has denied the allegations.
It's not the first time the scandal-ridden President has escaped a potential party revolt. Since taking office in 2009, he has depended on loyal party members and grassroots support to weather each political scandal.
But Zuma is now facing increasing calls from opposition groups and the public to resign.
Amid this political turmoil he is traveling to Havana for the funeral service of Fidel Castro, and has ordered the country's flags to be flown at half-staff to mark the Cuban leader's passing.
Damning report
South Africa's main opposition groups protest President
The 355-page State of Capture report contained allegations, and in some instances evidence, of cronyism, questionable business deals and ministerial appointments at the very top of government.
The President, his son Duduzane Zuma, government ministers, the board of South Africa's state power utility, Eskom, and the Gupta family – brothers Ajay, Atul and Rajesh Gupta – are all implicated in what the report said could be breaches of ethics codes and in some cases criminal allegations.
The Guptas are a wealthy family who emigrated from India to South Africa, where they have built a business empire and wield much political influence.
Duduzane Zuma, the Guptas, and Eskom's CEO have all denied the claims.
The report recommended that Zuma appoint a commission of inquiry headed by a judge within 30 days to investigate the allegations.
But ANC Secretary General Gwede Mantashe told reporters on Tuesday that the party "came to consensus that report is inconclusive."
"There are individuals who are implicated. Those individuals must go and review the report if they are not happy," he added.
Mounting pressure
Protests erupt in South Africa over Zuma's rule
The report sparked demonstrations in the capital Pretoria earlier this month, with crowds of protesters – many wearing the red shirts of the Economic Freedom Fighters – calling for Zuma's resignation.
Police used water cannons and stun grenades to try to disperse groups of demonstrators amid looting and increasingly chaotic scenes before the protests ebbed away.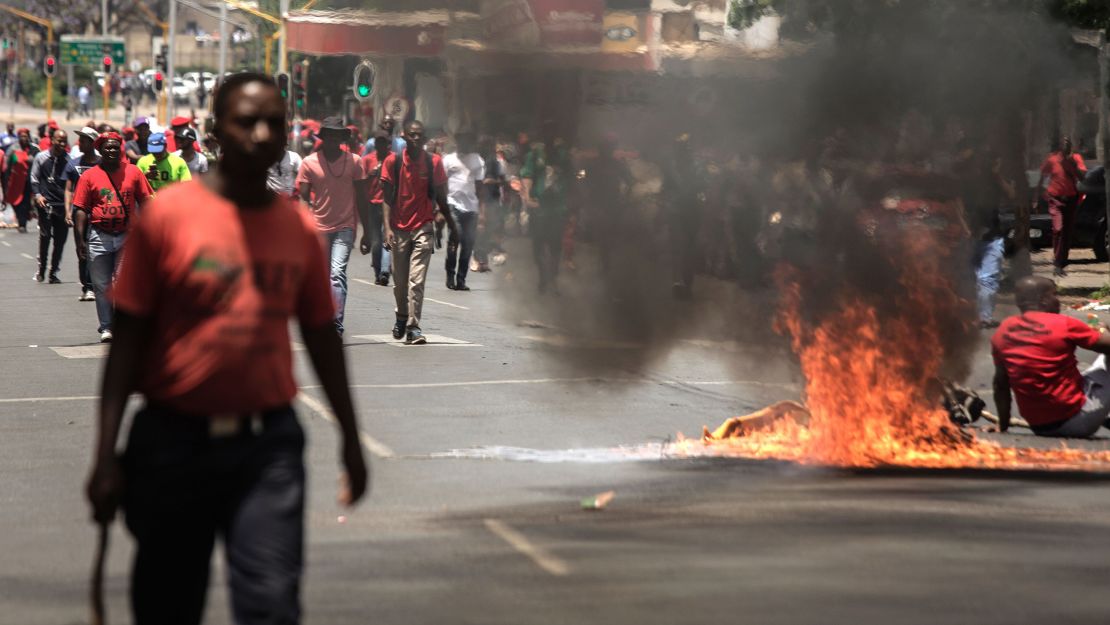 Mmusi Maimane, leader of South Africa's chief opposition party, Democratic Alliance, welcomed the Public Protector's report as a "victory" for the constitution and rule of law against corruption by Zuma and his party.
"Following the findings in this report, Jacob Zuma should do the (honorable) thing and resign," Maimane said in a statement. "The Zuma presidency has been a blight on South Africa – only his resignation can help repair the damage he has caused."
Teflon President?
Facing scandal is nothing new for Zuma. He once faced 783 charges of corruption and fraud relating to a late-1990s arms deal. The charges were dropped in 2009, but a court ruled in April that prosecutors acted "irrationally" in dropping them and recommended they be reinstated. Zuma insists he is innocent.
In December 2015, Zuma dismissed respected finance minister Nhlanhla Nene and replaced him with a little-known backbencher.
It was a catastrophic — and likely political – move that wiped billions off the stock market and pummeled South Africa's currency. Under intense pressure, Zuma reappointed former finance minister Pravin Gordhan to the post.
In March, the Constitutional Court ruled Zuma had defied the country's Constitution when he used $15 million in state funds to upgrade his private home at Nkandla, in KwaZulu-Natal – including adding a swimming pool and a chicken run.
An effort to impeach Zuma following that court's decision failed to get the necessary votes in Parliament. Zuma welcomed the judgment while claiming he had knowingly done nothing wrong.
CNN's Laura Smith-Spark contributed to this report