Editor's Note: This is the second part of a series on health care refugees. Read the first part here.
Rich and Kim Muszynski know when their 5-year-old daughter, Abby, is about to have a grand mal seizure because her pupils enlarge, and she'll seem to fixate at something in the distance that only she can see.
Then it starts. Abby's extremities shake. She gasps for air.
By the time she turned 3, Abby had tried about eight different anti-seizure medications. None of them worked very well. Panicked to see their daughter getting worse and worse, the Muszynskis drove three hours to Orlando to see Dr. Ngoc Minh Le, a board certified pediatric neurologist and epileptologist.
Le told them that chances of another anti-seizure drug working on Abby were tiny. He recommended medical marijuana. The timing was right: Just months before, Gov. Rick Scott had legalized the use of a type of non-euphoric cannabis called Charlotte's Web.
The formulation had been a miracle for a little girl with epilepsy named Charlotte Figi. The Muszynskis had seen her story on Dr. Sanjay Gupta's CNN documentary "Weed."
Charlotte's Web did help Abby, but not as much as it had helped Charlotte. She still was having about two grand mal seizures a week, each lasting about eight to 10 minutes.
Le explained to Kim and Rich that Charlotte's Web has only tiny amounts of THC, one of the psychoactive ingredients in marijuana. Medical marijuana with higher levels of THC was Abby's best hope, he told them.
But at this point, in 2015, high-THC marijuana wasn't legal in Florida for Abby. To get it, the Muszynskis would have to move, leaving behind their friends and family, including two older children.
Kim thought about Colorado, where Charlotte Figi lived. She'd checked with parents of disabled children there, and they told her the state had a fair and efficient Medicaid program.
Getting to Colorado would be a challenge: Abby's doctors said it wasn't safe for her to fly on a commercial plane or to take a long car ride across the country.
The Muszynskis began their final fight with Florida Medicaid – one that would leave Kim and Abby homeless for several days.
Kim says that in mid-August, she started talking to Medicaid officials about getting an air ambulance to Colorado. On September 19, Rich drove the family car out to Colorado. They planned for Kim to attend the closing on their house in Boynton Beach on September 23 and leave on the air ambulance with Abby that afternoon.
Kim had emailed and spoken with various Florida officials, and it seemed to her that everything was in order. "Please give a call today so we can finalize travel arrangements!" Mary Joyce, a senior registered nurse supervisor at Children's Medical Services at the Florida Department of Health, wrote in an email to Kim on September 20.
But then several days passed, and there was still no final approval for the transport.
Their house sold, Kim and Abby were homeless. They moved in with Kim's best friend and her husband. All of Abby's equipment, like her bed with guardrails, was with Rich on their way to Colorado. Kim slept with Abby on the floor.
Abby's cries at night kept Kim's friends awake. Kim wrote emails begging Florida officials for help. But for the first time, she added someone not previously included on the email: this CNN reporter.
Three days later, she learned that the transport had been approved.
A spokeswoman for Florida's Agency for Health Care Administration gave this statement:
"In this case relocation services are not covered by Medicaid, per federal Medicaid guidelines. However, thanks to Safety Net funds made available by Governor Scott and the Legislature, the state supported this family by covering the costs to provide relocation services via the air ambulance of the mother's choice. Working with the family, the state arranged transport as quickly as possible," wrote the spokeswoman, Mallory McManus.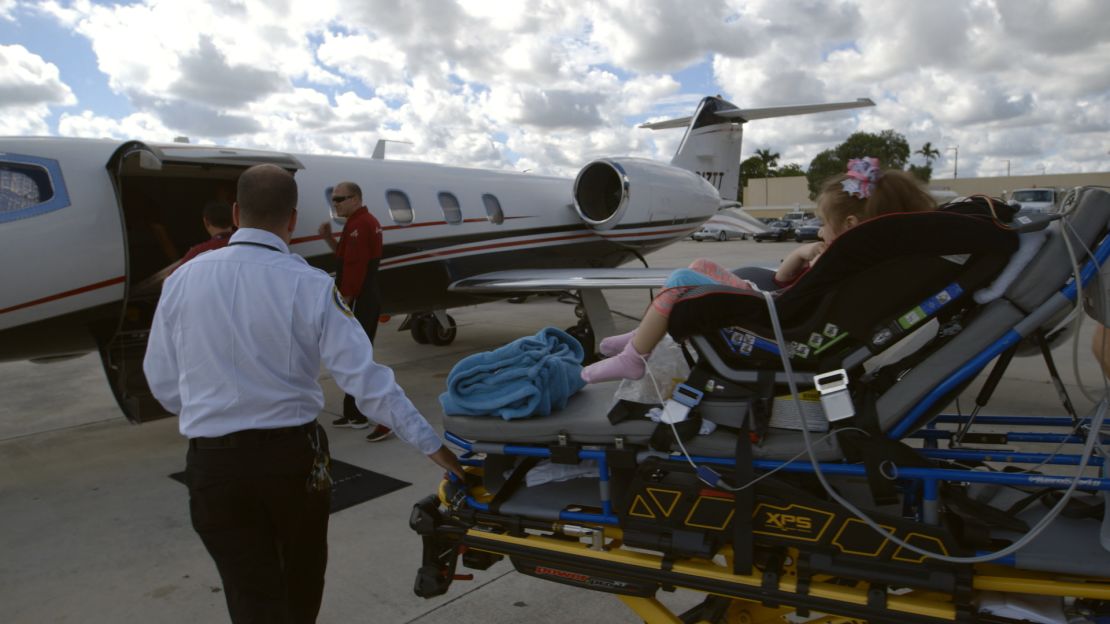 On September 28, an ambulance picked up mother and daughter and brought them to Boca Raton Airport. Abby's grandmother and aunt said a prayer over Abby's stretcher as it was loaded on the plane.
As they prepared to leave, Kim said she felt like a refugee in her own country.
"I feel like I'm being forced out of my home," she said.
But when Kim and Abby arrived in Colorado Springs, Rich was there to welcome them to their new home.
'The most incredible thing I've ever seen'
Within a few weeks of arriving in Colorado, the Muszynskis felt like they'd been visited by not one but two miracles.
First, the high-THC marijuana has almost completely eradicated Abby's grand mal seizures. When they left Florida, she was having about two to four a week, each lasting about 8 to 12 minutes. In Colorado, she's had about one a week, and they last only a few seconds: Just a drop of high-THC marijuana oil under her tongue stops the seizures almost immediately.
"It's the most incredible thing I've ever seen," Kim said.
She hasn't had to go to the hospital for seizures in Colorado at all.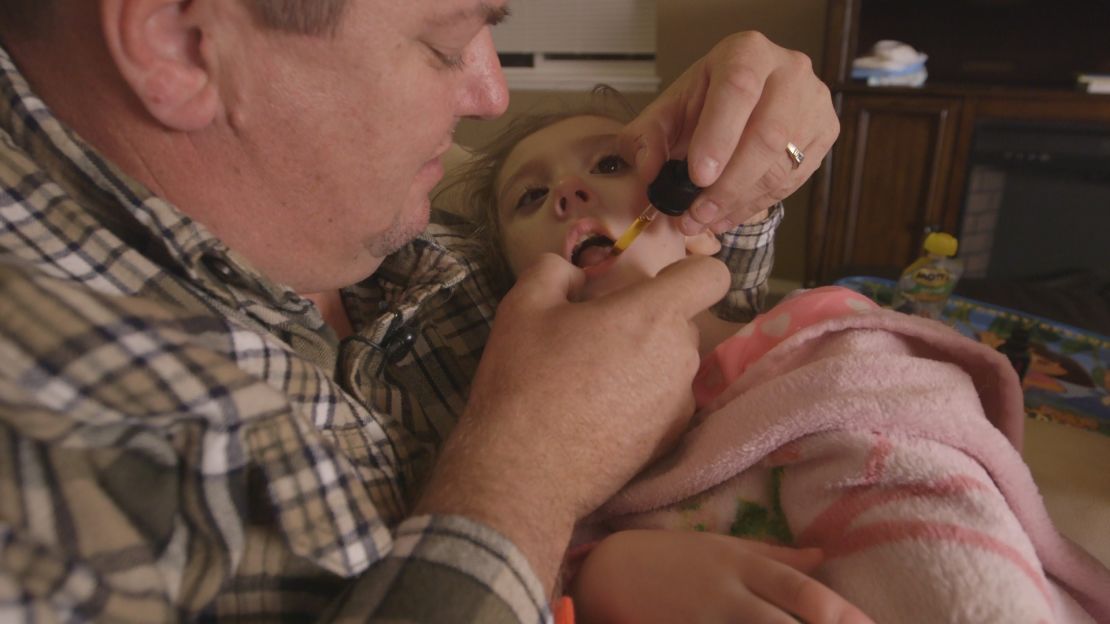 The second miracle is that so far, Colorado Medicaid has paid for all of Abby's prescriptions and doctors' visits without a problem, a far cry from their experience in Florida. All the hours Kim spent fighting Medicaid can now be spent with her daughter.
Now that Abby is essentially free of grand mal seizures, she's made strides. She can grasp a fork. She can pick up a block and move it. These are small steps for a typical child but huge for Abby.
And more and more, her parents see her personality come out. She smiles and giggles more than she used to, at a balloon floating in the room or when her parents blow bubbles.
Kim and Rich wonder if maybe – just maybe – Abby will one day be able to learn some very rudimentary sign language to express what she wants. Maybe she'll be able to take a step with a walker and lots of support.
Despite Abby's improved health, it's been tough on the Muszynskis to be in Colorado. Two weeks after they moved, their elder daughter, Christina, FaceTimed Kim and Rich from Florida to show off her new driver's license.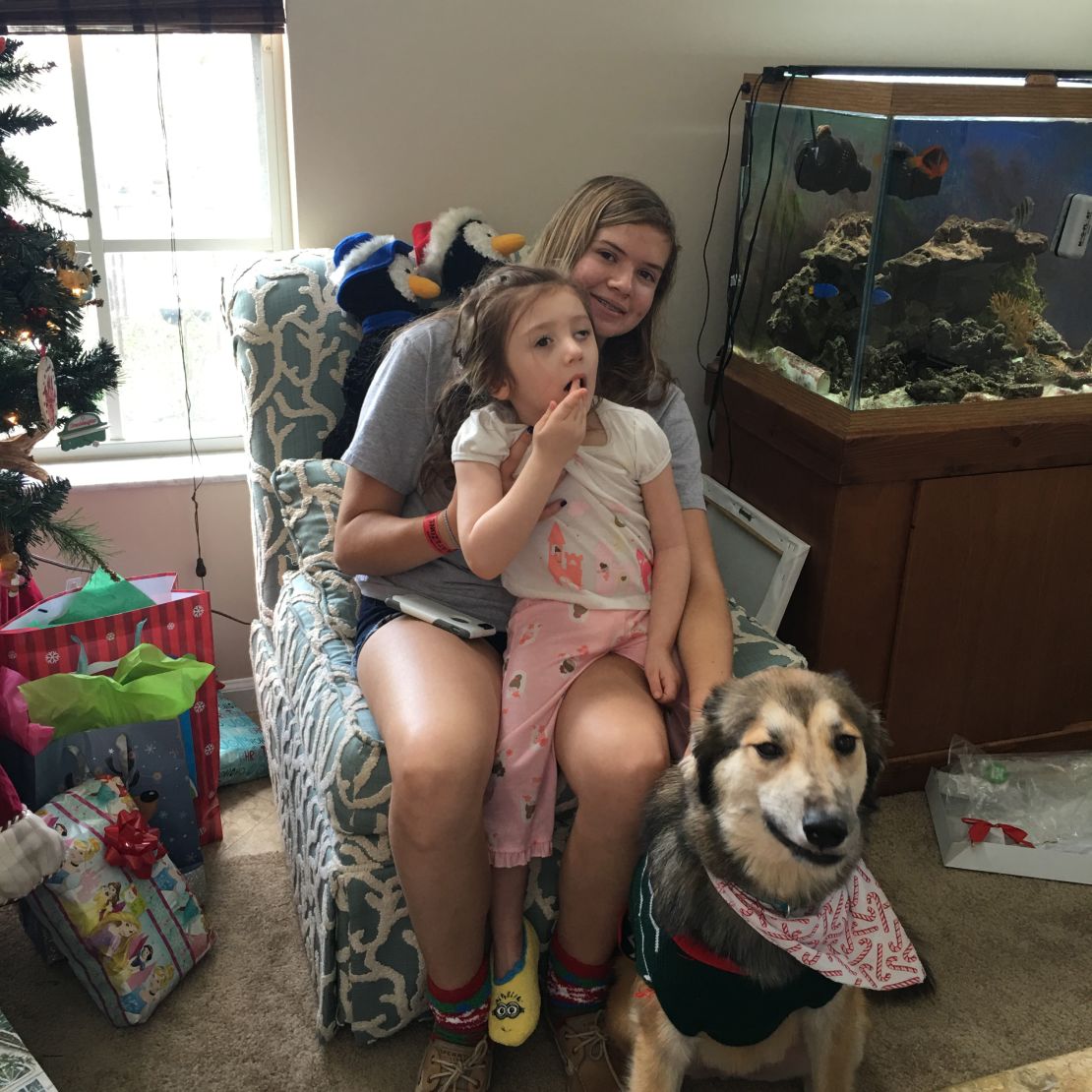 Kim rejoiced with her daughter, but she later broke down in tears, knowing that she'd missed this important milestone. She knows she'll miss other big days, like cooking Thanksgiving dinner with her daughter and shopping for a prom dress, and prom itself.
And recently Christina, who's living with her biological father, has been having dizzy spells and fainting. It pains Kim that she's not there to help her.
On November 8, six weeks after the Muszynskis moved to Colorado, Florida voters approved a ballot initiative giving more patients like Abby access to cannabis with higher THC levels.
And about two months before Kim and Rich left Florida, Medicaid started to give them enough doses of Diastat, the expensive anti-seizure medication they'd had to fight for.
Even so, the Muszynskis said they still would have made the choice to leave Florida.
The Medicaid system there was just too unreliable, they said. They never knew when it would stop paying for Abby's medicines or her equipment or her respiratory therapist or if it would kick her off the program altogether, as it did three times in less than three years.
"Florida was unable to meet the needs of our medically fragile child," Kim said. "It ultimately could have resulted in her death."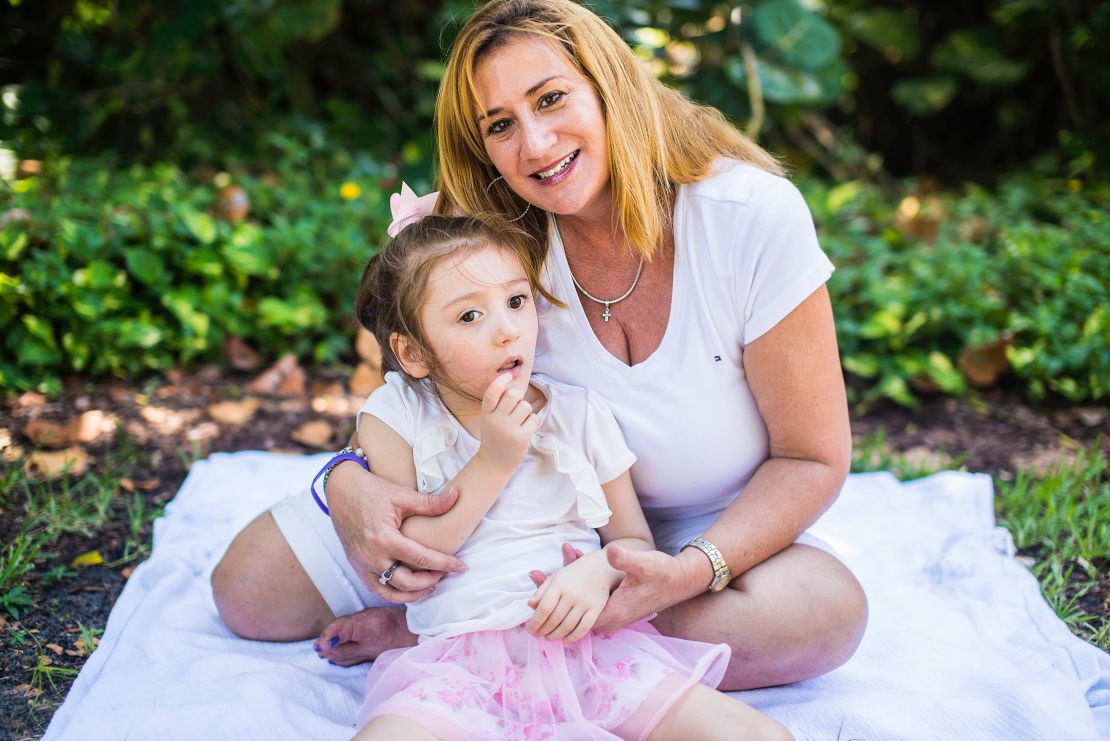 Abby's not alone
There's a saying among Medicaid experts: When you've seen one Medicaid program, you've seen one Medicaid program.
That's because although there are federal standards, states have a great deal of leeway about how they manage their programs.
Nearly four out of 10 children in the United States are on Medicaid, and care in one state can look very different than care in another.
Though there are no official rankings of state Medicaid systems, experts say there are data that can help gauge quality.
For example, some state Medicaid programs pay doctors relatively low amounts, which means doctors are more likely to stop accepting patients on Medicaid.
Florida ranks the fifth lowest in the country in Medicaid payments, paying 13% lower than the national average, according to an analysis by the Urban Institute of payments made in 2014.
McManus, the spokeswoman for Florida's Agency for Health Care Administration, noted that the Urban Institute numbers are based on fee-for-service physician rates, but the state's Medicaid program predominantly operates managed care plans. The state says it has transitioned to the managed care system over the past few years.
"These rates do not reflect how the majority of Medicaid providers are paid," she wrote.
Stephen Zuckerman, the lead author of the Urban Institute report, said there's not much difference between the amounts paid by fee-for-service and managed care, pointing to a report by the US Government Accountability Office (PDF), a nonpartisan agency that works for Congress, that shows only a 5% difference.
Critics of Florida's Medicaid program also point to a report (PDF) this year by a group led by Joan Alker, executive director of the Center for Children and Families at Georgetown University, who's studied Florida Medicaid for more than a decade.
The small survey of pediatricians concluded that "challenges exist for children enrolling in and accessing care through Florida's managed care system" and that "barriers to getting their patients the prescription and over-the-counter medications they needed were also a serious concern for pediatricians."
In a letter to the Sarasota Herald-Tribune, Dudek, then the secretary of the state Agency for Health Care Administration, said the Georgetown report was biased, noting that the response rate was less than 1% of physicians participating in Medicaid.
Overall, advocates for families on Medicaid say Florida isn't the only state where doctors and parents have expressed dissatisfaction, noting that families have fled other states, not just Florida, in search of better Medicaid services.
"This isn't unique to Florida, but Florida certainly has serious problems," Alker said.
She said her heart breaks for the parents who must provide around-the-clock care to severely disabled children.
"These families already face incredible struggles," she said. "These families are my heroes.
"They don't need the state of Florida making it harder for them," she added. "The state of Florida should be making it easier."
This is the second part of a series on health care refugees. Read the first part here.