Story highlights
Bruce Arena returns as USMNT head coach
Arena previously in charge between 1998 and 2006
US parted ways with Jurgen Klinsmann Monday
Bruce Arena's return as the head coach of the United States men's soccer team was confirmed Tuesday following the sacking of Jurgen Klinsmann.
The 65-year-old Arena leaves his role as head coach of Major League Soccer team LA Galaxy and returns to the US side after eight years in charge from 1998-2006.
Arena won 71 of 130 games in charge of his country and took the team to fourth in the FIFA rankings.
"When we considered the possible candidates to take over the Men's National Team at this time, Bruce was at the top of the list," US Soccer president Sunil Gulati said in a statement.
"His experience at the international level, understanding of the requirements needed to lead a team through World Cup qualifying, and proven ability to build a successful team were all aspects we felt were vital for the next coach.
"We all know Bruce will be fully committed to preparing the players for the next eight qualifying games and earning a berth to an eighth-straight FIFA World Cup in Russia."
Klinsmann, 52, was relieved of his duties with the US bottom of its World Cup qualifying group following losses to Mexico (1-2) and Costa Rica (4-0.)
Highlights of Arena's US managerial career include beating Portugal 3-2 in the 2002 World Cup, before overcoming rivals Mexico 2-0 to reach the quarterfinals.
Arena left the role three weeks after a disappointing 2006 World Cup campaign in which the US team finished bottom of its pool after losses to Czech Republic and Ghana.
Since then, he has coached the New York Red Bulls and most recently the Galaxy.
Klinsmann's departure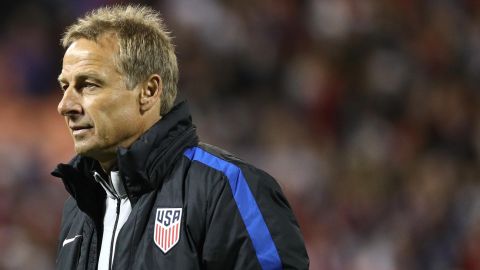 Former striker Klinsmann, who won the World Cup as a player in 1990 and managed Germany to third place at the 2006 World Cup, became boss of the US team in 2011.
He took them to the CONCACAF Gold Cup in 2013 and to the last 16 of the 2014 World Cup in Brazil.
"We want to thank Jurgen for his hard work and commitment during these last five years," read a US Soccer statement.
"He took pride in having the responsibility of steering the program, and there were considerable achievements along the way.
"Many are aware of the historic victories, including leading us out of the Group of Death to the Round of 16 in the 2014 FIFA World Cup, but there were also lesser publicized efforts behind the scenes.
"While we remain confident that we have quality players to help us advance to Russia 2018, the form and growth of the team up to this point left us convinced that we need to go in a different direction."
Visit cnn.com/football for more news and videos
The next World Cup qualifier for the US will take place against Honduras in March.