Story highlights
Zach Anner is a comedian with cerebral palsy and a popular YouTube channel
He got his big break by winning a competition show on Oprah's TV network
For Zach Anner, humor was the key to dealing with his cerebral palsy when he was growing up.
"My childhood was great because my family has an amazing sense of humor, and it was just all making videos and jokes and doing skits and things," said Anner, who credits his parents with not allowing his disability to get in his way.
"My parents instilled in me a sense of self that I was more than just a diagnosis or a condition," he said. "For me, cerebral palsy wasn't the biggest deal, because I always had it. You know, you always work with what you got."
Doctors diagnosed Anner's cerebral palsy when he was about a year old. "My eyes were crossed as a baby, and they're like, 'We'll just correct those,' and … it was botched. I like to joke the doctor had previously only performed eye surgeries on giraffes and stuff, and I was his first human, and it just didn't go so well."
The Texas comedian, 32, first realized that he loved making people laugh during a telethon as a child. He had a short speech he was supposed to deliver, but instead he just repeated "ladies and gentlemen" over and over, and the crowd started laughing.
"I was this adorable little 4-year-old in a wheelchair, and they didn't expect me to go up there and just do something like that," he said. "I realized that people's expectations of me could also be used as a tool to disarm them and sort of catch people off guard. And that was a valuable lesson.
"I decided pretty early that I wanted to do some stuff with film and to make people laugh because I had tried other jobs and failed miserably," Anner said.
Those early jobs included working at a bookstore and at a theme park, where he said he was probably the worst employee they ever had.
"I was basically the person at Disney World that was in charge of clearing the park when it was closed. … I was the guy … telling them to 'get the hell out and have a magical day.' "
Then, in 2010, Anner's mom persuaded him to try out for a reality show to win his own TV program.
"She was like, 'Oprah (Winfrey) is launching a new network, and she's gonna give away a TV show, and you should totally audition for it.' " So he submitted an audition video. "The whole video is me telling Oprah how I would suck at hosting most shows. I'm a terrible cook, I'm a terrible fashion show host … and I wouldn't be good at doing a fitness show (that) shows me basically trying to do yoga in my underwear."
"And that video ended up being seen by millions of people. So I guess the lesson there is that me in my underwear is very appealing to most people."
Anner became a contestant on the reality show, "Your OWN Show: Oprah's Search for the Next TV Star." As part of the competition, he was interviewed by the media mogul herself.
"I guess I stood out during that process because I actually asked Oprah questions instead. I sort of turned the tables. Since Oprah Winfrey is sitting in front of you, you better ask some damn questions."
He won the competition and got his own program, called "Rollin' with Zach." It lasted only six episodes before it was canceled. But Anner sees it all as a positive.
"I think Oprah was definitely a huge turning point in my life, because that was the first time I realized that I could do this as a career, and I could actually have an impact on people's lives."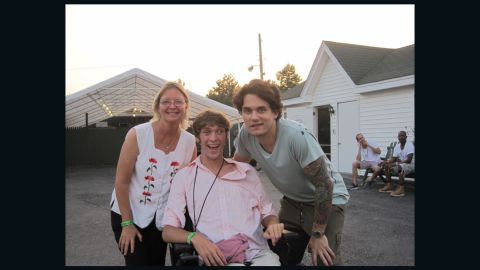 These days, Anner spends a lot of time with his YouTube channel. One of his series is called "Workout Wednesday." "(It's) a fitness show where I try and tell people how to try to achieve a body like mine."
He produces his videos with a lot of help from family and friends. "Any success that I've had in my career is a direct result of the people that work with me and believe in what I'm doing, and it's a real collaborative effort. So my friends, my brother, they are all helping make these videos possible. I'm not a one-man show, obviously."
This year, Anner released his first book, "If At Birth You Don't Succeed." "Basically, (it's) my memoir, which is a collection of really embarrassing stories that have life lessons to them."
Anner's goals now include giving back to the less fortunate. He recently returned from a trip to Nicaragua.
"We were doing some work with a charity called Wheels for Humanity over there that gives wheelchairs to people in third world countries who wouldn't normally have access to them," he said.
And he's an ambassador for the Cerebral Palsy Foundation. "I'm helping educate people about CP and have a fun conversation about it and normalize it in a way that I don't think we've seen before."
Anner says he is now becoming more comfortable as a role model.
"I used to be very afraid of being an advocate and being pigeonholed as this guy with CP, because there is a lot more to me than my condition. But I also realize that there's a lot of people out there that don't have the platform that I have."
He believes he's making a difference.
"I've gotten so many notes from parents who say 'My kid has CP, and you give us hope,' which is great."
But Anner's main focus is still being a funny guy.
"I hope to make people laugh and maybe make them think a little bit," he said. "If they are inspired by what I do, then that's great, but that's never the focus."