Story highlights
November 17 marks Guiness World Records Day
GWR only recognizes 5% to 8% of record applications
It's time for a whole new galaxy of human achievements as people worldwide try to break new limits for the Guinness World Records Day.
Over the next 24 hours, more than 600,000 people worldwide will try to enter the history books in the most original, daring, and wacky way possible.
The annual event, celebrated since 2004, just keeps getting bigger.
"Each year we get more and more people participating, so hopefully by the end of today, we're going to break our own record," Craig Glenday, the editor-in-chief of Guinness World Records, told CNN.
This year's bunch include dunking a biscuit while bungee jumping, performing magic tricks while sky diving, sweating it out in a mass fitness class.
But while the team receives over 1,000 applications each week, only 5% to 8% end up being recognized by them.
The activities have to be legal - and don't harm others. They have to be the kind that can be measured and can be broken. And of course, they have to be interesting.
"We say all our records are officially amazing. So yes they're official, but they also have to be amazing," Glenday said.
Here's a look at some of the year's best:
Skydiving Magic
Martin Rees, a magician from Hemel Hempstead, UK, made history by performing more than 10 magic tricks during a 15,000-foot skydive.
His amazing attempt came as part of a charity fundraising event for Spread a Smile, which organizes entertainment activities for seriously ill children and teenagers in hospital.
"I feel incredible. Especially as I did it to raise awareness for a cause I believe in," Rees told CNN.
But while he's been performing magic tricks since he was just a toddler, he is new to skydiving.
"I am first and foremost a magician, but I am also an adrenaline junkie so the idea of doing magic on air seemed very appealing," Rees said.
But it wasn't easy.
"In the practice jumps, I never quite got to complete all the magic tricks I wanted to, so I was very nervous. But today everything just went naturally," said Rees.
The daring magician says his next challenge might take him underwater.
"I am more than happy to jump out of a plane, but being under water is one of my biggest fears. So, trying to do magic tricks under water – which is an idea I only still looking into – would be both a personal and professional record," he told CNN.
Love breaks the record
Also in the UK, the shortest married couple in the world has just been unveiled.
According to Guiness World Records, Paulo Barros and Katyucia Hoshino, from Brazil, always suspected they were the shortest couple on the planet.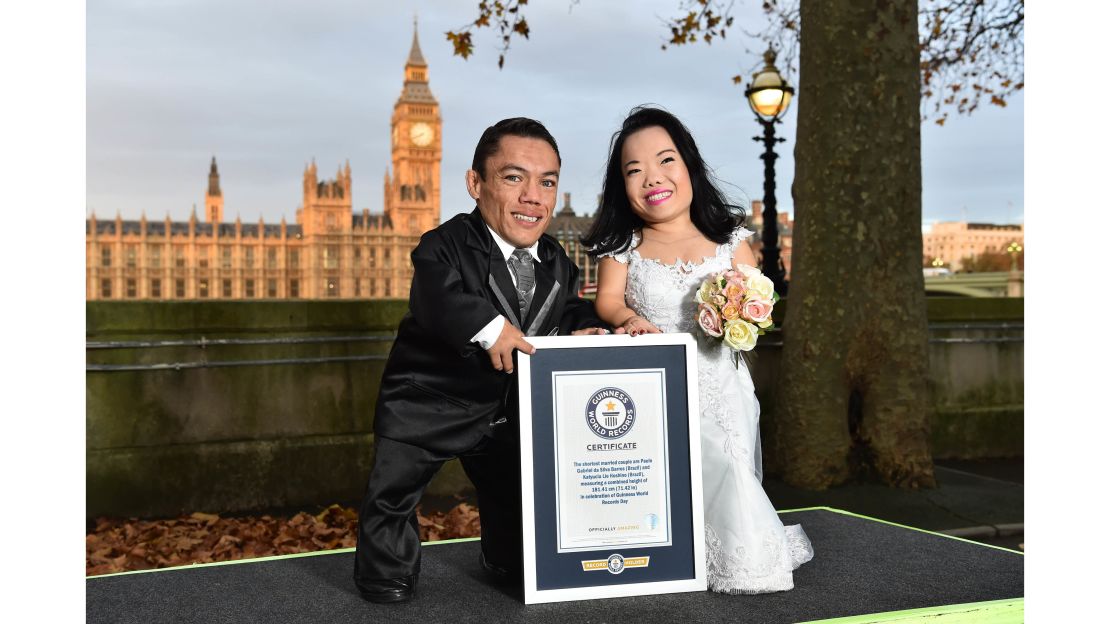 After tying the knot eight years after meeting on social media, they contacted Guinness World Records and the record was confirmed and officialized.
Extreme biscuit dunking
Another adrenaline-filled record came from Simon Berry, of Sheffield, UK.
Berry, who is a professional bungee-jumper made history by completing the highest bungee dunk as he managed to perfectly dip a chocolate hobnob, a popular British tea-time treat, into a Union Jack mug.
"I did a practice run in August and I did not manage that day, so I was quite nervous. But I think the key is just to keep going at it," Berry told CNN.
His technique involved holding his wrist with one hand to offer greater stability, as he dunked the biscuit mid jump.
"I am always putting myself forward to break new records. I know there is a try to do the highest bungee jump from a hot air balloon, and personally, that is something I would also love to try," said Berry.
"If you have a chance of breaking a world record, I'd say go for it," he added.
Sweating to victory