Story highlights
Se Ri Pak sparked South Korean golf revolution
Moved to U.S. at 20 with no English
First LPGA Tour win was major
Retired at 39 with five majors and huge legacy
She moved to the US as a 20-year-old with no English, no family and no friends, just a dream to become the best golfer in the world.
Now 39, Se Ri Pak has retired after a Hall of Fame career that yielded five major titles, and significantly changed the face of women's golf, not just in her native South Korea, but globally.
When Pak took her first tentative steps as the only South Korean on the LPGA Tour in 1998, only one of her countrywomen, Ok Hee Ku, had ever won on the premier US circuit.
Pak's first two LPGA Tour wins in that rookie season happened to be majors. The ructions that followed set off a landslide as Korean girls and their parents saw a role model.
Now there are nine Koreans in the world's top 20 and 34 on the LPGA Tour, while top-ranked Lydia Ko was born in Korea but grew up in New Zealand.
Not a bad legacy for an athlete who only took up golf to please her father.
"Every night since I started playing golf I started making dreams," Pak told CNN's Living Golf. "I just kept dreaming about it, I'm going to be number one in the world."
'Focus'
Pak grew up in Daejeon, the sporty middle one of three sisters. Track and field was her passion. Around the age of 14, her father suggested she tried golf at the local driving range. Pak initially wasn't convinced.
"I loved hanging out with friends at the track, it was always a team," she said. "Golf was just by myself, practicing next to dad's friends and old gentlemen. It was just a bit boring, it wasn't very interesting at all."
But a trip to a junior tournament sparked her imagination. "Things just changed like that," said Pak. "That day I went back to my dad and said, 'I like to play golf.'
"I practiced so hard and a year later I started winning."
Pak tells a story of how one day her father dropped her off at the range in the morning and went off to a business meeting. She was still there after midnight, her father apparently having forgotten her.
READ: 'You're either a champion, or you're nothing'
Other reports tell of Pak's father making her run up 15 flights of stairs in their apartment block to aid her fitness and sleeping in a cemetery to improve her mental strength.
Pak says the perception of her father as "pushy" is wrong, and says without her family's support "Se Ri Pak wouldn't be here."
She can laugh now at 17-hour days on the driving range.
"I already knew what I wanted to be so I just really enjoyed it," she said. "I had a dream, I just made myself be stronger and focus as much as I could, trying not to waste that time."
'Scary'
The focus paid off, and she worked her way up the amateur ranks and onto the professional LPGA of Korea Tour in 1996.
A year later she went to the US and qualified for the 1998 LPGA Tour.
The early days on the road in the US were tough, with only a translator for company. Innate shyness didn't help, and Pak would change her shoes in the car park to avoid having to talk to anyone.
"The first two or three months I didn't go into the locker room. It was scary," she said. "I tried to make some friends but didn't know how.
"I was by myself in a different country, with different language, food, culture. It's really not easy at all."
Major breakthrough
She was most comfortable on the golf course, a proven winner back home and "pretty good for a rookie," but she was under pressure from her big-name sponsor Samsung.
Her father said she should come back and dominate the Korean tour, but the dream to beat the best was too strong. She told them it might take a few years to get comfortable with her new life before the wins came.
READ: McIlroy's caddy bags $1m prize
A month later she clinched her first LPGA Tour victory. She didn't realize until afterwards it was a major – the McDonald's LPGA Championship.
"The first question was 'how does it feel to win your first tournament as a major?'" Pak said.
"'Oh, it's a major?'
"The media had so much fun with that. 'Where you come from, Korea? They have a golfer?'"
Two months later she won the U.S. Women's Open after a 20-hole play-off against amateur Jenny Chuasiriporn, becoming the youngest ever winner of the showpiece women's major. The ripples of attention turned into a tidal wave back home. The women's golf revolution was under way.
"The U.S. Open was a huge turning point in my life," said Pak.
She also believes a shot she hit in bare feet from the water on one hole to extend the play-off gave hope to a nation mired in economic depression.
READ: Tiger Woods targets December comeback
"The moment I hit in the water I give them such great energy," she said. "That shot had such an impact on our country. Not only golfers but business people keep reminding me of that shot. No hope to hope. Never give up."
Her English improved through constant press conferences, expanding her vocabulary beyond a few limited phrases about birdies. She eventually ditched the translator, fed up of being misquoted.
Visit cnn.com/golf for more news and videos
Pak won the Women's British Open in 2001 and two more LPGA Championships for her total of five majors, and she clinched 25 LPGA Tour events in all.
In 2007 at the age of 29 she became the youngest ever entrant of the World Golf Hall of Fame.
The knock-on effect of her pioneering career has been dramatic.
Since her last major triumph in 2006, South Korean women have won 16 of the 46 available majors.
Such is the importance of the Asian market, the LPGA recently opened an outlet store in Seoul.
Now Pak wants to invest her energy in the next generation, helping young golfers and athletes fulfil their abilities as well as growing as people.
Have your say on CNN Sport on Facebook
Photos: South Korea's superstar female golfers
Photos: South Korea's superstar female golfers
Photos: South Korea's superstar female golfers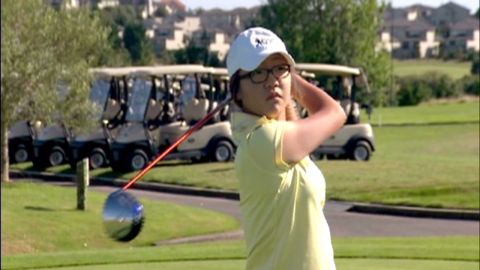 Photos: South Korea's superstar female golfers
Photos: South Korea's superstar female golfers
Photos: South Korea's superstar female golfers
"Back then in my rookie season in 1998 my idol was Nancy Lopez, she was a top player and great personality," said Pak.
"I knew when I retire and get old I want people to remember me not only as a top player but as a great person."
At least one sector of South Korean society would say she has already achieved that goal.