Story highlights
Nearly a year after opening all military jobs to women, combat jobs are slow to fill
Although some jobs were barred, women have been filling virtual combat roles for years
(CNN) —
More than a decade after she helped kill 27 insurgents who ambushed a supply convoy in Iraq, Sgt. Leigh Ann Hester still thinks about it almost daily.
Amid burning trucks, exploding grenades and the piercing sound of machine guns — Hester and her comrades were outnumbered five to one in an intense firefight that would put her in the military history books.
When you experience a situation like that, the memories tend to stay with you.
In March of 2005, Hester's Kentucky National Guard military police squad of two women and eight men were escorting the convoy on a road southeast of Baghdad when about 50 insurgents attacked them with AK-47 rifles and rocket-propelled grenades.
Immediately Hester and squad leader Staff Sgt. Timothy Nein positioned their Humvee trucks between the convoy and the attackers. The guardsmen began firing back.
"I remember the bullets pinging off the ground and off the back of the truck, and some went by me," said Hester, who was 23 at the time.
Hester and Nein exited their Humvees and moved on foot toward a handful of insurgents who were using an irrigation trench as cover.
"We got in the trench and there was one of the insurgents with an A-K who was firing at us. Because of what little cover we had, we had to use hand grenades to lob over into their position," she said.
"The only thing on our minds was: 'there's three more guys. We're the only ones that can kill them,'" she remembered. "In order to protect ourselves and our fellow squad mates, we had to do what we had to do."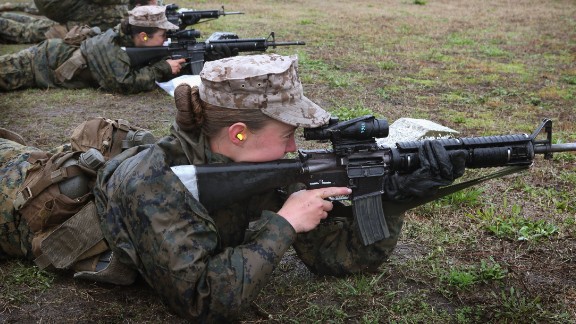 'Better and stronger'
By the time the shooting stopped, Hester had killed at least three enemy combatants. A wounded US soldier was safely transported to a nearby field hospital. All told, everyone in the convoy and Hester's unit survived.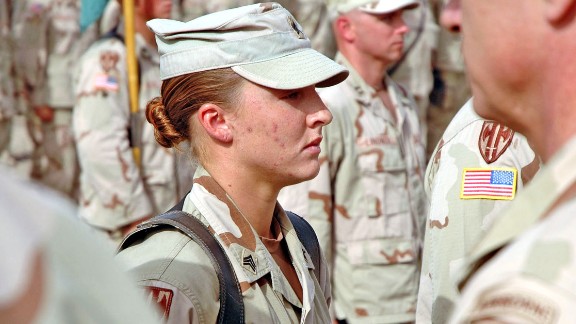 Eight soldiers were decorated for their roles during the attack. Three of them were awarded the prestigious Silver Star — the Army's third-highest decoration for valor. They included Nein, a medic — Spec. Jason Mike — and Hester, the first female soldier ever to receive the Silver Star for direct combat action.
Ironically at the time, the Pentagon didn't want female soldiers fighting in close combat.
Related: What you need to know about Veterans Day
Officially, since 1994, the Pentagon was following its so-called "combat exclusion policy," which stated: "Service members are eligible to be assigned to all positions for which they are qualified, except that women shall be excluded from assignment to units below the brigade level whose primary mission is to engage in direct combat on the ground."
Despite that policy, Hester and thousands of other female service members served in combat support roles that often put them in harm's way.
Now, America is marking its first Veterans Day under a new policy that opens all military jobs up to women — including ground combat forces and elite units like the Army Rangers and Navy SEALs.
01:01 - Source: CNN Business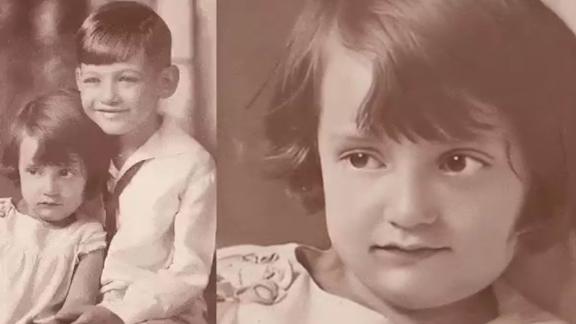 Now playing
01:01
Watch old photos come to life using AI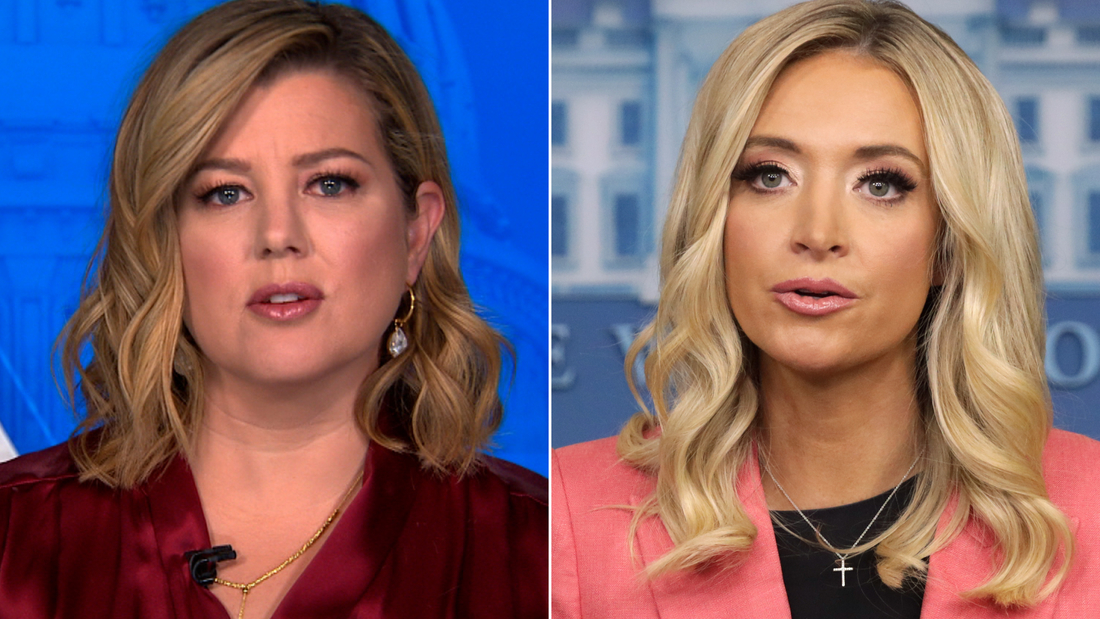 Now playing
06:46
McEnany says she expected 'peaceful' rally on January 6. Keilar rolls the tape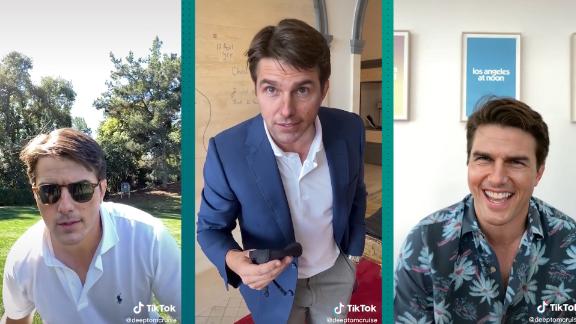 Now playing
01:26
No, Tom Cruise isn't on TikTok. It's a deepfake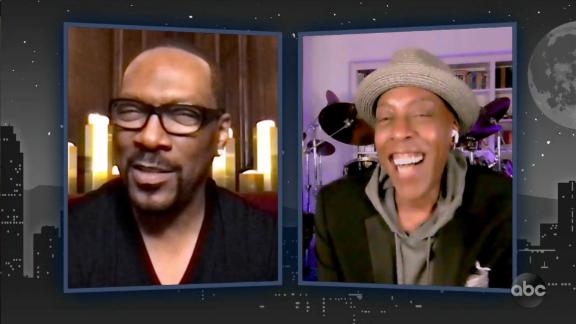 Now playing
02:02
Eddie Murphy, Arsenio Hall reunite in 'Coming 2 America'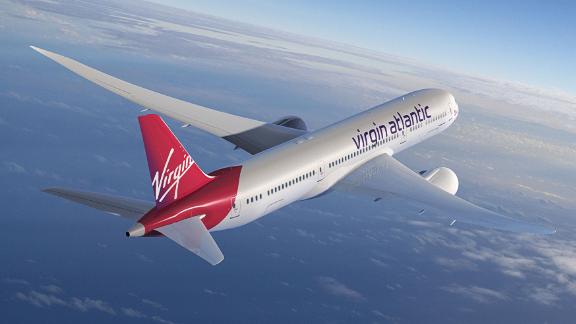 Now playing
03:06
Virgin Atlantic CEO: We support Covid vaccine passports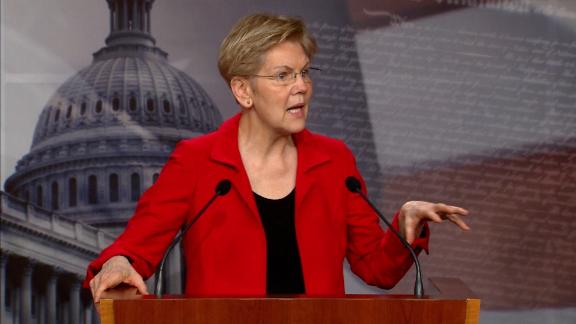 Now playing
01:19
Warren proposes wealth tax: 'It's time for them to pay a fair share'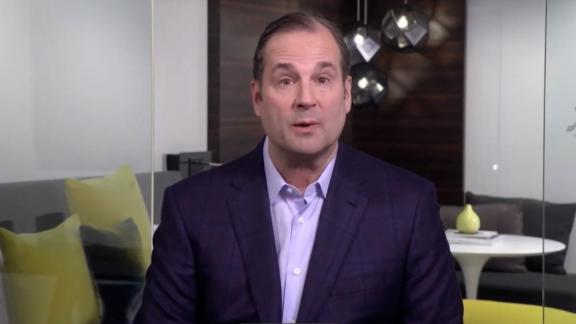 Now playing
01:43
Marriott CEO: Vaccinations are 'the key' to travel recovery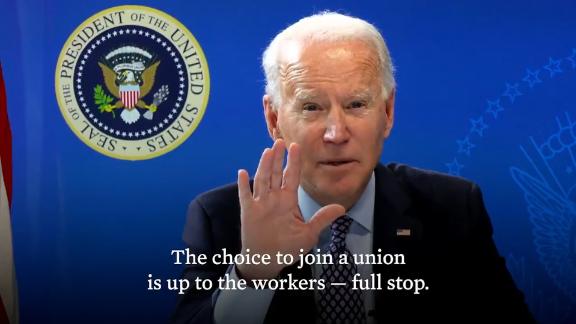 Now playing
01:23
'There should be no threats': Biden's message to union-busters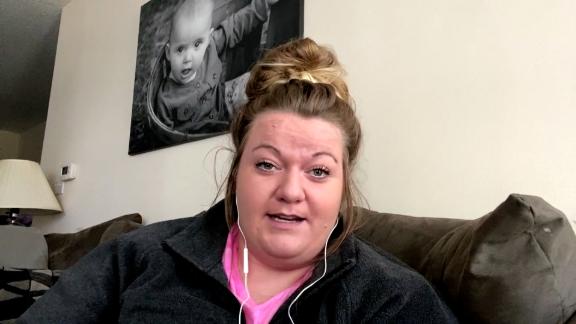 Now playing
07:40
Former QAnon believer shares bonkers conspiracy theory about Biden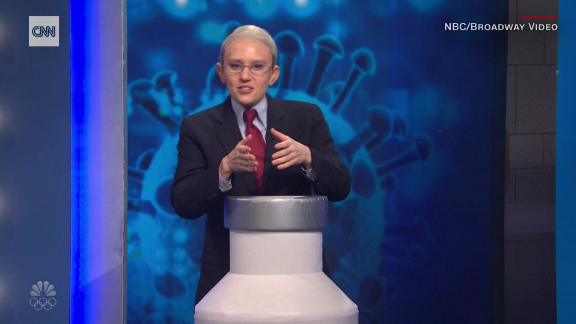 Now playing
01:24
'SNL' has 'Dr. Fauci' helping people get vaccinated
Since January 1, women have been allowed to apply for these 220,000 positions. But so far, relatively few women have been trained or deployed for those jobs. Military leaders say applications for combat positions are being considered and training is being assessed.
Defense Secretary Ash Carter directed the entire military to open the new jobs to women after a three-year study by leaders across the Army, Navy, Air Force, Marine Corps and Special Operations Command.
"Fully integrating women into all military positions will make the US armed forces better and stronger," Carter said last December when he announced his decision. "But there will be problems to fix and challenges to overcome."
Rangers lead the way
Even before Carter's announcement, the Army took the lead last year when its famed Rangers special operations school graduated its first-ever female candidates — Capt. Kristen Griest and 1st Lt. Shaye Haver. Appropriately, the elite regiment's motto is "Rangers lead the way."
As a result, Griest is expected to become the Army's first female infantry officer. In April the Army approved 22 additional women as officers in armor and infantry units, which were once open only to men.
"I do hope that with our performance in Ranger school we've been able to inform that decision as to what they can expect from women in the military — that we can handle things physically and mentally on the same level as men and that we can deal with the same stresses in training that the men can," Griest told reporters after passing her Ranger training.
Overall the shift is moving slowly, as the entire US military is still gearing up. Throughout the branches, dozens of women have applied — and are being considered — for the newly opened career paths in infantry, armor, reconnaissance and special operations. 
Women in the Armed Forces currently number about 205,000, which is down from a peak number of nearly 229,000 in 1989 as the end of the Cold War neared. But by percentage, more women serve now than ever before: 15.5%.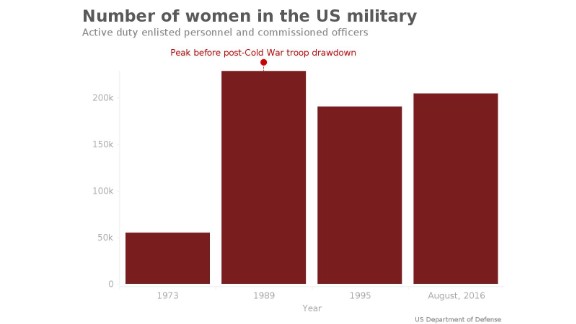 Women have been fighting for a while
For more than 150 years American women have been struggling to fight alongside men, according to the US military. Here's a brief timeline:
Civil War: More than 400 women — Union and Confederate — fought by disguising themselves as men
World War II: Female troops are limited to non-combat roles
1976: US military academies admit female students
1983: Women are allowed to pilot helicopters in an armed conflict
1989: A woman first commands US combat troops
1993: Jeannie Leavitt becomes the first female Air Force fighter pilot
Recently in Iraq and Afghanistan, women — like Hester — have been serving with military police patrol units or as communications specialists directly engaging with civilians.
According to the military, female US military casualties in the global war on terror as of October 2015 include:
More than 1,000 wounded in action

At least 161 deaths
Some military jobs newly available to women will require them to perform extreme physical tasks and execute special fighting tactics — all under stressful conditions. Now, women can serve as "the tip of the spear" in elite military, anti-terrorist operations — if they pass the training. 
The real 'G.I. Jane'
Training for the Navy's Basic Underwater Demolition/SEAL (BUD/S) program is widely acknowledged as among the world's toughest.
So far, the Navy says there are no women in the pipeline to be history's first-ever female SEAL. But it's only a matter of time, experts say. 
Of course, when it does happen, don't expect it to play out like Hollywood envisioned it in 1997, when Demi Moore starred in "G.I. Jane." But make no mistake, the first woman tapped for SEAL training will have a tougher path than her male counterparts. 
An average of about 75% of trainees fail to complete the BUD/S course, due mostly to candidates who drop out, according to a recent Navy study.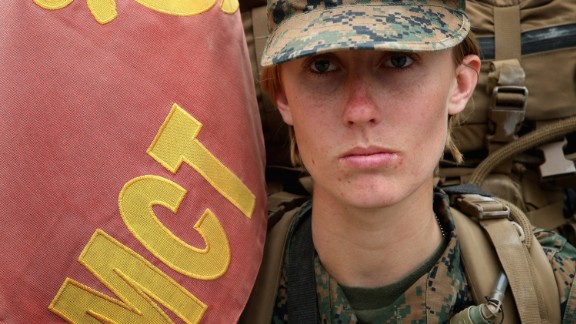 The Armed Services Vocational Aptitude Battery (ASVAB) — a standardized series of multiple-choice tests used for selection purposes — was flagged in the study. ASVAB scores are used to determine whether candidates are qualified for SEAL training.
"Females had lower scores on the ASVAB composite scores and on the performance indicators compared with males, which suggested that use of the ASVAB for selection purposes may create a barrier for females," the report said.
Being first
As baseball's Jackie Robinson and President Barack Obama have experienced, being first doesn't make breaking social barriers easier. 
Experts say the first female SEAL candidate will not only have to suffer through SEAL training. She'll also likely have to endure a great deal of pressure to succeed, because the world will be watching.
"It would be hard to be the first one," Hester said. "I think once one or two volunteers can go after it, then more will follow."
She pointed out that there are male soldiers who wouldn't be cut out for infantry or specialized operations. "For women that are cut out for it, more power to them," she said. "If they're able to do it, they should be able to (enter training)."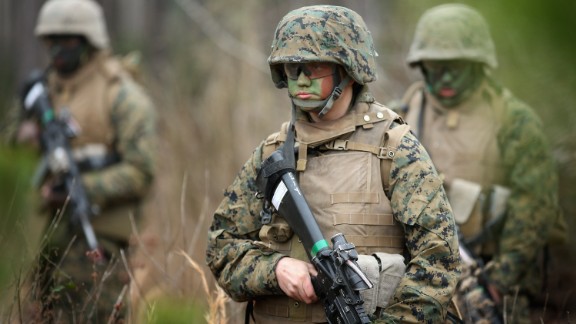 Growing up in Kentucky, Hester said she knew early on that a military or law enforcement career would be right for her. "I always looked up to women in uniform — police officers and soldiers," she said. "So I knew it was right down my alley."
"Going to war and having to go to battle was always in the back of my head." In 2001, she joined the National Guard and finished Army basic training just a few months after the 9/11 attacks. Hester knew it was very possible she'd see action.
These days she serves as a weekend warrior with the Tennessee National Guard while working full time as a master patrol officer for the Franklin Police Department near Nashville. In addition to street patrol and SWAT team duties, the department relies on Hester to train new recruits.
'Country before self'
Many other female combat veterans share Hester's sense of duty and sacrifice.
Marine Corps Gunnery Sgt. Jennifer Richardson, 41, describes her combat experience as a satellite communications operator in the Iraq War as "certainly intense."
In 2006, while serving with the Marines'$2 9th Communications Battalion, Richardson and her fellow Marines came under attack while setting up a gun position and communications antennas on the roof of an abandoned school in Fallujah.
"AK-47 rounds were impacting the water reservoir just inches away from our maneuver positions, and mortar rounds were being lobbed around the school yard," she told CNN via email. "It never occurred to us to retreat. It was imperative for our communications to be emplaced for our commander to have a visual on the battlefield."
Even before her first combat deployment, Richardson made her initial commitment to serving her country in any capacity, including accepting risks that come with the job.
" … we were there to put country before self, and to sacrifice comfort for the betterment of our Corps, the Nation, and the Iraqi people we protected from adversaries," Richardson wrote.
'Men can do certain things better'
Not everyone in the military community has been supportive of opening up all military jobs to women.