Story highlights
NEW: 28 arrested in Los Angeles for entering freeway, students walk out in San Francisco
About 40 fires burned during protests in Oakland, California
For many Americans across the country, Donald Trump's victory is an outcome they simply refuse to accept.
"Not my president," protesters chanted in rallies coast to coast.
Tens of thousands filled the streets in at least 25 US cities overnight – with demonstrations outside Trump's properties.
While most protesters were peaceful, dozens were arrested. At least three officers were wounded. And about 40 fires were set in one California city.
Here's a snapshot of the rallies across the nation:
NY: Thousands march outside Trump's home
On Thursday afternoon, more than 200 anti-Trump protesters marched from the Union Square area to Washington Square Park in Manhattan.
Some carried signs with messages such as, "White men stop ruining everything." They chanted, "Trump and Pence make no sense."
Overnight, about 5,000 people protested the real estate mogul's victory outside Trump Tower, authorities estimated. They included pop star Lady Gaga, a staunch Hillary Clinton supporter.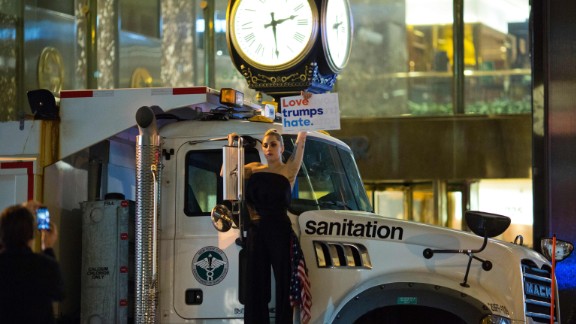 DOMINICK REUTER/AFP/AFP/Getty Images
Their concerns ranged from policies, such as Trump's proposed plan to build a wall along the US-Mexican border, to the polarizing tenor of his campaign that they say stoked xenophobic fears.
"I came out here to let go of a lot of fear that was sparked as soon as I saw the results," protester Nick Powers said in New York. He said he feared Trump will support stronger stop-and-frisk policies that would put many people in prison. Powers said he was also worried that Trump's victory would embolden sexist views.
At least 15 protesters at Trump Tower were arrested Wednesday night for disorderly conduct, New York police said.
Oakland, California: 40 fires started
About 7,000 demonstrators filled streets in Oakland on Wednesday night – and some turned violent.
Protesters hurled Molotov cocktails, rocks and fireworks at police. Three officers were injured, police spokeswoman Johnna Watson said.