Story highlights
Suspects lured people to fight for ISIS in Syria, prosecutors said
Other ISIS cells and radicalized individuals waiting to strike, German officials say
(CNN) —
Five key ISIS recruiters have been arrested in Germany, authorities said Tuesday.
The men were allegedly involved in smuggling people out of Germany to join the terror group fighting in Syria, the federal prosecutor's office in Karlsruhe said in a statement.
Ahmad Abdulaziz Abdullah – a 32-year-old Iraqi national also known as "Abu Walaa" – was the ringleader of the multi-regional recruitment network, according to the statement.
Federal prosecutors said he openly acknowledged belonging to ISIS, and was a speaker at several radical gatherings of Salafists and jihadists.
The other suspects include a 50-year-old Turkish citizen identified as Hasan C., and a 36-year-old with double German and Serbian nationality named as Boban S., according to the statement. Their job was to teach Arabic and radical Islamic beliefs to those willing to go to Syria, the statement said.
A 27-year-old German, Mahmoud O., and a 26-year-old Cameroonian identified as Ahmed F.Y. organized and carried out the trips to Syria, according to the prosecutors.
The five suspects are believed to have targeted and radicalized young Muslims in the states of Lower Saxony and North Rhine-Westphalia in the northwest of the country.
Other terrorists awaiting orders
German officials tell CNN the country is now facing an unprecedented terrorist threat.
German officials are concerned there are other ISIS cells and radicalized people inside Germany in touch with ISIS and awaiting orders to strike.
More than 820 extremists have left Germany to join jihadist groups in Syria and Iraq, with most linking up with ISIS, according to German officials.
About 270 have returned to Germany, more than a quarter of whom are believed to have been involved in fighting or to have received paramilitary training.
According to the testimony of Harry Sarfo, a convicted German ISIS recruit arrested on his return to Germany in July 2015, ISIS has found it more difficult to persuade its German recruits to return to launch attacks than French and Belgian nationals in its ranks.
This led the group to focus on two other avenues to attack Germany: establishing communication with extremists already in Germany to persuade them to strike and infiltrating non-European operatives into the country, by taking advantage of last year's migrant crisis.
String of incidents
In July a Syrian asylum seeker blew himself up outside a music festival in Ansbach, Bavaria. He had been communicating via Whatsapp with a suspected ISIS handler overseas, a German intelligence official told CNN.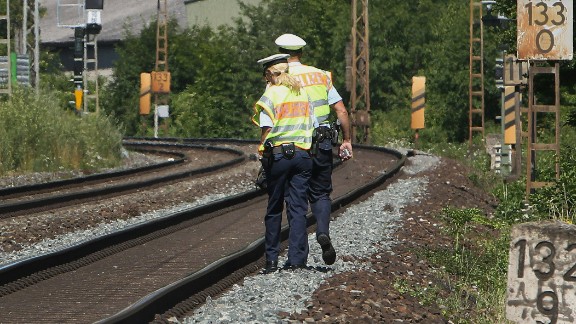 PHOTO: DANIEL ROLAND/AFP/Getty Images
That same month an Afghan carried out a knife attack on a train in Wurzburg, Bavaria. A German intelligence official told CNN German investigators have established he was also in touch ahead of the attack with a suspected different ISIS operative overseas.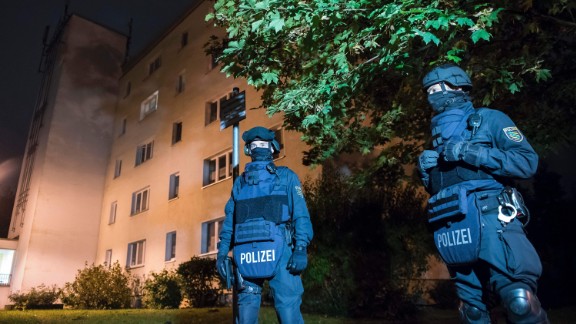 PHOTO: JENS-ULRICH KOCH/AFP/Getty Images
In September three suspected Syrian Islamic State operatives were arrested in Schleswig-Holstein. They arrived in Germany in November last year after posing as Syrian refugees. German investigators believe they were dispatched to launch an attack by the same network behind the Paris attacks.
In October German security agencies thwarted a plot to bomb a Berlin airport by a Syrian refugee who arrived in Germany in February 2015. He is suspected of having connections to ISIS and was arrested after two other Syrian nationals tipped off authorities and tied the man up. He killed himself in jail soon after he was taken into custody. Police found TATP, the same explosive used in the Paris and Brussels attack, in a residence he used as a bomb factory.
And earlier this month a Tunisian who had entered Europe as a Syrian refugee in October 2015 was arrested in Berlin. He is suspected to be an ISIS operative tasked with launching an attack in Germany and was in contact with a member of the group's external operations wing in Syria, Germany's Federal Prosecutor's Office stated last week.
Nadine Schmidt in Berlin and Laura Goehler in London contributed to this story.