Story highlights
Where the candidates are spending the final days tells a lot
Clinton, Trump target appeals to key voters groups that could decide the outcome
With Election Day on the horizon, the candidates and their top surrogates are logging thousands of sky miles as they barnstorm across the country, making closing arguments and cajoling supporters to hit the polls.
On Tuesday alone, Hillary Clinton's campaign hosted more than 10 events around the country with big-name headliners hitting Florida, Wisconsin, Colorado, New Hampshire, Maine, North Carolina and Ohio, where President Barack Obama pushed early voting.
Donald Trump's side is no less busy, but his bench is shorter, with the nominee, his family, and running mate Mike Pence doing the bulk of the work. Trump alone is on pace to hit four states in three days, with four stops in Florida alone. His son, Donald Jr., was in Iowa on Tuesday, and his children will be hitting Michigan later in the week.
So what does it all mean – what do these breakneck itineraries tell us?
Actually, quite a bit.
The campaigns' decisions right now offer a unique insight into how they view the race to 270 electoral votes – they tell us about the states still in play and the demographics of voters the campaigns see as key to victory. In the final days of this increasingly tight contest, both Clinton and Trump will be thinking about where to deploy their precious human resources. And the places they choose to visit can be just as telling as those they skip.
Clinton's deep roster of surrogates allows her to defend precious blue states like Colorado and Wisconsin while simultaneously keeping leading figures focused on battlegrounds like Florida and Ohio. Trump doesn't have the same star-studded lineup to stump for him in places he can't be.
Here is a detailed at look at where Trump, Clinton and their most dedicated allies will be directing their attentions over the coming days.
Team Clinton
Hillary Clinton
Tuesday, November 1: Clinton campaigned outside Tampa, Florida – a state in which she had already spent two of the past three days. Her weekend travels took her to Daytona Beach and Miami, where she appeared onstage with Jennifer Lopez and Marc Anthony at a "Get Out The Vote" concert.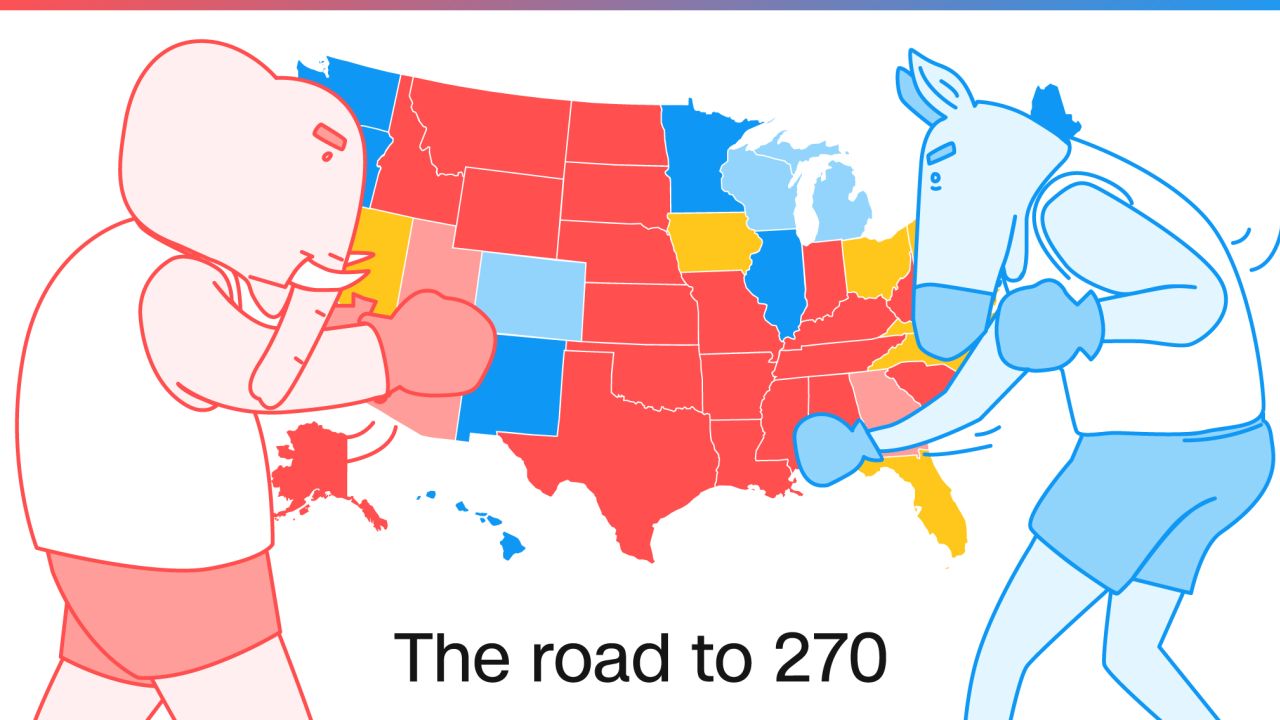 Tampa, Daytona Beach and Miami offer distinct demographic opportunities and challenges. Tampa is in Hillsborough county, often the most hotly contested counties in the state, while Daytona Beach – where Clinton made a pregame appearance at a Bethune‑Cookman University football game – has a sizable African-American population. Miami, of course, offered a chance to run up the score, especially among Latino voters, in the Democratic stronghold.
How hip-hop turned on Trump and settled for Clinton in 2016
Wednesday, November 2: Clinton heads to the normally deep-red state of Arizona. Both its senators, Jeff Flake and John McCain, oppose Trump (McCain after some hedging) and polls show the state's 11 electoral votes within reach.
But this stop, like Trump's planned foray into Wisconsin, could also be a ploy designed to set the other side on its heels – forcing them to spend resources on defending a traditionally Republican state.
Thursday, November 3: Clinton hits North Carolina with Sanders, which means one thing: Get the kids to the polls. Sanders was and remains a popular figure with left-leaning, younger Democrats, so anytime you see him on the schedule, expect that it's part of a plan to whip up millennial voters.
Friday, November 4: Clinton appears with hip hop star Jay-Z in Ohio, where early voting is underway and Clinton needs to run up a big margin in cities like Cleveland, with its considerable African-American and youth vote.
Saturday, November 5: Clinton will end the day in Philadelphia, for a concert headlined by Katy Perry – another move to get the youth vote off the couch and enthused and help appeal to professional, highly educated women in the city and suburbs. (Trump is making a similar play by sending wife Melania Trump to speak in the Philadelphia suburbs this week.)
President Barack Obama
Tuesday, November 1: Obama hits Columbus, Ohio, home to Ohio State University and more young voters the Clinton campaign needs to keep the incumbent's coalition intact.
Obama's final mission: Help Clinton close the deal
Wednesday, November 2: Then to Chapel Hill, North Carolina and the University of North Carolina. Again, the goal here is to get out students and the highly-educated voters that tend to live in and around college towns.
Thursday, November 3: The President then heads to Miami, Florida, a vote-heavy metropolis where he will appeal to the diverse cohort we now commonly refer to as the "Obama coalition." Miami-Dade County delivered more than 6-in-10 of its votes for him in a narrow 2012 statewide contest.
Vice President Joe Biden
Tuesday, November 1: Biden hit Charlotte, North Carolina, on Tuesday – another chance to appeal to the white, working-class vote that has been resistant to Clinton yet looks at the vice president as one of their own.
Wednesday, November 2: Then it's on to Tampa – at the center of swinging Hillsborough County. Then it's on to Palm Beach and its population of seniors, a group with which Biden has always performed well.
Vice presidential nominee Tim Kaine
Tuesday, November 1: Kaine was in Wisconsin, playing defense in a state Democrats haven't lost in decades.
Wednesday, November 2: It's off to Iowa, where the native Midwesterner – Kaine was born in Minnesota and grew up on the Kansas City area – will try to make some inroads in a state that Trump has consistently led in the polls.
(Update: This visit has been canceled following an ambush that killed two police officers in Iowa early Wednesday.)
Thursday, November 3: A day after Clinton, Kaine is set to visit Arizona (Phoenix and Tucson) himself – another example of the Democratic ticket having the resources to put a sustained effort into an unlikely state.
Former President Bill Clinton
Tuesday, November 1: With the nominee nearby, Bill Clinton made three stops in southern Florida on Tuesday, including events in Florida City and Immokalee. Both cities are minority-majority, a good play for Bill Clinton, who remains extremely popular among African Americans, a community that early-voting estimates suggest may not be turning out for the Democratic nominee in as strong numbers as in previous cycles.
Wednesday, November 2: Clinton heads back north a day later, with two stops scheduled in Iowa.
(Update: This visit has been canceled following an ambush that killed two police officers in Iowa early Wednesday.)
Chelsea Clinton
Tuesday, November 1: The former first daughter visited Aurora, Colorado.
Wednesday, November 2: Boulder and the University of Colorado is on the schedule for Wednesday, another play to get out the youth vote – in this case, that mostly means mailing in their ballots – in a state most polls show Clinton leading comfortably.
Then it's off to play some more defense in Oshkosh and Eau Claire, Wisconsin, a state where Clinton has a strong but not unbreakable hold.
Thursday, November 3: Another day in Wisconsin, this time with at a coffee shop Milwaukee, not far from Marquette University.
Friday, November 4: Clinton's busy week ends in battleground New Hampshire, with stops planned in Keene and Hanover, home to Dartmouth College.
Sens. Bernie Sanders and Elizabeth Warren
Tuesday, November 1: A busy day for Clinton's former primary rival, who stumped for her in Plymouth and Hanover, New Hampshire, before heading up to Portland, Maine.
Wednesday, November 2: Warren is expected to join phone-banking efforts in Carson City and Reno, Nevada, as the Silver State goes down to the wire.
Meanwhile, Sanders will continue on his mission to burnish Clinton's liberal credentials, especially with young voters, of which there figure to be a few on hand at his visit to Western Michigan University. He'll also be in Traverse City, Michigan, before finishing the day in Milwaukee, Wisconsin.
Over the coming days, he will also make appearances in Ohio, North Carolina, Iowa, Nebraska, Colorado, Arizona, Nevada and California.
Team Trump
Donald Trump
Tuesday, November 1: Gaining in the polls, Trump took his anti-Obamacare message to friendly crowds in King of Prussia, Pennsylvania – a blue state that, if turned, could swing the election in a hurry. Trump also held a rally in Eau Claire, Wisconsin.
Wednesday, November 2: A busy day in battleground Florida will likely see Trump stops first in Miami, then up to Orlando and Pensacola.
Thursday, November 3: Before leaving the Sunshine State, Trump will look to shore up his base in Jacksonville, which like his latter two rallies on Wednesday, is farther north and in a more traditionally Republican leaning region. After that, Trump heads to North Carolina, another state where he could be gaining ground, for visits to Concord and Selma.
Vice Presidential nominee Mike Pence
Tuesday, November 1: A full day in Pennsylvania. After joining Trump for the Obamacare speech in King of Prussia, Pence set off for another rally in Youngwood, a borough in the more Republican-heavy western part of the state about an hour outside Pittsburgh. Pence is often dispatched to more traditionally conservative areas, where he has a credibility that Trump does not.
Wednesday, November 2: Another busy day for the Indiana governor, who will first try to match voices with Clinton in Arizona. Pence will be in the GOP stronghold of Mesa, launching a rearguard action in one of the reddest cities in the country.
But after that he's scheduled to kick up some dust in New Mexico, a traditionally reliable blue state – is it a feint or does the campaign see a path there? They're saying the polls are closer than we might expect. Pence finishes in Loveland, Colorado.
Melania Trump
Thursday, November 3: The prospective first lady is expected to give a speech in the suburbs outside of Philadelphia.
Donald Trump Jr., Ivanka Trump and Eric Trump
Tuesday, November 1: Trump's eldest son visited two Hawkeye State colleges, where he spoke to crowds at Iowa State University in Ames and at the University of Northern Iowa in Cedar Falls.
Wednesday, November 2: More higher ed for Trump Jr., when he'll visit Michigan and Grand Valley State University in Allendale.
Like her brother, Ivanka Trump will also be in Michigan at a separate event on Wednesday, part of the campaign's offensive in another state expected – for now, at least – to go blue on Election Day.
Friday, November 4: Eric Trump will follow his older siblings to Michigan for an appearance at the end of the week. There are no details available yet about his or Ivanka Trump's events.
(Note: These dates and places for the candidates and their surrogates subject to change.)
CNN's Betsy Klein, Dan Merica, Elizabeth Landers and Ashley Killough contributed to this report