Story highlights
Iraqi PM vows to "cut head off snake" in ISIS battle
Counter-terrorism forces in last populated area before Mosul
Iraqi forces remain on the doorstep of ISIS-held Mosul, encountering snipers, landmines and road-blocking boulders as they edged closer to the key city.
Troops came within hundreds of meters of Mosul on Monday evening and are now the closest they've been since launching an operation two weeks ago to wrest the city from more than two years of ISIS rule.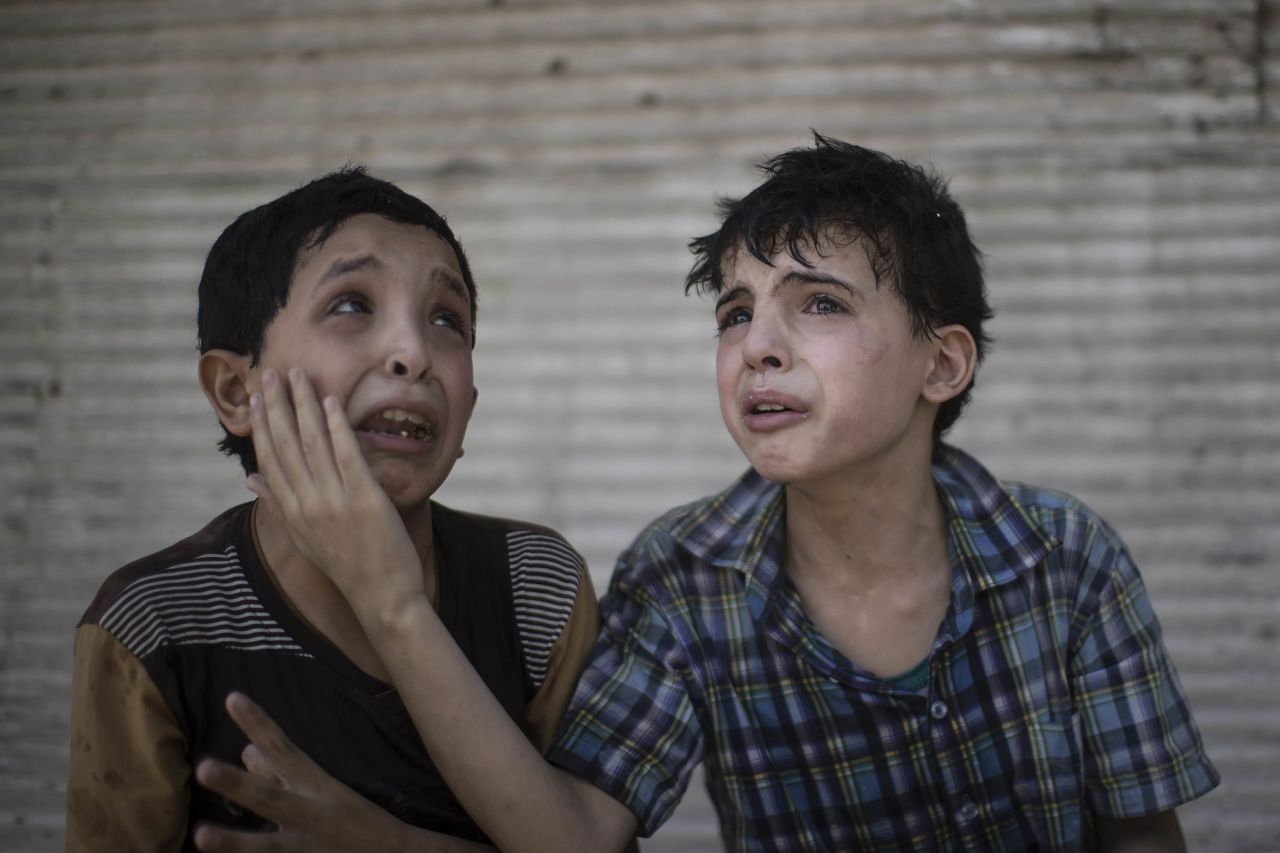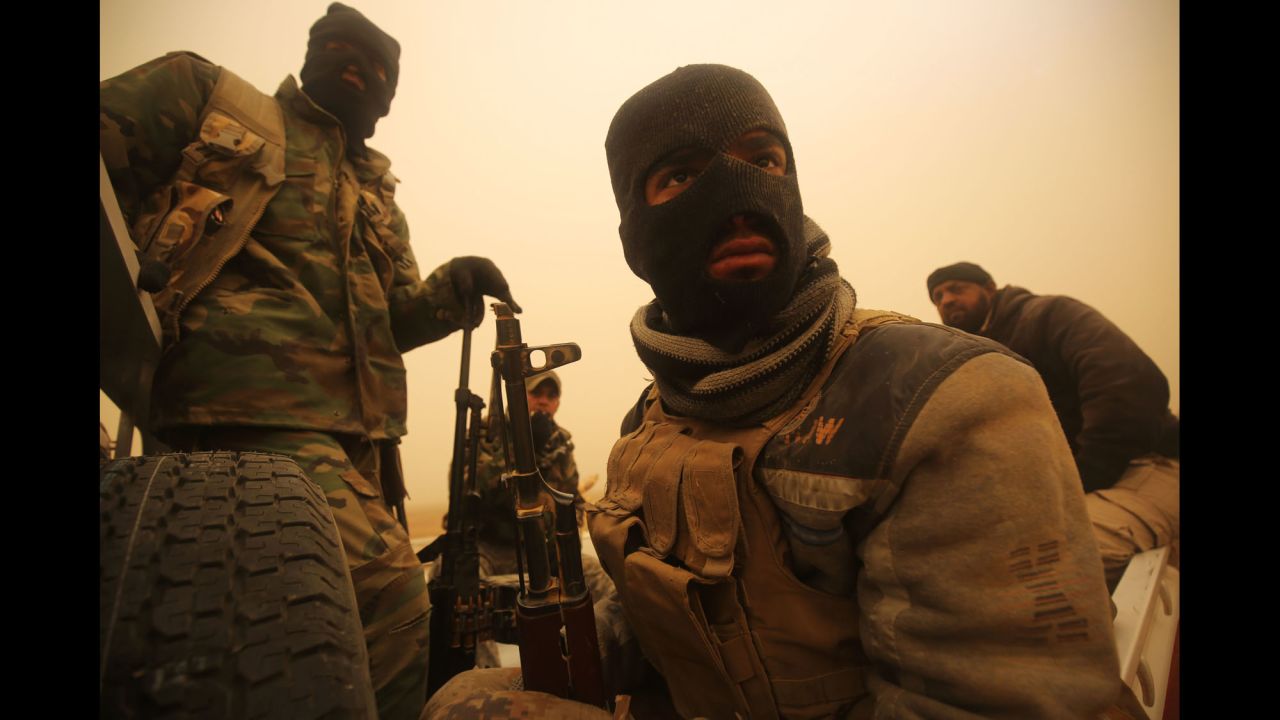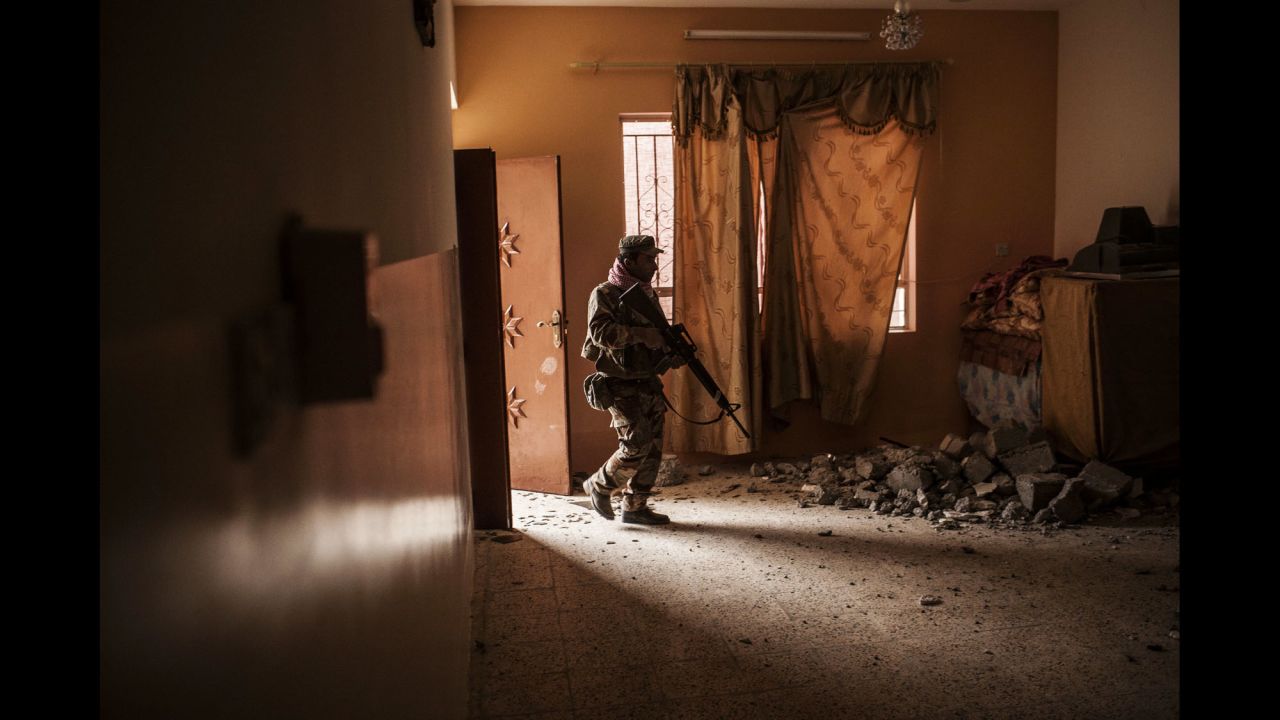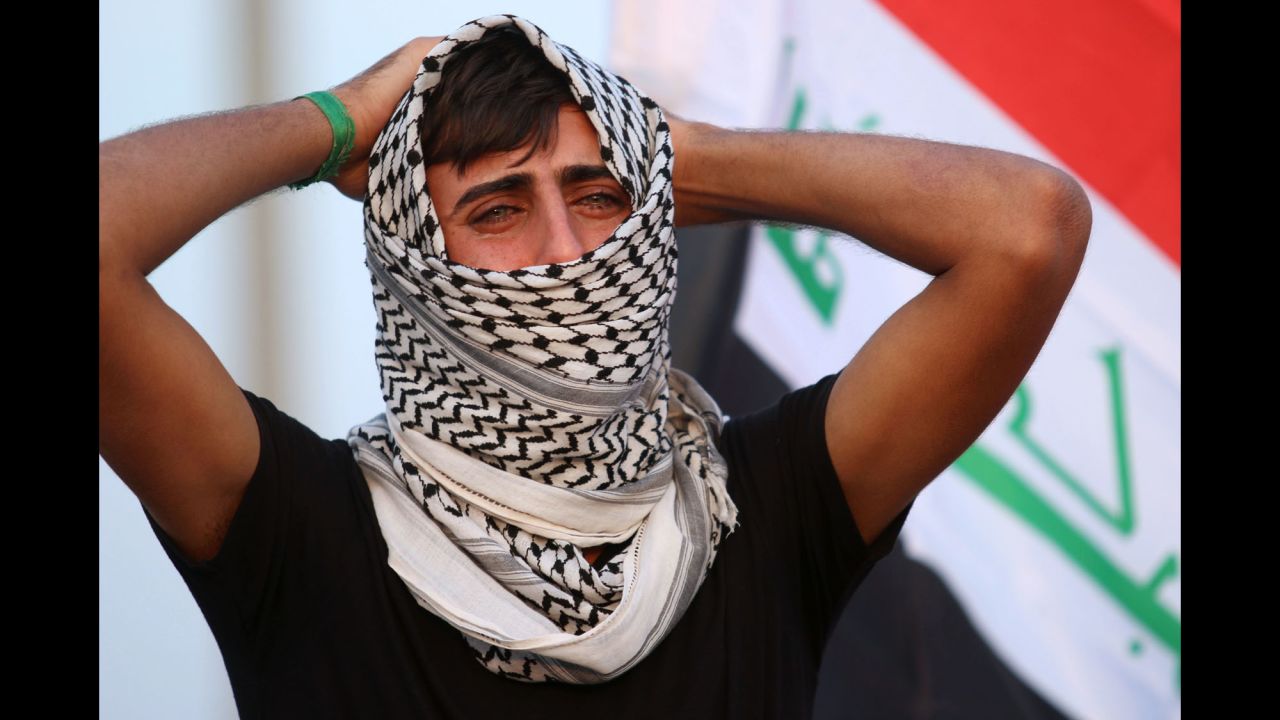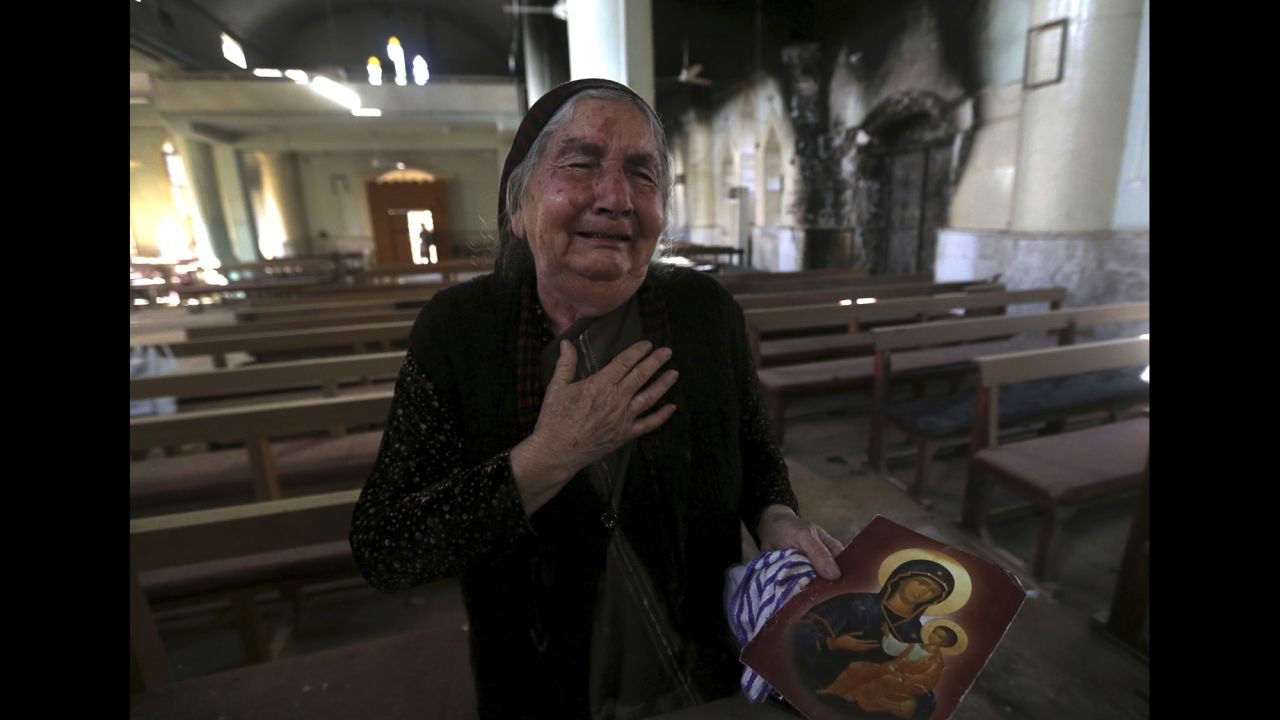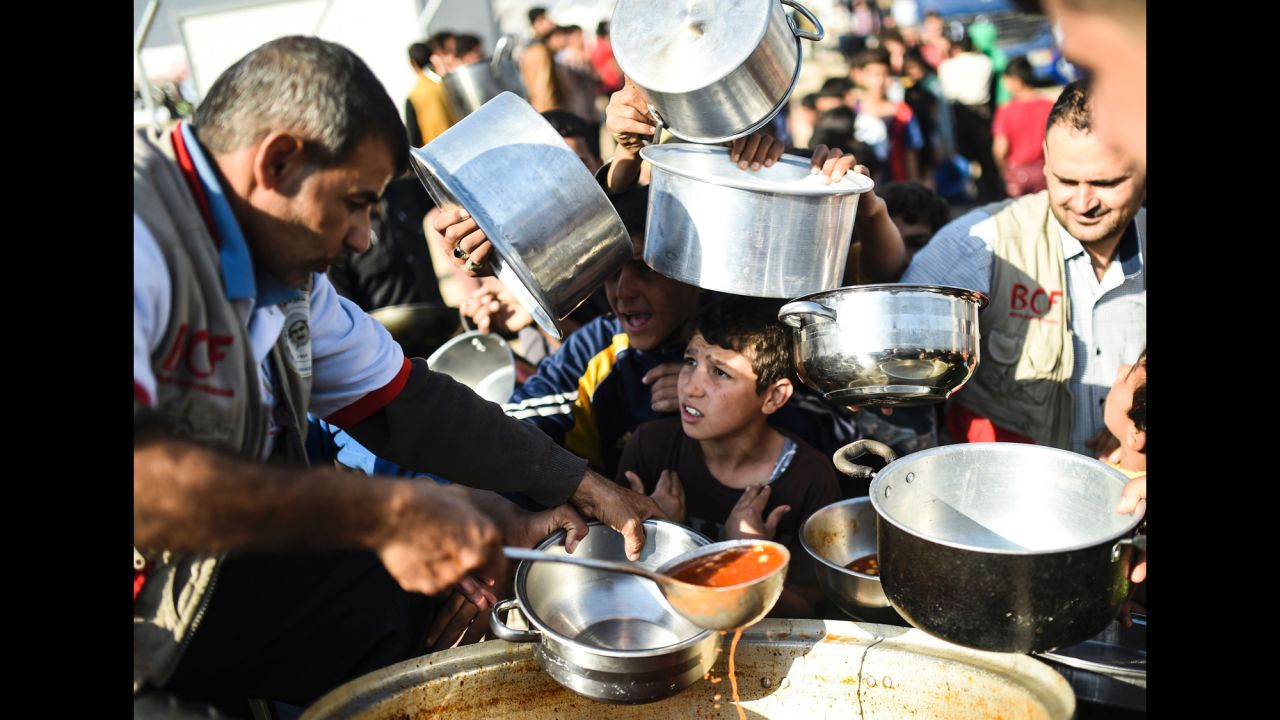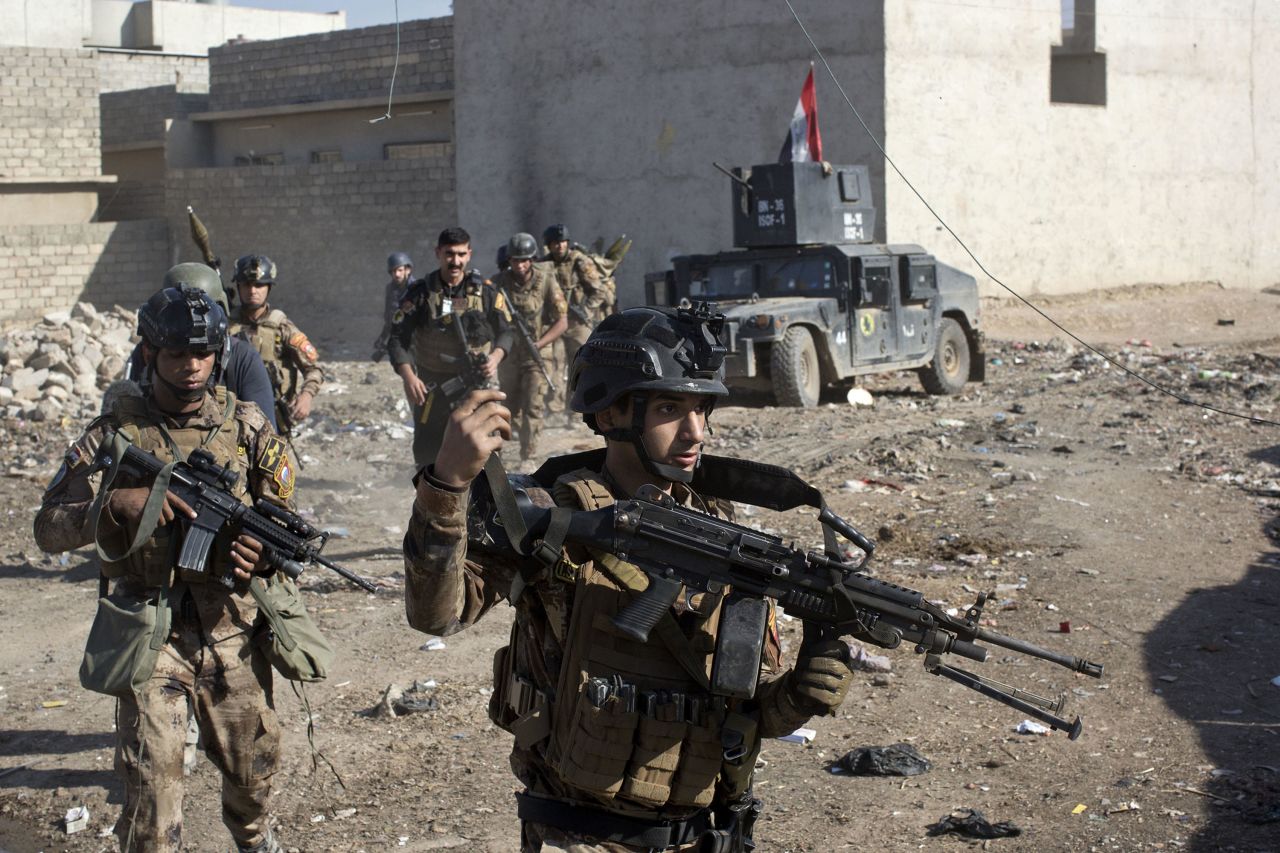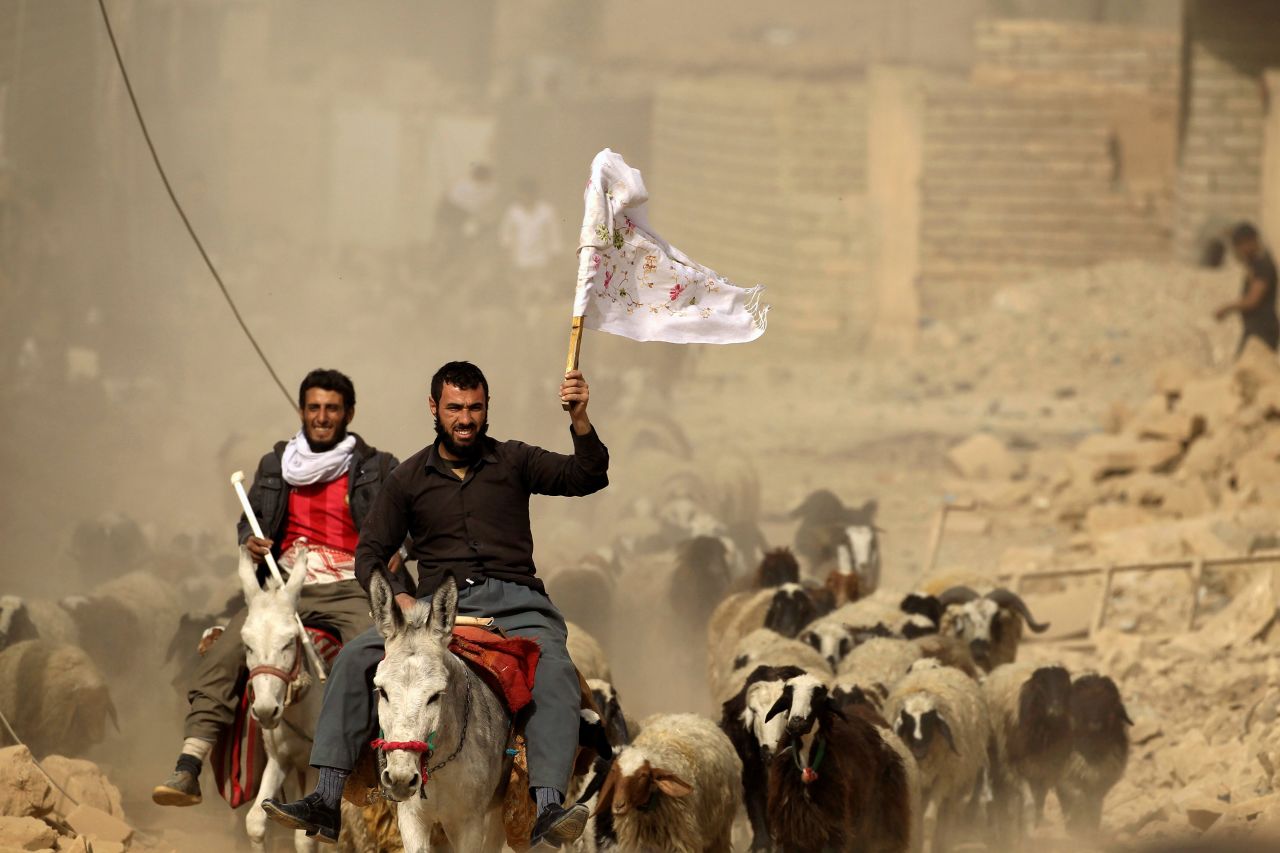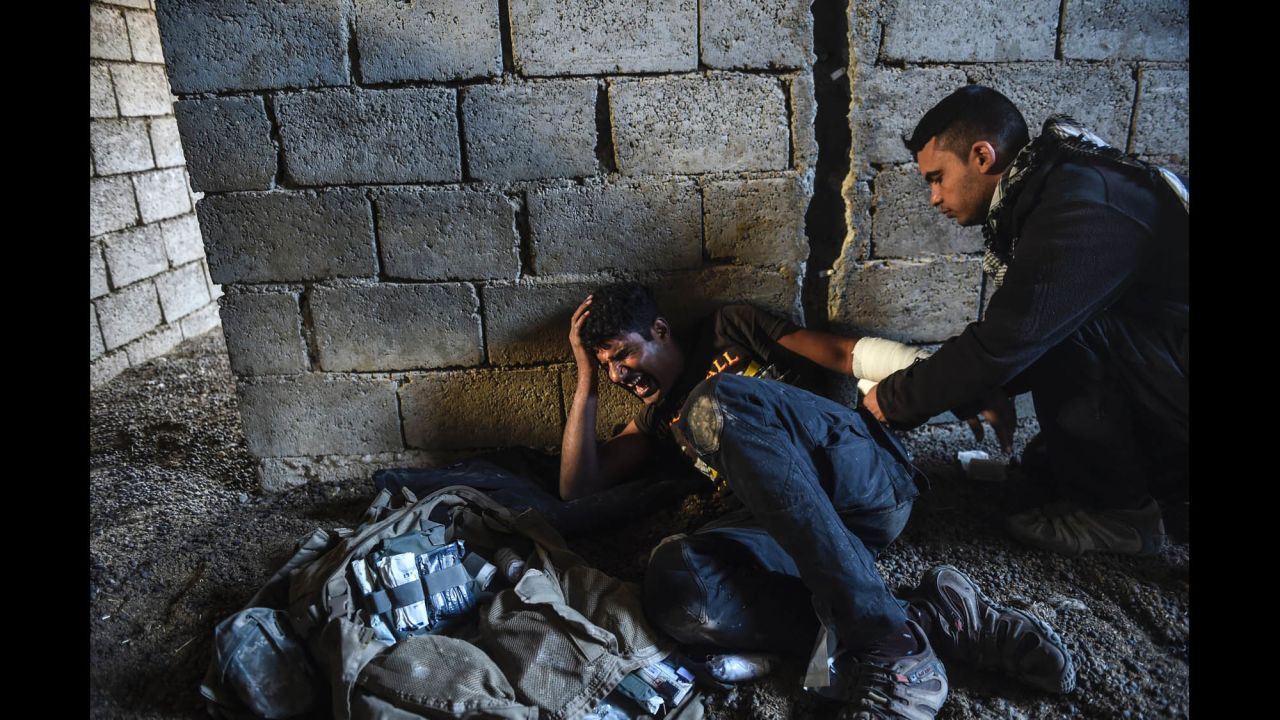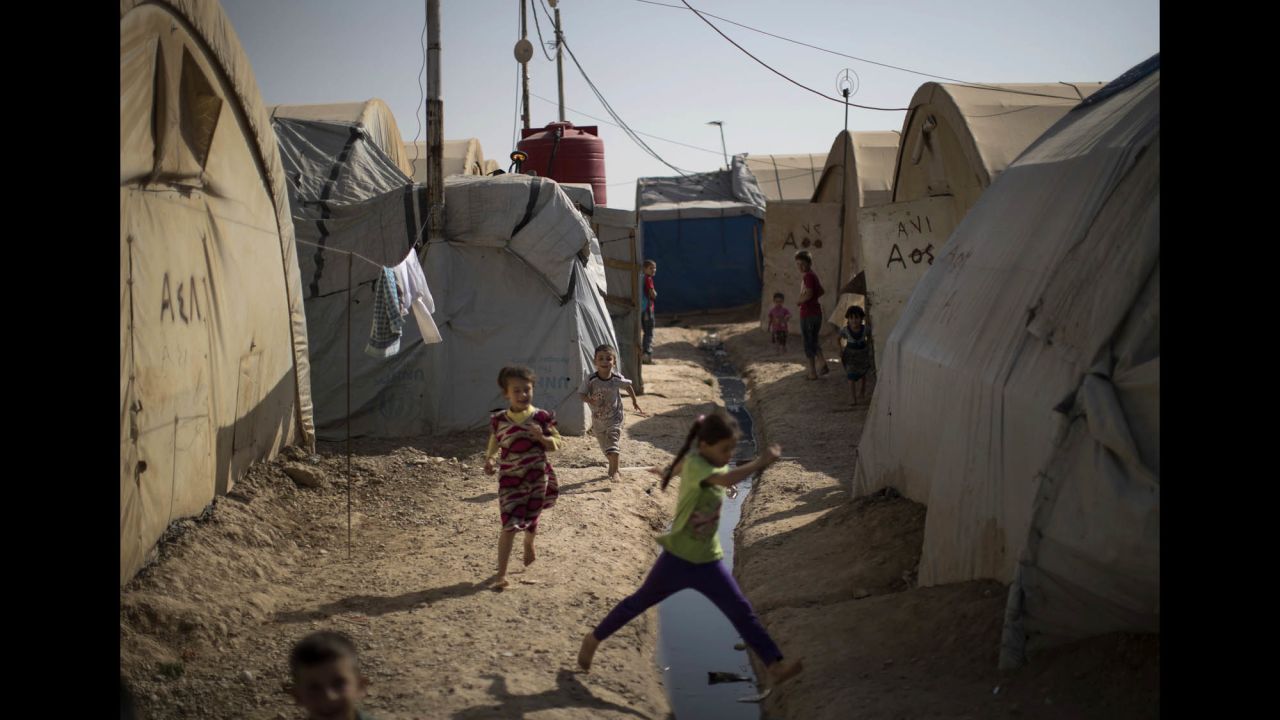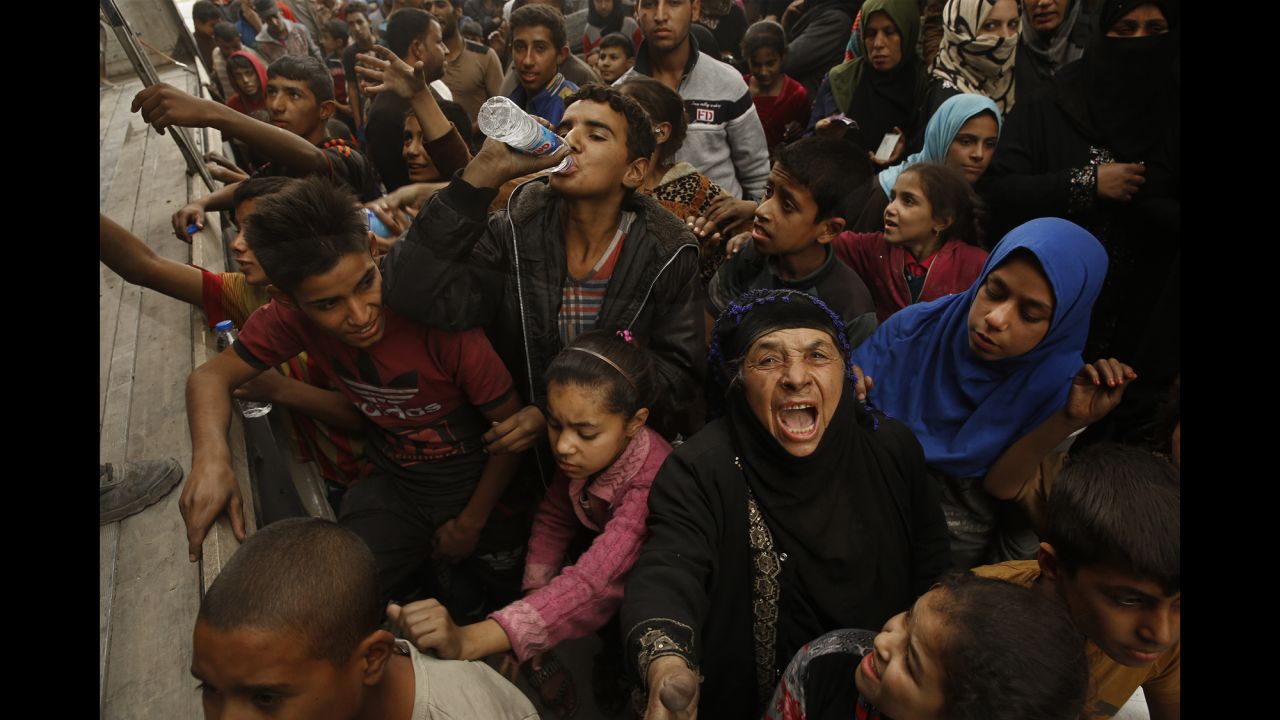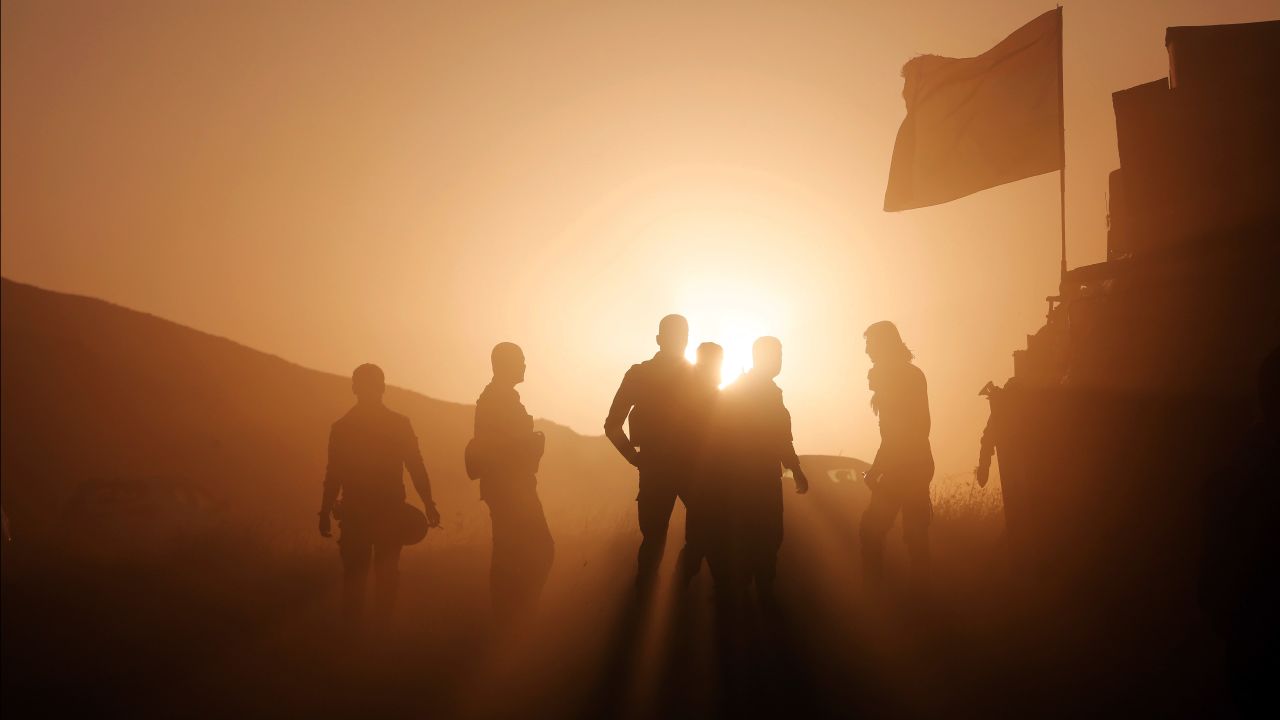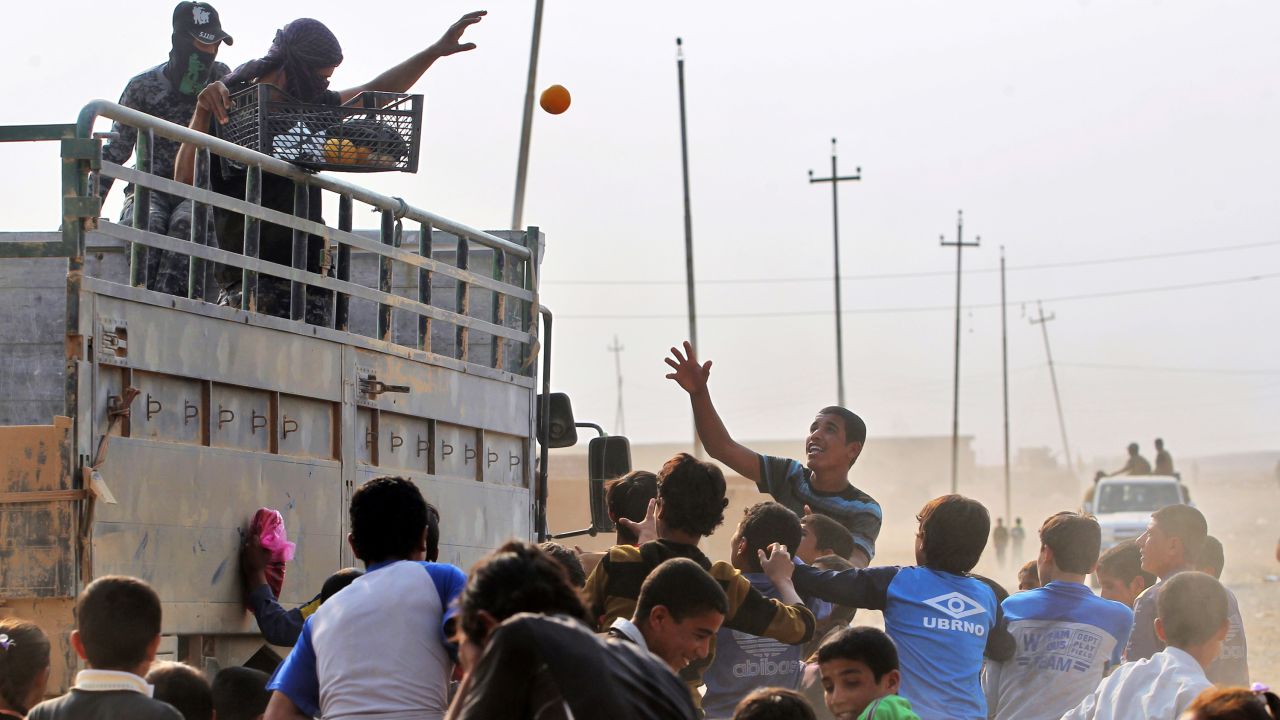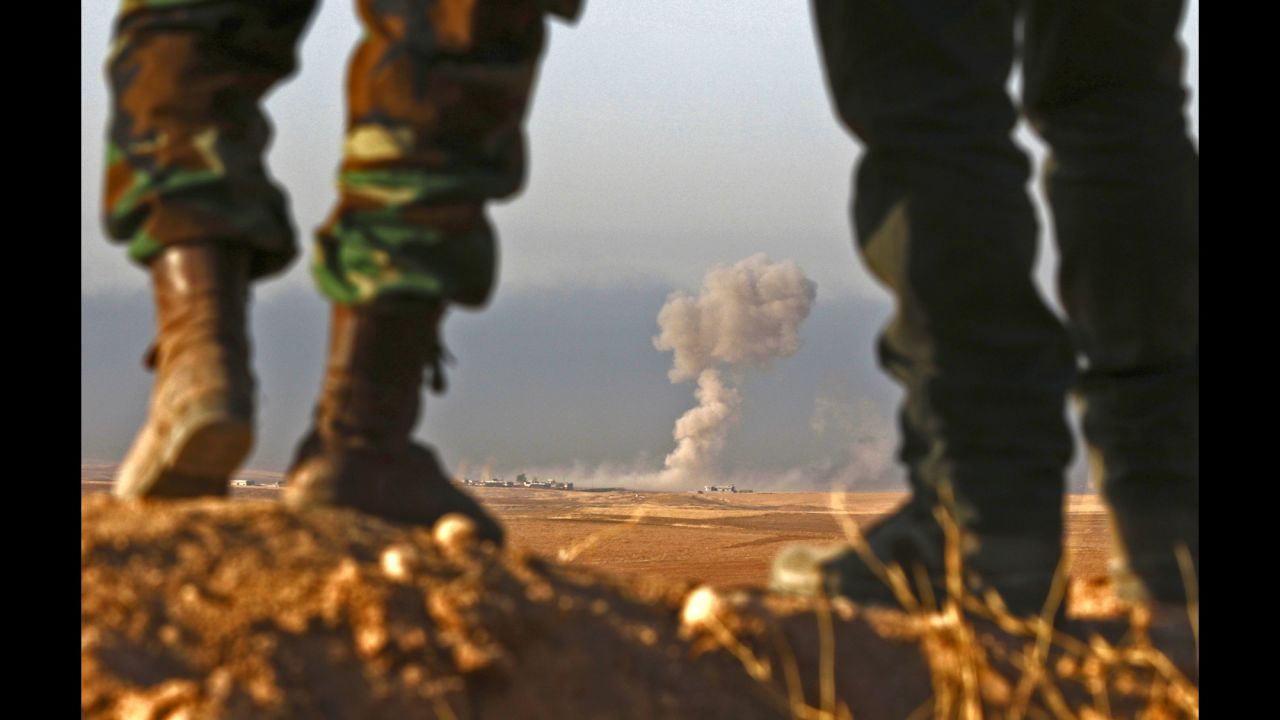 Mosul: Iraqi-led forces push into key city
Experts and officials have said that entering Mosul will likely trigger the fiercest fighting seen yet in the offensive and that the battle is expected to be fought street to street or even house to house.
The plan is to squeeze ISIS fighters from different directions, commanders say. But reports that the militant group has brought thousands of civilians – mostly women and children – into Mosul as human shields raises serious concerns that there could be a high number of civilian casualties in the battle.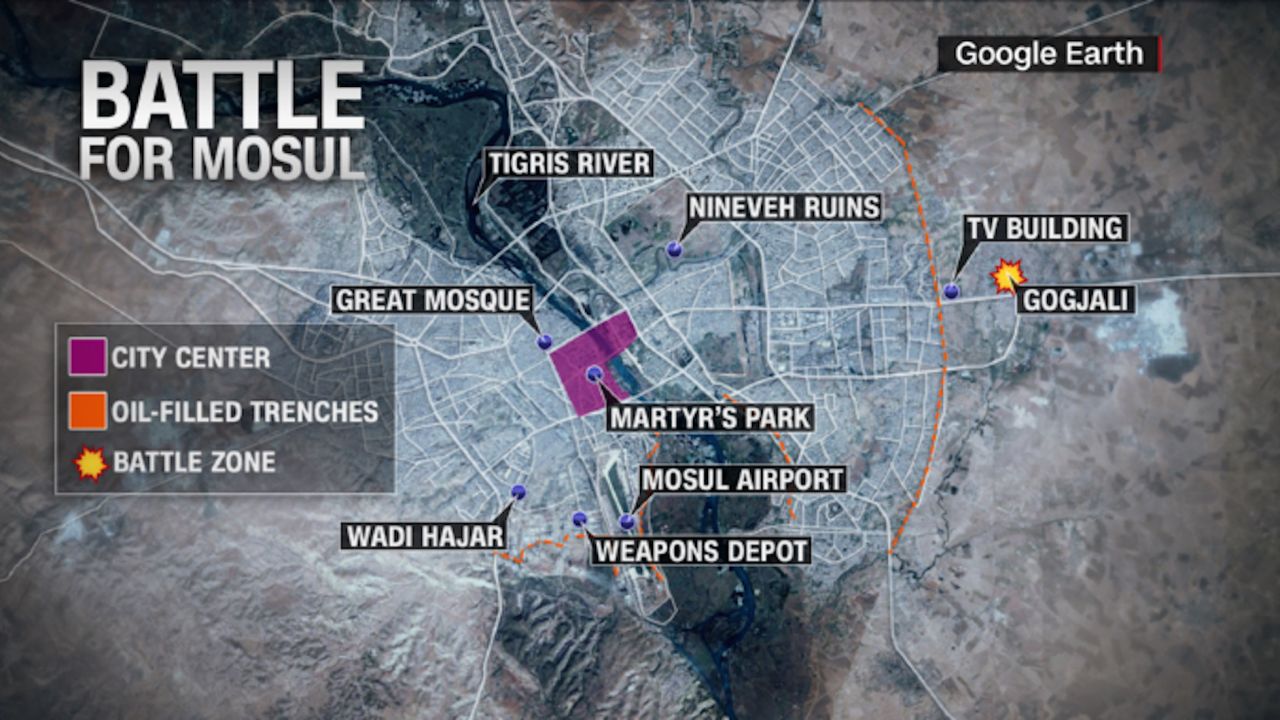 The Special Adviser of the UN Secretary-General on the Prevention of Genocide, Adama Dieng, said that he condemned "in the strongest terms" the "continued, absolute disregard for international human rights and international humanitarian law" by the terror group.
Citing the abduction and execution by ISIS of large numbers of civilians, and the use of human shields in and around Mosul, he stressed in a statement that the perpetrators of ISIS' war crimes need to be held accountable and said that existing allegations of these crimes are sufficient to be acted upon immediately.
He added that the Iraqi government has an obligation to stamp out retaliatory violence by Iraqi troops or associated militias.
"Any kind of retaliatory violence against individuals on the basis of their membership of a specific group is unacceptable and will undermine the legitimate calls of these communities for their own protection and for their long-standing grievances to be addressed."
Meanwhile, Turkey moved tanks and bulldozers from Ankara to southeastern cities near the Iraqi border, its closest position to Mosul, according to a statement from the Turkish military.
Turkey's defense minister said they were being used to fight against terror, the state-run Anadolu news agency reported.
Life in a post-ISIS town: Shaving, haircuts and cigarettes
In striking distance
Iraqi forces surrounded the ISIS-held village of Gogjali on Mosul's eastern outskirts Tuesday and by late afternoon had taken control of the village, Maj. Gen. Maan al-Saadi, commander of Iraqi counter-terrorism special forces, told CNN. A commander on the ground said troops are working to clear any explosives ISIS may have left behind in Gogjali.
The village is the last populated area before eastern Mosul and freeing Gogjali opens the path for forces to enter the larger city.
Iraqi troops took control of a state TV building on the eastern edge of Mosul and raised the Iraqi flag over it, according to a statement released by Iraq's joint military commands.
Inside ISIS-held Mosul: Secret film shows desolate scene
An officer with the country's Counter-Terrorism Force told CNN that progress had been slowed by the large number of improvised explosive devices (IEDs) and mines planted by ISIS. He was speaking on condition of anonymity because he is not authorized to talk with the media.
Progress was also slowed by the presence of as many as 20,000 civilians who are still in Gogjali, who are essentially being used as human shields by ISIS, according to Saadi.
Mosul's importance explained
Other officers told CNN that ISIS fighters had blocked the main road between the village and Mosul with boulders and that bulldozers were needed to clear them. The road is also laced with IEDs and mines, they said.
CNN correspondents near Gogjali said earlier Tuesday that they could see smoke rising on Mosul's perimeter from oil trenches being set on fire to obscure warplanes from striking ISIS targets and deter troops from entering.
Troops are now in clear striking distance of the city and they appear to have begun an assault on Mosul from outside.
Prime Minister to ISIS: 'Surrender or die'
On Monday night, Iraqi Prime Minister Haider al-Abadi gave the estimated 5,000 ISIS militants holed up in Mosul a chilling warning as troops approached the city's doorstep.
"There is no way to escape, either surrender or die," he told a reporter for state-run Iraqiya TV at the Qayyara airbase south of Mosul.
We will "cut the head (off) the snake," he said.
Abadi urged Mosul's beleaguered residents, who have suffered under ISIS rule since June 2014, to stay indoors during the battle. He also said they should resist ISIS-propogated rumors and do what they can to prevent ISIS from destroying the city's infrastructure.
He also noted that for the first time, Iraqi forces would be fighting side by side with Kurdish Peshmerga troops and urged politicians to "leave (their) political differences aside."
The coalition of around 100,000 people in the Mosul offensive is an extraordinary union of ethnic and religious groups that have long stood on opposing sides in Iraq's history.
Experience the front lines of the Mosul offensive
Among them are Kurdish groups, including the Peshmerga, and Shia and Christian paramilitary groups.
The battle for Mosul is seen as one of the most significant in the fight against ISIS. The city is the terror group's Iraqi stronghold and is considered the jewel of its self-proclaimed caliphate.
CNN's Hamdi Alkhshali, Mohammed Tawfeeq and Tim Lister reported from Iraq, while Euan McKirdy reported from Hong Kong and Angela Dewan reported from London. CNN's Hande Atay Alam contributed to this report.