Story highlights
President's friend and informal adviser taken into "emergency detention"
Confidante faces questioning over allegations she received classified documents
A man drove a construction vehicle Tuesday into the gate of a South Korean prosecutor's office intending to kill the woman at the center of a major political scandal, authorities said.
The man came from a rural town to the prosecutor's office in Seoul to "help Choi Soon-sil die," said Han Jeung-sub, a detective at the Seocho Police Station.
Choi is a friend and informal adviser to South Korean President Park Geun-hye, and she has been described as a Rasputin-like character to the leader.
Accusations that Choi was the recipient of leaked official state documents have led to noisy demands for Park's ouster, with thousands taking to the streets over the weekend demanding she step down.
The vehicle operator – identified only by his surname Choo – was detained and questioned, according to Han. Police plan to apply for an arrest warrant Wednesday.
Choi's detention
Prosecutors placed Choi under "emergency detention" late Monday, Seoul Central District prosecutor's office told CNN after she returned to the country.
According to South Korean criminal law, an individual can be placed under emergency detention if investigative authorities have reason to believe that person is a flight risk or could attempt to destroy evidence.
"Choi has denied all of the charges against her, and we're concerned that she may destroy evidence," the prosecutor's office said.
"She has fled overseas in the past, and she doesn't have a permanent address in Korea, making her a flight risk. She is also in an extremely unstable psychological state, and it's possible an unexpected event could occur if she is released."
The prosecutor's office must decide whether it will seek a warrant to arrest Choi formally within 48 hours of her emergency detention.
Return home
A crush of journalists and protesters surrounded Choi when she arrived back Monday, at times threatening to knock her off her feet.
Choi already had issued an apology and said that she had "committed a deadly sin," according to CNN affiliate YTN.
"My apologies to the public," she said. "Please forgive me."
Her attorney, Lee Kyung-jae, indicated she will cooperate fully with the investigation.
Lee told reporters Sunday "she is deeply remorseful that she had caused frustration and despondency among the public."
The prosecutor's office has promised a quick and thorough investigation, according to YTN.
Significant influence
Choi's family has long held influence over Park, said David Kang, director of the Korean Studies Institute at the University of Southern California.
"The friend's father, (Choi Tae-min), was head of a cultlike religion back in the '70s and began to mentor Ms. Park when she was in her early 20s," he said. "So the family has had an extraordinary influence over Park Geun-hye for essentially her entire adult life.
"It's much more than simply, 'Oh she knows this person,' it's deeply intertwined, almost like they're Rasputin and Park Geun-hye is just a puppet."
Park embroiled in leaked documents scandal
Protests
Choi's reappearance in South Korea comes after a restive weekend, with thousands gathering in the capital Saturday night to demand that Park step down, citing her judgment in sharing classified documents as evidence she is unfit to run the country.
Police estimated that around 12,000 demonstrators attended the evening protest, according to the country's semi-official Yonhap news agency.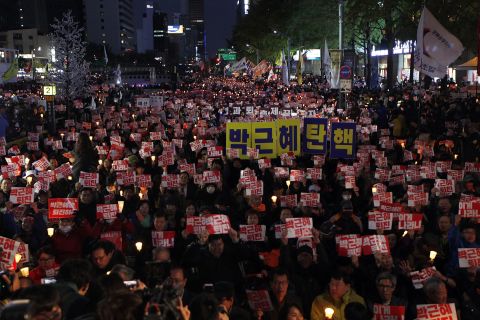 Resignations ordered
On Friday, Park Geun-hye ordered the resignation of 10 of her senior secretaries as political turmoil continued to grip the country.
Scandal this week gripped President Park, after she was accused of leaking official state documents to a friend.
But Kang said the problem doesn't appear to be solvable with a quick Cabinet reshuffle.
"Can she rule, even if she gets rid of the Cabinet? The Cabinet wasn't the problem; she was the problem," he said.
Presidential apology
In a televised presidential apology, Park said Choi looked at "some documents" for a certain period of time after Park took office, but didn't specify what they were.
"I am shocked and my heart is breaking for causing public concern," Park said in the live telecast. "I've done so (shared the documents) out of pure heart so that I could carefully review (the documents)."
Abandoned computer
CNN South Korean affiliate JTBC broke the news of the scandal earlier this week after revealing that it had found an abandoned computer of Choi's containing evidence she received secret documents and intervened in state affairs.
Local media and opposition parties accused Choi of abusing her relationship with Park to force big local conglomerates to donate millions of dollars to two foundations they claim she had set up.
The South Korean prosecutor's office on Thursday established a "special investigation unit" to probe the cases.
Under South Korea's constitution, Park – as sitting president – is immune from criminal prosecution except for insurrection or treason.
Political fallout
Park, whose presidency ends in early 2018, had approval ratings between 30% to 50% during her first three years in office. This year, however, has been a bad year for the president.
A combination of a weak economy, inadequate public communications and poor administration of state affairs, according to multiple poll results, have resulted in slipping approval scores.
Park, South Korea's first female president, is the daughter of Park Chung-hee, South Korea's leader from 1961 to 1979, who was assassinated by his own intelligence chief. The late Park is hailed by some as the mastermind behind the country's current prosperity but criticized by others as a dictator who violated human rights by crushing dissenters.
CNN's Yoonjung Seo reported from Seoul, while CNN's Elizabeth Joseph reported and Euan McKirdy wrote from Hong Kong. Journalist Jung-eun Kim contributed to this report.