Editor's note: This is the second of two stories on the religious beliefs of the presidential nominees. Read about the faith of Donald Trump here.
At a Catholic charity event this month, Hillary Clinton, a onetime Sunday school teacher, made a small but telling theological slip-up.
After trading jokes with her Republican rival, Donald Trump, at the Al Smith dinner in New York, Clinton got serious, praising her Catholic hosts and Pope Francis' fights against climate change and inequality.
"I'm not Catholic. I'm a Methodist," Clinton said. "But one of the things that we share is the belief that in order to achieve salvation we need both faith and good works."
That's only half-true. Neither the United Methodist Church nor the Catholic Church teach that believers can work their way into heaven. Good deeds are important, both churches agree, but God's grace is freely given – and the only means of salvation.
Clinton likely knows this. She's correctly stated the doctrine before, including at a church service in Washington last year.
Maybe her salvation stumble was the work of a sloppy speechwriter – or perhaps, with apologies to Freud, it was a Pelagian slip. (Pelagius was a monk accused of teaching the heresy that humans could earn their own salvation.) Either way, Clinton's remark revealed a deep strain in her religious thought: There are no freeloaders in heaven.
"She didn't believe it was how high you jumped for joy in church," said the Rev. Ed Matthews, Clinton's pastor when she lived in Little Rock, Arkansas, in the 1990s, "but what you did when you came down."
The conventional Washington wisdom holds that Clinton is reluctant to talk about her faith, which is partly true. She doesn't often divulge details about her private piety, even while hinting that prayer and pastoral counseling have led her to consequential decisions, such as remaining with her husband, Bill, after the Monica Lewinsky scandal in 1998.
But during her three decades in politics, Clinton has been quite willing to talk about how her work has been inspired by her Methodist faith. She traces some of her political positions, particularly concerning children and the poor, directly to Christ's commandment to care for "the least of these."
Speaking to an assembly of Methodist women in 2014, Clinton cited the Gospel story of Jesus multiplying the loaves and fishes to feed a hungry crowd.
"He was teaching about the responsibility we all share, to step up and serve the community, especially to help those with the greatest need and the fewest resources," Clinton said.
Since then, the Democratic nominee has adopted a Methodist mantra as her unofficial campaign slogan: "Do all the good you can, for all the people you can, in all the ways you can, as long as you ever can." (The Clinton campaign did not respond to requests to interview the candidate.)
Despite these public testimonies, less than 50% of Americans say Clinton is "very" or even "somewhat" religious, according to the Pew Research Center.
A separate survey, by the Public Religion Research Institute, reveals stark religious and partisan divides in how Americans view the presidential nominees' faith. Nearly 80% of black Protestants, a traditional Democratic constituency, say Clinton has stronger religious beliefs than Trump; just 28% of white evangelicals, who lean heavily Republican, agree.
Evangelicals' antipathy toward Clinton runs long and deep, said Ed Stetzer, executive director of the Billy Graham Center for Evangelism at Wheaton College in Illinois.
Clinton's decades-long embrace of feminism and abortion rights clash with many conservative Christians' core beliefs. "Evangelicals see her as the personification of secular, progressive values, and that overshadows any of her self-identified religious practices."
But many conservative Methodists, even those who disagree with Clinton politically, say her faith appears to be authentic.
"Too often conservatives have been too dismissive of her religious beliefs, which are sincere," said Mark Tooley, a Methodist and president of the Institute on Religion and Democracy, a conservative think tank in Washington.
"She was shaped by the church and is still committed to it, and you can't understand her political framework without understanding her Methodist background."
The 'University of Life'
Clinton's father, Hugh Rodham, wasn't a churchgoer, but he was a praying man.
"I still remember my late father – a gruff former Navy man – on his knees praying by his bed every night," Clinton has said. "That made a big impression on me as a young girl, seeing him humble himself before God."
If Clinton's father provided the model for private prayer, her mother demonstrated how to put that piety into public action. Dorothy Rodham was active at First United Methodist Church in Park Ridge, Illinois, a large congregation in a Chicago suburb. She taught Sunday school and regularly raised money for charity, inspiring her daughter's interest in social justice
In 1961, when Clinton was a teenager, a youth pastor came blazing into Park Ridge behind the wheel of a red Chevy convertible. The Rev. Don Jones would inspire Clinton to see the world as her parish.
Fresh from seminary after a stint in the Navy, Jones gathered the sheltered Methodist youth of Park Ridge and gave them crash courses in the "University of Life." He read them poems by e.e. cummings, introduced them to Christian intellectuals such as Dietrich Bonhoeffer and Paul Tillich, and asked them to interpret modernist paintings such as Picasso's "Guernica."
"I think it's fair to say," Clinton said in 2009 while delivering a eulogy at Jones' funeral, "that next to my parents … no adult had more influence on my life."
His challenges were more than intellectual. Jones took his Christian charges into inner-city Chicago churches, where they mingled with black and Latino teens, creating connections with people they might not otherwise have met. Jones encouraged his youth group to babysit for the children of Latino migrant workers and to visit the elderly in nursing homes.
Christians aren't supposed to sit quietly in church, hoping to get into heaven, Jones taught; they're supposed to build the kingdom of God on earth.
That idea lies deep in the DNA of the Methodist movement, historians say. The early Methodists in 17th-century England earned their name because they were methodical and disciplined about their duties toward God and to their fellow man. John Wesley, founder of Methodism, preached that Christians should practice not only personal holiness but also a "social holiness."
"Methodists have always had a strong sense of social purpose," said David Hempton, dean of Harvard Divinity School and an expert in early Methodist history. They advocated against slavery, corruption, public drinking, animal abuse, popular sports and ostentatious displays of wealth. They visited prisoners and the sick, educated children and gave their extra earnings to charity.
Clinton has said that she spent a lot of time as a young person trying to "work out the balance between personal salvation and the social gospel."
In 1962, Jones took Clinton and her youth group to hear the Rev. Martin Luther King Jr. speak in Chicago, where the civil rights leader delivered his famous sermon "Remaining Awake Through a Great Revolution." King's challenge struck Clinton like St. Paul on his horse. She left the room that night a changed person, she would later recall.
"His words, the power of his example, affected me deeply and added to the lessons of my minister to face the world as it is, not as we might want it to be," Clinton told a group of Baptists in September, "but to commit ourselves to turning it into what it should be."
Bill Clinton credits King's speech with changing the trajectory of his wife's moral and political life. "It took my breath away when I realized 45 years ago that is really what motivates her," he said in Iowa this year.
At the time, though, Clinton remained a "Goldwater girl," a rock-ribbed Republican like her father. At Wellesley College, she headed the college's Young Republicans Club.
But a Methodist magazine, motive, flooded Clinton with progressive opinions – rooted in liberal Christian theology – on the Vietnam War and civil rights movement.
"I wonder if it's possible to be a mental conservative and a heart liberal," she wrote in a letter to Jones, who'd become a lifelong mentor and confidant. By her senior year, Clinton appeared to have completed her political conversion to liberalism, writing her senior thesis on Saul Alinsky, the leftist community organizer.
After college, Clinton says her Christian faith inspired her decision to do public service, rather than apply to white-shoe law firms. At the Children's Defense Fund, she says, she went undercover to expose systemic racism in the deep South and the plight of children with disabilities in New England.
Around the same time, she met Bill Clinton at Yale Law School, and eventually followed him to Arkansas, where they married in 1975. Several years later, while raising their daughter, Chelsea, Hillary Clinton joined First United Methodist Church in Little Rock.
While Bill attended a Baptist church down the road, Hillary became an active and "vital part" of the Methodist congregation, the local bishop later recalled. She volunteered to be the church's chancellor and taught adult Sunday school on the lawn of the Governor's Mansion.
The Rev. Ed Matthews, former pastor of First United Methodist Church of Little Rock, recalls one of Clinton's lessons keenly. It was about forgiveness, and how it is not a human quality but rather a gift from God.
When Clinton was first lady and facing her own crisis, Matthews said he went to the White House and reminded her of that lesson.
The lion's den
Soon after the Clintons arrived in Washington, they had dinner at the White House with a few pastors and their families, recalls the Rev. Tony Campolo. Hillary Clinton told the gathering that she reads Scripture daily, so the evangelical pastor asked what passages, in particular, interested her.
"She said, the 'Book of Daniel,' which seemed strange to me," Campolo recalled recently. He asked her why. "She said because the Book of Daniel describes with care how political leaders handle situations under great pressure."
In the Old Testament, the Book of Daniel is about a Jew exiled to Babylon, where he is tossed into the lion's den after his quick political ascent inspires jealousy. If the modern-day parallels aren't immediately obvious to others, they were evidently clear enough to the fresh-from-Arkansas Clintons.
Clinton read more than Scripture while in the White House, according to friends and colleagues. She continued to subscribe to motive magazine, which is now out of print, as well as Christianity Today, the flagship magazine for evangelicals. She said she kept a copy of the Methodist "Book of Resolutions," the church's policy statements, in her private quarters of the White House, and regularly read books by Christian authors. She occasionally carried a small book filled with spiritual quotations and another of the Bible's Book of Psalms.
"She has always loved the Psalms," said Matthews, the Arkansas pastor. "I think she relates to their search for meaning, and how the psalmist can change moods, from lamenting how evil the world is, and how everyone is mistreating us, to showing gratitude to God for the beauty of the world."
In Washington, the Clintons found a new church home on a snowy Sunday in January 1993. The family was feeling "stir crazy," Clinton recalls, so they trudged several blocks through the blizzard to Foundry United Methodist Church, where they surprised a pastor who had almost canceled services that morning.
The Rev. J. Philip Wogaman, Foundry's former pastor, recalls the Clintons attending his church regularly for the next eight years, some 100 or so Sunday services in all. They sat three rows back on the right center aisle, he said, directly in his line of sight from the pulpit.
Wogaman, a dignified man and Methodist scholar, said he tried not to preach politics overtly, though he thought carefully about the messages his sermons would send to the first family. He recalls only one overt political statement he made from the pulpit, asking Bill Clinton to carry the congregation's good wishes to the family of assassinated Israeli Prime Minister Yitzhak Rabin in 1995.
Chelsea became a part of Foundry's youth group, as her mother had in Park Ridge, and Wogaman recalls the Clintons attending parents' meetings and helping to plan for mission trips to Appalachia. When a member of the congregation fell ill, the Clintons would call the hospital to check up on them, the pastor recalled.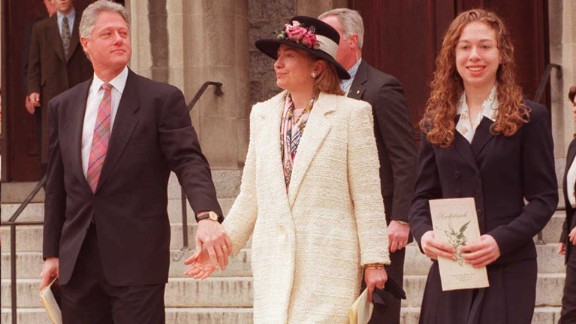 Getty Images
At a service marking Foundry's 200th anniversary last year, Hillary Clinton said the church was a place where "we were, not 'the First Family' – we were just our family."
"This community – because indeed that's what it is – was a place where we could worship, study, contemplate, be of service, get some good pastoral advice, and step outside all the commotion of life in the White House and Washington. That was very, very precious to us."
But as the pressures – and the scandals – mounted, the first lady also looked elsewhere for spiritual sustenance.
Close friends say she keeps her own counsel. She is far more comfortable assuaging a friend's grief or regret than she is asking others for help. But in 1994, after her high-profile health-care reforms foundered and sca