One woman's allegations of sexual assault against a University of Wisconsin student led to multiple charges based on claims from five women.
Alec Cook, 20, appeared Thursday in Dane County Circuit Court to hear the charges against him. He faces 14 felony counts, including second- and third-degree sexual assault, strangulation and false imprisonment, and one misdemeanor count of fourth-degree sexual assault.
The court entered a not guilty plea on his behalf to the misdemeanor charge. Under Wisconsin law he will not enter a plea to the felony counts until after his arraignment.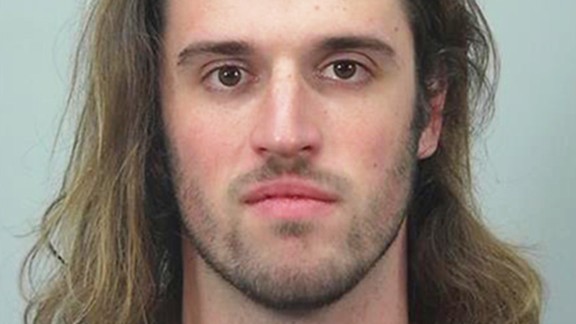 (Dane County Sheriff's Office/AP
He is being held on $200,000 bail in Dane County Jail.
Cook's name and face spread through social media and local news reports after his October 17 arrest based on allegations from another UW-Madison student. She told police that Cook sexually assaulted her October 12 in a nearly three-hour ordeal, grabbing her by the hair and neck so tightly that, she told police, her "vision started to go." Cook was charged with four counts of sexual assault, strangulation and false imprisonment stemming from the allegations.
Within a week, police said "dozens" more women came forward with potential information about Cook.
CNN reached out to Cook's lawyers about the additional allegations but they declined to comment on the new charges.
March 2015
The earliest count goes back to March 2015, when Cook allegedly invited a woman back to his apartment about two weeks after meeting her at a party.
She told police that kissing turned to unwanted touching despite her attempts to push him away. When she tried to leave he grabbed her and pinned her to the futon and resumed kissing and touching her, according to a criminal complaint.
She told investigators that after he assaulted her, she again tried to leave but that Cook pinned her to the futon again, wrapping his arms around her neck and torso.
The detective asked what she thought would happen if she tried to leave she said she didn't know. "That's what I was afraid of. I didn't know."
When she saw his face on the news in connection with his arrest she told police she "knew immediately" it was him, according to the complaint. Cook was charged with sexual assault and false imprisonment based on her allegations.
January to May 2016
Two women who took ballroom dance classes with Cook reported to police being groped by him during the class. One woman told police the behavior continued even after she told him to stop.
Their complaints led to the misdemeanor count of fourth-degree sexual assault.
February 2016
Another woman described to police a similar scenario of a February 2016 encounter that started with consensual kissing and quickly escalated to sexual assault.
She told police she repeatedly said no as forceful touching turned into forced oral sex and then vaginal rape. She had smoked marijuana earlier that night and drank a beverage she could not identify, and as the evening progressed she began feeling "fuzzy" and out of it, she told police, according to complaint. When she awoke the next morning he tried to have sex with her again, she told police, according to the complaint.
Her allegations formed the basis of three counts of felony sexual assault.
August 2016
Another woman to come forward said she took a psychology class with Cook, according to the complaint. He sent her a Facebook message and they began corresponding.
She told police that she went to his apartment and they started kissing and having consensual sex. She rebuffed his efforts to choke her, though, and eventually he relented. About 45 minutes passed before he forced himself on her, hitting her backside with an open palm as he raped her.
She told police she went along with it so he would not force her to have oral sex, according to the complaint.
Sexual assault: Changing the conversation before college
Defense lawyers: Wait for the facts
When questioned by police on October 17, Cook said the encounter that triggered his arrest was consensual and that he did not recall grabbing the woman by the neck. He acknowledged pulling the woman's hair.
Cook's lawyers called on the public "to wait for the facts before condemning" him, and railed against a "politically correct" culture that leads to "blind acceptance of mere accusations."
"Alec, a 20-year-old business major with no criminal history, has seemingly been charged, tried, and convicted," read the statement from attorneys Christopher T. Van Wagner and Jessa Nicholson. "The rapid-fire news cycle, combined with the viral nature of social media, has resulted in modern-day character assassination that is very real and very wrong."
How to help survivors of sexual assault
CNN's Jamiel Lynch contributed to this report.