Story highlights
Chef Andrew Zimmern abused drugs and alcohol throughout his teens and 20s
An intervention from friends helped turn his life around
Zimmern has been sober for almost 26 years
Long before he became famous for traveling the world and eating bizarre foods on TV, Andrew Zimmern was sprinting down a destructive path of drug and alcohol addiction.
The bald celebrity chef discovered as a teen that alcohol could dull his senses and cut off his emotions.
"You feel all the things that traumatized you or gave you anxiety or depressed you disappear," Zimmern says. "And you say to yourself 'Eureka! I have found it.' You have found the thing that you believe is the solution to your problems."
Alcohol numbed his pain as he struggled to cope with his mother being in a coma and, ultimately, in a series of mental hospitals.
"By the time I was in 10th grade, I was a daily drinker, a daily pot smoker, a daily pill taker," recalls Zimmern.
Junior year he added daily cocaine user to the list.
"I just became a snorting, speedball freak with a lot of pills and pot and booze," he admits. "I created a balance of chemicals in my body that actually allowed me to be very high functioning for many, many years."
Zimmern graduated college after a "seven-year plan" and started cooking at some highbrow restaurants in New York City. But his addictions caught up with him.
"You start to lose jobs," he says. "I lost an apartment. l became homeless for 11 months and squatted in a building on Sullivan Street in lower Manhattan."
He stole to support his habit.
"I knew something was wrong with that. I was crossing lines that I never thought I would cross before."
Zimmern couldn't see a way out of his situation. He wanted it all to end and spent three days in a flophouse trying to drink himself to death. That failed, and eventually a group of friends arranged an intervention.
"If that hadn't happened I would be dead," he states.
"I got a one-way ticket to Minnesota, a couple packs of smokes and $20," he remembers. "I had a surrender experience where I said 'I'm done. I quit. I can't do this anymore. My life has become unmanageable and I'll do whatever it takes.' That night I could have sobered up in a liquor store."
He flew to Minneapolis and admitted himself to the Hazelden Betty Ford Foundation, a well-respected treatment facility where many of his friends had gotten help. Several weeks later, Zimmern transferred to a halfway house that required him to get a job. He ended up working as a dishwasher in a downtown Minneapolis restaurant.
"One day, one of the line cooks called in sick, and I went to the owner and the chef and I said 'I can do that guy's station.' And they laughed," recalls Zimmern. "Eventually, they couldn't find anyone to replace him so they didn't have a choice."
Zimmern worked the grill station. Afterward, the shocked owner called him into the office.
"He said 'Can you please explain to me why the dishwasher just put out food in my restaurant that looks better than when my chef puts food out in my restaurant?'" Zimmern smiles. "The day I got out of the halfway house, he fired his chef and made me his partner. I restaffed the restaurant with some incredible cooks, most in recovery."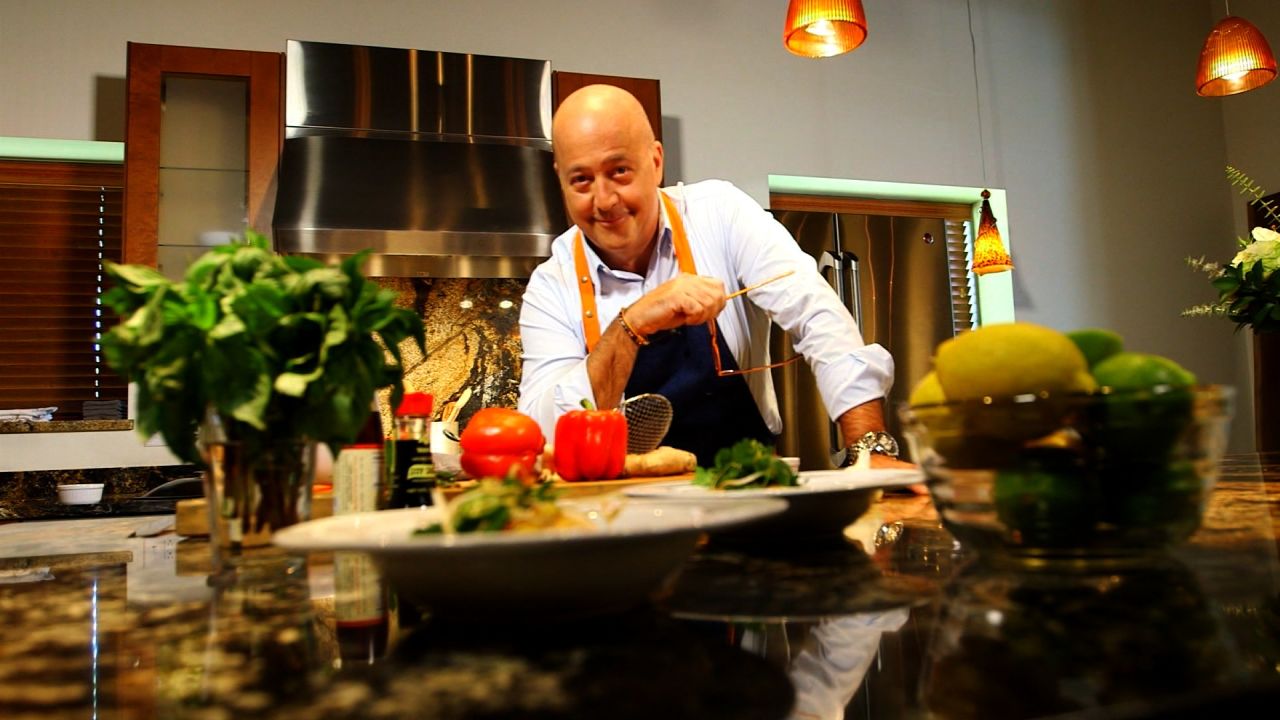 The chef remade his career in the Twin Cities for the next seven years and then noticed the food media world was starting to explode.
"I had a five-year plan to get a television show. First step: quit the restaurant. Step two: get jobs in media so I could learn how to do this thing," explains Zimmern.
He took jobs working for free at the local radio station, magazine and TV station.
"My strategy was to become so invaluable that they have to pay me," he laughs. "And I got a job at all three and did that for quite a while."
At the same time, Zimmern kept pitching show ideas to Food Network and was rejected repeatedly. Then he had "a true epiphany." He recognized travel shows did not explore food culture, and he thought, "You can tell the history of people on a plate."
That idea transformed into "Bizarre Foods" and debuted on Travel Channel in 2006. The series is still going strong today, as is Zimmern's quest to remain clean.
On January 28, he will enter his 26th year of sobriety.
"What used to be very destructive stubbornness, has now become a strong determination to succeed at things. Channeled in the right way the boundless energy that I had as an addict and alcoholic has become a tremendous part of my success."
Much of that energy is focused on helping others battling addiction and homelessness.
"I'm no saint and I don't want to come across like one, but there is not a day that goes by that I'm not doing something for someone else with a very large chunk of my time," the 55-year-old says. "That's my medicine. If I don't do that, I turn back into that selfish, self- centered person and then I lose my spiritual connection with the people around me, and I'm picking up that next drink or drug."