Story highlights
Protests came to a head Thursday as authorities and protesters clashed
The months-long protest is aimed at stopping construction on the Dakota Access Pipeline
(CNN) —
To hear one side of the story tell it, authorities and guard dogs attacked protesters at a Dakota Access Pipeline construction site.
To hear the other side tell it, protesters are the ones inciting violence – flying drones toward authorities and setting a bridge ablaze.
Claims of aggressive tactics have permeated the months-long protests, which came to a head after authorities started forcing protesters to leave.
Here's a look at what each side claims:
Authorities: Protesters set a bridge on fire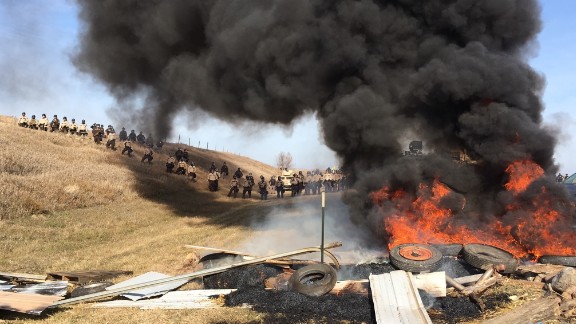 Mike McCleary/AP
As officers tried to clear demonstrators from private property Thursday, protesters set fire to a bridge, tires and debris, North Dakota emergency services spokeswoman Cecily Fong said.
She said authorities from seven other states have been called in to help remove protesters.
As of Thursday afternoon, about 100 protesters remained.
Protesters: Guards used dogs on us
Demonstrators told CNN affiliate KFYR that private security guards have threatened them with dogs, and some protesters were injured.
"It was kind of scary. You know a lot of people are out here with their children. Accidents happen all the time with dogs, and people could really get hurt," protester Lonnie Favel said.
But the Morton County Sheriff's Department said the opposite happened – some protesters threatened or attacked security dogs .
One of the guard's dogs was stepped on by a protestor's horse, authorities
Another guard said he "witnessed protesters trying to stab K-9's with knives and flag poles,' the sheriff's department said. "He reported witnessing eight large knives on protesters.'
Authorities: Protesters used fence posts as weapons
Demonstrators used fence posts and flag poles to attack private guards, Morton County Sheriff Kyle Kirchmeier said.
"This was more like a riot than a protest," he said. One guard had to be taken to a hospital.
But the Standing Rock Sioux Tribe said the majority of protesters have been peaceful.
"Thousands of peaceful protestors from around the country have joined the Standing Rock Sioux Tribe in solidarity to protect sacred places and water," the tribe said.
Authorities: Drones threatened our helicopter
On Sunday morning, as authorities were monitoring a pipeline protest from a helicopter, a drone flew at the helicopter "in a threatening manner," the Morton County Sheriff's Department said.
An officer in the helicopter said the "drone came after us" and that the pilot and passengers were "in fear of their lives," the sheriff's department said.
So law enforcement shot the drone down.
It's the second time officials said drones have been used against authorities during the protests.
Two drone operators were previously charged with crimes involving illegal use of drones, the sheriff's department said. One of the operators was charged with stalking; the other was charged with reckless endangerment.
Protesters: Authorities made strip searches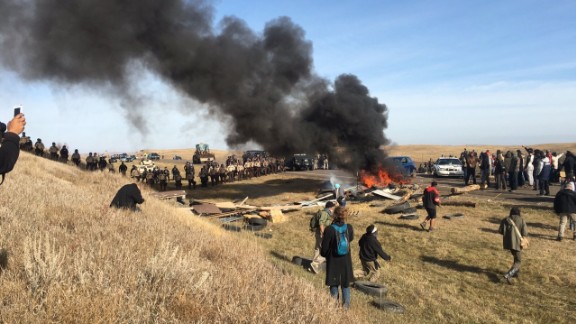 KXMB/KXMB/KXMB
The Standing Rock Sioux Tribe has asked the Justice Department to investigate claims of abuse against protesters.
"The abuses include strip searches, violent security dog attacks, pepper-spraying of youth and intimidation by law enforcement," the Tribe said in a statement.
Standing Rock Sioux Tribal Chairman Dave Archambault II said he is seeking a Justice Department investigation "because I am concerned about the safety of the people,"
"Too often these kinds of investigations take place only after some use of excessive force by the police creates a tragedy," he said. "I hope and pray that the Department will see the wisdom of acting now to prevent such an outcome."
CNN's Nadeem Muaddi, Vivian Kuo and Brad Parks contributed to this report.